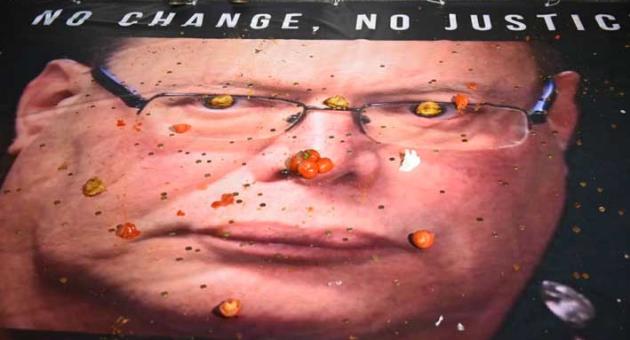 The police have lost all that they had gained. They had won over the respect and the support of the Maltese people. The people used to look up to them, the criminal used to worry about the police; nowadays it is like everything has turned topsy-turvy. – Beppe Fenech Adami
A recent Eurobarometer survey that gauged public sentiment on corruption with 500 face-to-face interviews, showed that 89% of the Maltese believe corruption in Malta is widespread. This sentiment grew by 10 points in the past two years. Only 5% of Maltese respondents believed that corruption is quite rare in Malta. Over two years since Joseph Muscat's re-election in 2017, the Maltese are convinced that corruption has increased, a growth of 20 points. Of those interviewed, 79% said that there was corruption in national institutions including the Police.
At the beginning of this year a whistleblower exposed a corrupt ring of traffic policemen who came together to defraud taxpayers and give themselves a secret pay rise by over-declaring overtime. Fraudulent officers were claiming thousands in overtime payments without ever showing up for work and other illegal claims are being revealed as the fallout from a racket within the traffic police force threatens to uncover corruption in several branches of the force. The officers managed to create a culture where money reigned supreme and omertà ensured nothing was discovered.
It was also alleged that some of the officers forced women to trade sexual favours in return for forgiving traffic fines. This was revealed after multiple officers were heard bragging about who they had slept with already. That one will be hard to prove.
The collusion of police with businessmen and criminals came out in the open during the public inquiry on the assassination of journalist Daphne Caruana Galizia. Deputy Commissioner Silvio Valletta was intimately close to Keith Schembri, chief operator of the corrupt imbroglio that was Joseph Muscat's government and Yorgen Fenech, the man accused of masterminding the murder.
We also came to know that Silvio Valletta went abroad to watch a Champions League match together with Yorgen Fenech when the latter was already under police investigation. We also learned that Silvio Valletta used to frolic in Yorgen Fenech's Rolls Royce and that Yorgen Fenech's children used to call him 'uncle Silvio'. Silvio Valletta resigned as did his wife, former government minister Justyne Caruana. As yet, the police did not take any criminal action against the ex Deputy Commissioner, while his wife just landed a direct order consultancy job worth €44,000 per annum from the Lands Department.
We've read reports of recordings that suggest Melvyn Theuma, the state's witness who was given a presidential pardon by Joseph Muscat (without the consent of the Cabinet), intended to pass on €15,000 to former Commissioner of Police Lawrence Cutajar to get the pardon before his arrest for money laundering.
It appears this intention was voiced by Melvyn Theuma himself in one of the secretly recorded mobile conversations which he handed to the police after his arrest. The conversations, recorded in the weeks before Melvyn Theuma was made aware of his impending arrest on a charge of money laundering, were held with Johann Cremona, business partner with Yorgen Fenech.
The former Police Commissioner Lawrence Cutajar's inaction was also clear from the start. Many thought it was incompetence, others thought otherwise. Then when civil society started to protest things began to move, although slowly. The people kept up the pressure until Joseph Muscat had to accept an independent public inquiry to investigate if the state could have done more to protect Caruana Galizia. And it was through this process that the connections of the police and the underworld began to surface.
The main investigators of the mafia style execution were in direct contact with individuals suspected of being involved. We learnt Keith Schembri, was kept abreast of police investigations through his office at Castille.
The Maltese government said in Parliament that there was no need to ask Europol to set up a Joint Investigation Team to look into Daphne Caruana Galizia's assassination, saying collaboration with the European law enforcement agency has been ongoing from the start.
Yet, as Matthew Caruana Galizia son of Daphne and Pulitzer Prize winner, pointed out what was being suggested and what was happening were far from the same thing:
"Employees of Europol in Malta have no judicial authority whatsoever, because Europol is a political and bureaucratic organisation and not a police force, even though our government is trying to make it seem as though it's some kind of European FBI," Matthew Caruana Galizia told The Shift. "Malta and Europe, need an umbrella investigation, with powers to leap across jurisdictions. That umbrella investigation can only be conducted in the framework of a Joint Investigation Team, with the meaningful collaboration of serious police forces in other jurisdictions that were used by the criminals involved."
Meanwhile Inspector Antonovich Muscat from the Economic Crimes Unit confirmed what Ian Abdilla had said under oath to the inquiry about Daphne Caruana Galizia's assassination: that they sent letters to Dubai asking for information about 17 Black but they found no cooperation and letters sent to Dubai were returned unopened.
But, listen to this. MEP David Casa again in front of the inquiry said that Dubai authorities speaking to him had assured him that they wanted to cooperate with Maltese authorities investigating 17 Black and its links to local political figures. David Casa explained how, after hearing from Maltese authorities that the United Arab Emirates were not cooperating, he spoke to the attorney general and the FIU in Dubai, as well as to Noor Bank, the seat of 17 Black, and other high-ranking authorities to gauge the situation.
He saw all the correspondence showing that the UAE authorities had requested further information since the request sent by the Maltese authorities was incomplete. So the question crops up naturally: have these officers misled the inquiry?
More than a month, Angelo Gafà was sworn in as the new Police Commissioner. His task to clean the police corps of corrupt officers in collusion with criminals and politicians is gargantuan. Till now we have seen little to impress. Corrupt police officers and corrupt politicians and officers are still roaming our streets. He promised that by the end of this month (today) he would arraign persons in connection with Pilatus Bank. Where is it?
There are many names that are known to all and should be investigated. Yet these criminals are still free and pulling strings. Angelo Gafà promised change, yet he is still acting like the previous six or seven (I lost count) puppet commissioners. Justice needs to be done and seen to be done if we want to cleanse our nation. Angelo Gafà's duty is to serve the nation, that means us. He should not look at faces, positions or reputations.
Let us wait for developments.