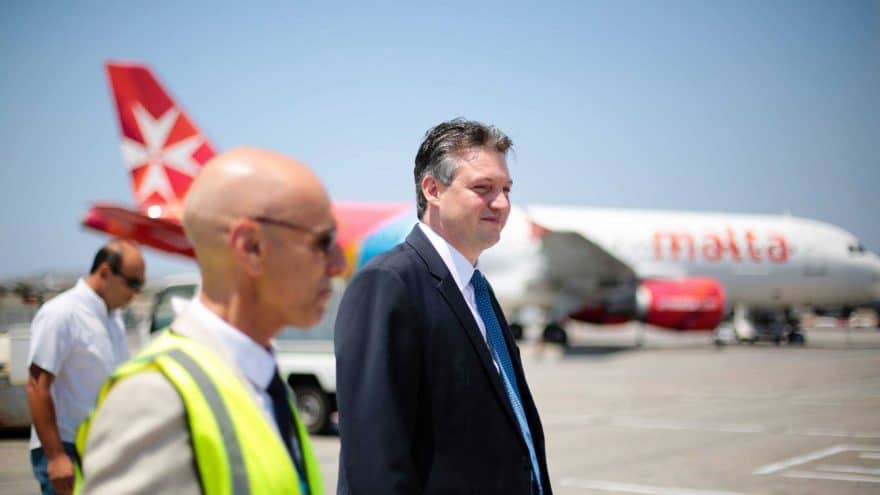 The economy ministry has just written to 69 former Air Malta pilots, made redundant a few weeks ago, to inform them the government would honour a promise made to them by former Minister Konrad Mizzi that if they were to be made redundant the government would still continue to pay them their big pilot pay package.
Redundant Air Malta pilots earned between 50,000 and a 100,000 euro per annum in large take home pay packages set to compete with salaries offered to pilots by other airlines in the aviation market. But the special skills and flying qualifications of former Air Malta pilots will not be deployed to flying but to unspecified areas of Malta's public administration.
Even the most senior civil servants earn less than what the least paid of the former pilots will be receiving. Malta's top civil servant, the principal permanent secretary, has a gross salary of just over €46,000 per annum. He will now be out-payed by 69 new recruits to the public sector who, according to a letter sent to them today, will be granted a fixed-term contract that expires at the end of 2022. The government provided no information on what would happen after the expiry of the fixed-term contract.
A January 2018 agreement signed by then Tourism Minister Konrad Mizzi and representatives of the pilots' union promises Air Malta pilots a job guarantee in Malta paid at the same rates set in a new collective agreement signed at the same time, even if any of the pilots are made redundant.
69 redundancies were declared last June after extended talks between Air Malta and its pilots to drastically reduce pilots' salaries during the covid crisis fell through. Air Malta offered to pay all pilots a "social wage" of around €1,200 a month. But the pilots resisted the move.
They reminded the government of the promise made by Konrad Mizzi that pilots who lose their jobs at Air Malta due to any hard times would have their salaries paid by the government instead.
In its letter to redundant pilots, published here, the government has not yet specified what sort of work the pilots will be doing in spite of the considerable compensation they have been promised.