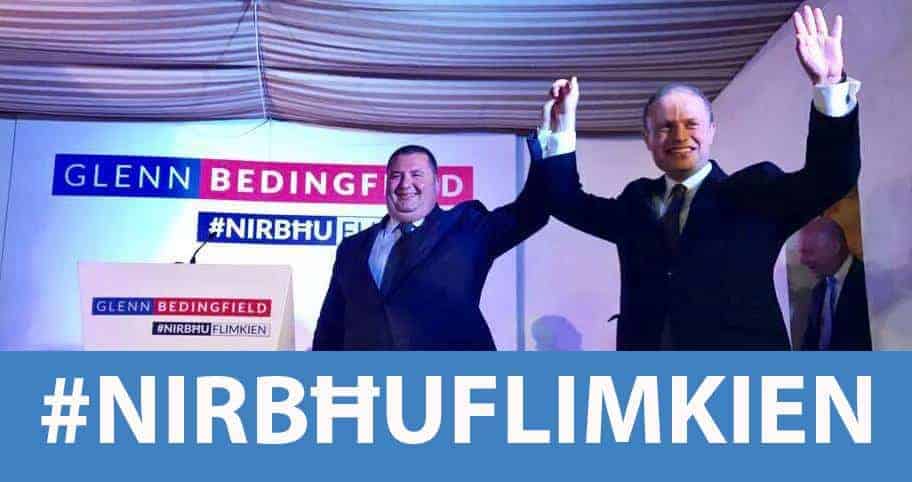 This morning, the three judges composing the Board of Inquiry into the assassination of Daphne Caruana Galizia took note of the vitriolic attack against them by Glenn Bedingfield and have included it in the proceedings. This is a just initiative by three persons who have been accepted by both the disgraced Joseph Muscat, on behalf of the government, and the Caruana Galizia family as being fair and impartial. They hold a beacon to what we would all like to see in our courts– exemplary and upstanding behaviour.
Mr Bedingfield has accused them of turning the inquiry into one that is "politically motivated". But, poor Mr Bedingfield's memory fails him, on this count at least. Had he at least bothered to read the free press properly, he would realise that this was a murder that was motivated by politics and sleazy financial deals. So, politics cannot be avoided. They form the very core of the whole motive behind an innocent woman's massacre. I am certain that even Mr Bedingfield can see that, although he has chosen, as is his wont, to overlook this essential fact.
The Maltese public is used to Bedingfield's pen, attacking those who are not 'yes' persons at the service of corruption. His attacks are timed to deflate attention from the real issues at hand, which show the previously unimaginable extents of corruption reached by Joseph Muscat's government.
Mr Bedingfield's list of attacks is very long indeed. He acknowledged in court having co-created the highly sexist and discriminatory label 'witch' for Daphne Caruana Galizia, with all its horrible connotations with regard to women in general and the journalist in particular. But obviously, he was too blind, rash or perhaps, frankly too slow to see this, ironically when writing for a government which boasts about refraining from sexual discrimination.
He manipulated this label in his efforts to brainwash the population about her so-called 'evil' writings. Time has proved that the 'evil' was certainly not on her side, but in the goings-on by his masters in Castille. Those very masters who ensured that at least in 2018 – as the Maltese discovered through the free press – he was pocketing the princely sum of €5,916.66 a month, excluding his telephone bills and car allowance. Nice rewards for spurting out trashy venom, Mr. Bedingfield.
In his habitual efforts to hit people below the belt, Mr Bedingfield erroneously thought that most Maltese would be shocked at the amounts being given to the two former judges. Frankly, as a taxpayer, I am glad to see my hard-earned money being spent on the judges who are fully doing their duty, rather than on the millions I have unknowingly contributed to – certainly through my electricity bills at the very least – which have gone to line the pockets of dishonest politicians and businessmen.
Mr Bedingfield's vitriolic attacks have proved unfounded not only in the case of Daphne Caruana Galizia. People have not forgotten his attacks on doctors on emergency duty for smiling while on strike, when these were not even on strike. He attacked anyone who objected to the rape of Maltese land, until he finally saw the light when this rape was about to hit the Cottonera seafront. He would probably attack a monkey if he felt that it could threaten his masters in any way.
What Mr Bedingfield is in fact attacking, is the truth that is emerging from the inquiry. The scandalous news that we are confronted with every day is difficult to stomach, but it is the right of every citizen to know and the duty of judges to bring it to light in a fair and equitable manner. Every day we hear and begin to see the morass of lies and thieving that the Maltese nation has been subjected to. And tragically, it seems to be only the tip of an iceberg.
I am sure that if Mr Bedingfield is honest with himself, he is as shocked as the rest of the population, at the truth that is being revealed. I remind him that as a representative of the people and paid by the people, it is his duty to ensure that every ounce of truth is brought out to the open, however unpalatable it may be.
But none are so deaf as those who will not hear, or blind as those who will not see. It would seem that, rather than fulfilling his duty to his electorate, Mr Bedingfield would rather bow down to his corrupt superiors and cast shadows on those who are doing their very best to bring out the truth, so that justice may be administered impartially. As things stand, we are neither fooled by Mr Bedingfield's useless lying tactics, nor impressed by his clumsy bullying.
So render yourself useful for once Mr Bedingfield. Please tell your Prime Minister to keep his hands off the public inquiry.