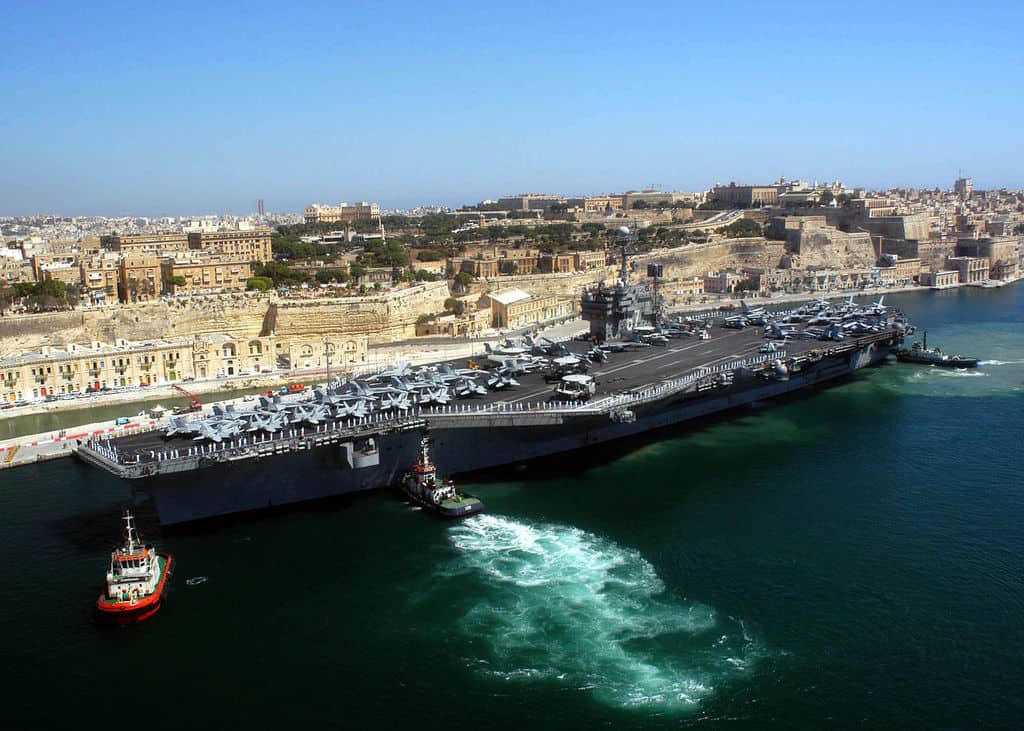 Malta Today reported yesterday that the US defence secretary is visiting Malta to push for a 'status of forces agreement', known as SOFA, with the Maltese government. This has come up in the past. The United States gets squeamish at the sight of any of its uniformed officers in the dock of the justice system of any country but its own.
Consider the possibility of a group of sailors on a visiting American ship having too much to drink on a night out. Two of the sailors are detained by Maltese police after a Paceville altercation or perhaps after a woman files a police report that an American military man sexually assaulted her.
It's not that the Americans think their soldiers should not be punished if they misbehave. It's that they want to be the ones doing the punishing.
The Americans have been pushing Malta to seal a SOFA agreement to prevent just these situations when their ships visit. But in Malta this sort of jurisdictional ambiguity for foreign military types recalls colonial times. The country does not take well to the idea that people in Malta could be hurt or their property damaged but they would be unable to seek redress in a Maltese court because a crime committed in Malta ends up in the restricted purview of the US military's judge advocate general.
This is something the Labour Party has been particularly zealous about. In November 2011, after Wikileaks published internal state department emails that revealed US embassy notes of discussions with the Maltese government, the Labour Party was positively apoplectic about the suggestion the then Nationalist government may have been open to a SOFA agreement with the US.
The issue was brought up in parliament by then shadow foreign minister, now President, George Vella. He was quoting notes of a US embassy meeting with a foreign office official who was less than categorical about the exclusion of SOFA. But then foreign minister Tonio Borg made it abundantly clear the government was not considering renouncing criminal jurisdiction to anyone outside Malta's courts.
George Vella wasn't happy. He brought up the matter again in June 2012 at the show trial of Richard Cachia Caruana, set up by the Labour Party and its agent Jeffrey Pullicino Orlando. He accused Tonio Borg of dealing with the Americans behind parliament's back and promising them a SOFA agreement in spite of the opposition's strongly held view that Malta should not make this commitment.
George Vella jumbled together the SOFA agreement (about jurisdictional transfer in case of criminal conduct by uniformed men and women in the US forces while in Malta) with agreements about security of information exchanged between the two countries. Tonio Borg tried to explain but George Vella wasn't listening.
As it happened, until now, Malta did not enter into a SOFA agreement with the US.
But if Malta Today's report is correct Malta is considering conceding this point to the Americans in exchange for a good word with the financial action task force to avoid relegation to the grey list of financial services purgatory.
The Labour Party used to be fetishist about the principle of distance from any country's military activities, particularly the activities of the United States. They used to run around screaming about NATO wearing a Harry Potter style invisibility cloak and allowed in by the nasty and hawkish Nationalists. They used to go beyond non-alignment and profess principled pacificism.
Any suggestion of even the slightest reversal of their much beloved Jum il-Ħelsien would have them tear out the hair off their chests.
But, it seems, money talks.