Louis Grech described the Panama Papers as a "setback" for the Labour government this morning. MaltaToday's court reporter quotes Louis Grech saying: "We had implemented so much of our manifesto and achieved civil rights. There was a lot of good. One should not be defined only by the bad aspects, but also by the good. Yes, it was a great setback. Konrad Mizzi and Keith Schembri created an enormous setback. I had spoken to Mizzi, who had told him that he had done something ethically wrong but not legally wrong."
If you thought it was ethically wrong, it was ethically wrong of you not to call it out. This "I know nothing", "I wasn't in the kitchen cabinet", "Joseph Muscat decided alone" malarky is wearing thin. What was the setback then? The fact that Konrad Mizzi (and Keith Schembri) set up Panama companies or the fact they were caught?
What was Louis Grech concerned with at the time, the crime or its discovery?
When the Panama Papers came out, the opposition called for Konrad Mizzi's resignation. Joseph Muscat organised a show of force behind Konrad Mizzi at Labour's general conference. An extended extract from Konrad Mizzi's speech that day is linked here.
Daphne Caruana Galizia watched that speech and with her sharp eye spotted a telling glance exchanged between Joseph Muscat and his deputy Louis Grech.
This one.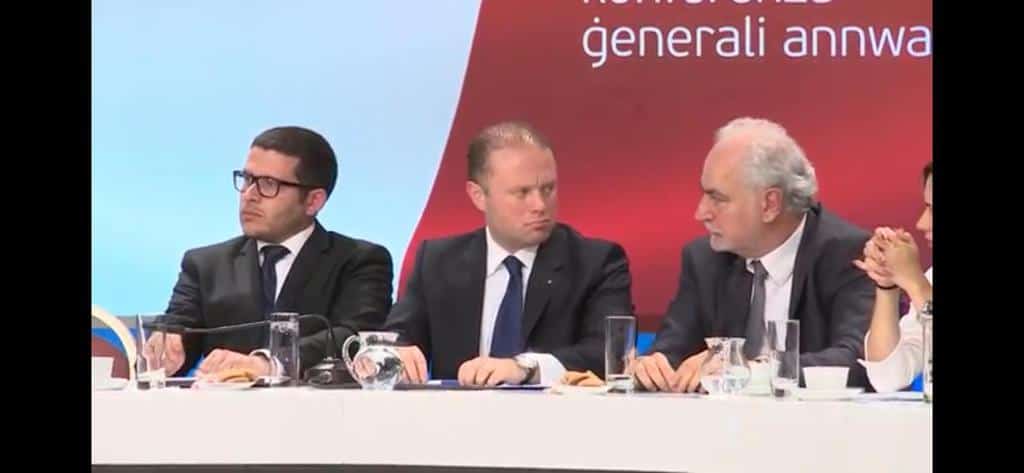 That's not a look that says "I didn't know", or "this is a setback", or "this is ethically wrong". We don't know what's happening under that table but as a Colombian poet who should know once wrote, "hips don't lie".
That looks says "we're going to get away with this". You didn't and that's why Daphne was killed. And now, Louis Grech, you think your side glances can let Joseph Muscat, Konrad Mizzi, Brian Tonna, Keith Schembri and the conspiracy in which you waded knee deep, get away with it again.