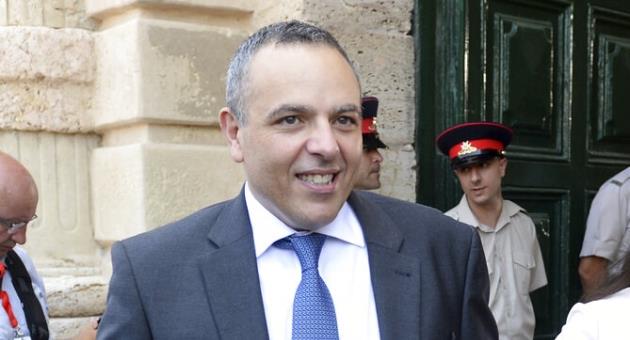 Let's take a step back and recall the facts.
On 24 April 2017, in the midst of the storm of stories about Egrant and its ownership, Daphne Caruana Galizia published a post headlined "BREAKING/Prime Minister's chief of staff took kickbacks from Brian Tonna on sale of Maltese citizenship."
She had in an earlier report explained how Brian Tonna set up a company in the British Virgin Islands called Willerby Trade which he secretly owned through Mossack Fonseca nominees. Willerby held an account at Pilatus Bank in which Brian Tonna received a deposit of fees paid by 3 Russian nationals buying Maltese passports.
In that post she reported that the money was kicked on to an account at Pilatus Bank held by Keith Schembri, then the prime minister's chief of staff.
The next day, 25 April, Keith Schembri said he would sue for libel.
And that same evening Simon Busuttil, then leader of opposition, took the matter a step further. He spoke to then Magistrate Aaron Bugeja who was conducting the Egrant inquiry and publicly called for Keith Schembri's immediate arrest.
On May 4, 2017 Magistrate Aaron Bugeja ruled there was enough evidence backing Simon Busuttil's complaint to launch an inquiry. After a draw by lot, Magistrate Natasha Galea Sciberras was given the task of conducting the passports kickbacks inquiry.
She concluded the inquiry in September 2020, 40 months later.
The sealed inquiry report was sent to the Attorney General who refused to publish the inquiry conclusions or give a copy to Simon Busuttil who had first filed a complaint. The first reaction to that may be that the government is not transparent and Victoria Buttigieg was going to stick to her predecessor's style of covering for the corrupt and the powerful. But there's a more nuanced reaction: that the inquiry report recommends criminal action and the integrity of the process requires secrecy.
From Times of Malta we learn today that another copy of the inquiry was sent to the Commissioner of Police. That happens when the Magistrate recommends that criminal charges are issued against someone. That doesn't mean that an arrest will necessarily occur. The police can consult the Attorney General and the Attorney General can direct the police to issue different charges from the one the Magistrate ordered or not to issue any charges at all.
OK, you're up to date now. Next we look at the next steps because the rules have changed and this may prove an interesting test case.