Daphne Caruana Galizia used to be resigned she'd be accused of having unleashed yet another attakk faħxi u moqżież fuq it-tfal tal-prim ministru Joseph Muscat. I write this with more than a little expectation of something of the sort.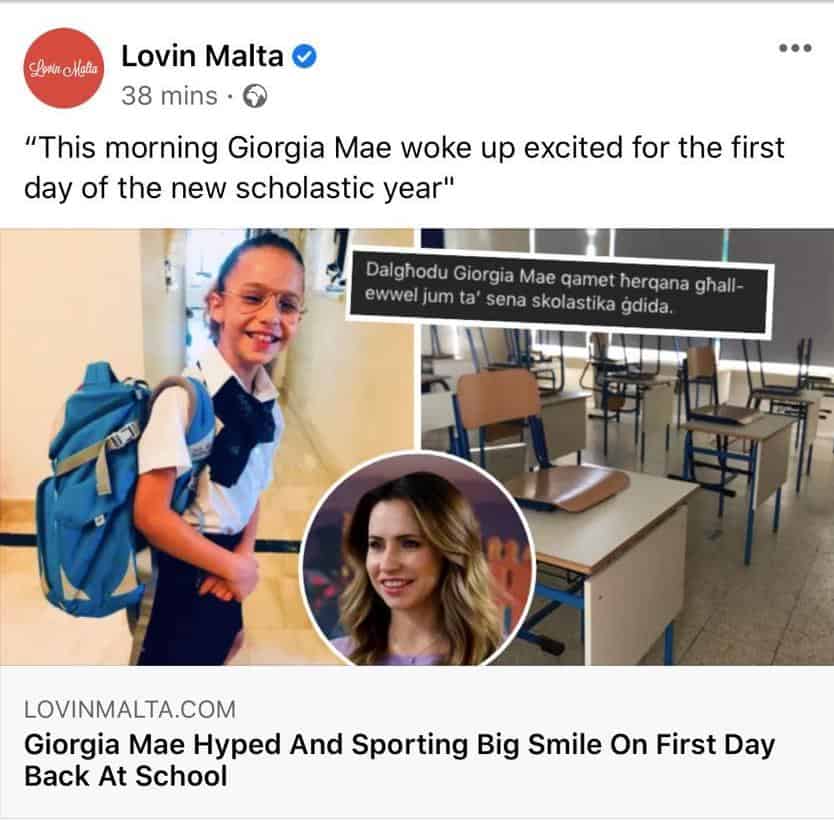 Robert Abela's daughter's first day of school has been paraded as some sort of PR exercise for her daddy. Under normal circumstances, I'd probably say that after Joseph Muscat's children's experience, using prime ministerial children for PR is inadvisable. And perhaps I would add that there's nothing less ordinary for a school age child to be going to school in September.
There's no earthly reason to make a fuss about something entirely ordinary and there's the risk of giving a child who seems entirely ordinary the idea that the fact she goes to school is somehow more special than the fact that all other 50,000 children of school age go to school.
These sort of 'stories' are lifted straight out of pictures of little royals from the UK. But while Prince George and Princess Charlotte are destined to a life of privilege, we live here in a republic. The way we play with the egos of little children who happen to be brought up in the family of a politician plays with their growing ideas of themselves. And those ideas are bound to be dashed when their daddy is not the boss anymore.
Still, Ms Abela's first day at school today is not as ordinary as all that.
Three children live in my household. One has seen the start of his university lectures postponed by weeks. The other should have had his first day at his state senior school today but was told just last Friday he won't be starting for another two weeks. And my daughter, who's in an independent middle school, has had to switch to home schooling as the first physical day at her new school has been postponed at the last minute.
They are perfectly entitled to be excited about their first day of school, but none of them were quite as lucky as the prime minister's daughter.
This PR initiative, for so they must believe it is, is not just exploitative of a minor and as hollow as the most mundane soft, pink, fluffy pieces they try to come up with to try to make the rigid Robert Abela look vaguely human. It is in this specific case insensitive about the confusion and anxiety thousands of children are facing as they miss more school days as a result of inadequate government. For which Robert Abela is responsible.