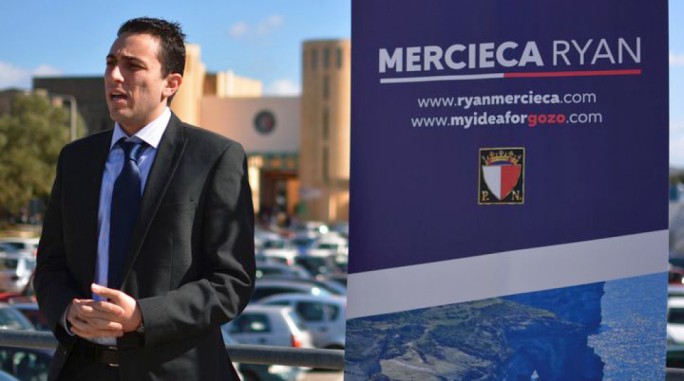 A possible winner of a casual election to fill the seat of Frederick Azzopardi, who died recently, is Ryan Mercieca, the leading PN candidate in the sparse pool left to contest the seat.
The Gozo electoral district had 11 candidates on the PN ticket in 2017. Chris Said is an MP. Marthese Portelli resigned her Gozo seat when she was elected from another district and has since left parliament. David Stellini replaced Marthese Portelli and subsequently resigned his seat. Kevin Cutajar was co-opted to parliament instead of him.
After Frederick Azzopardi died, the candidates that can replace him are Ryan Mercieca who was eliminated in the 10th count with 845 votes, Maria Portelli also eliminated in the 10th count with 549 votes, Joe Ellis eliminated with 377 votes in the 9th and Ċensu Galea eliminated in the 7th with 110 votes.
Ryan Mercieca seems to be ahead of the other candidates by a stretch though the fact that Joe Ellis's name is alphabetically closer than Ryan Mercieca's to Frederick Azzopardi could set Mercieca back.
In any case, Ryan Mercieca's personal record would make his hypothetical election to parliament an embarrassment for the PN.
In 2019, he was disciplined by the University of Malta for plagiarism, submitting a largely copied dissertation to switch to a doctoral program in international relations. This followed a more serious incident in 2018 when a court refused his claim that it-Torċa had libelled him when they reported he had forged signatures to get a post on Gozo's NGO Council. He was reported to have squirmed his way into the position saying he hailed from an NGO that did not exist. He late resigned "for ethical reasons".
When Magistrate Franco Depasquale found against Ryan Mercieca, he said the court "could not but observe that the plaintiff presented a forged document and he himself misled the court by giving the impression that the money had not been passed on."
Having lied to a court is, even without considering the rest of his misdemeanours, a sure sign his character is entirely unsuitable for public life.
His election to parliament will make it harder for the PN to argue its team outshines the Labour Party for integrity and clean personal conduct.
But the options for the PN are limited now, having presented Ryan Mercieca as a candidate on its ticket in 2017 before all this emerged. It will be up to Ryan Mercieca to decide whether to file his nomination for the upcoming casual election. The PN has no power to stop him or his election to parliament if that is what ballots cast three years ago say should happen.
All the PN would be able to do to avoid association with Ryan Mercieca and his misdemeanours would be to dismiss him from the party whip immediately upon his election.
This would mean that the PN parliamentary group shrinks a little bit more as veteran MP Frederick Azzopardi, on whom the word "gentleman" was used often by people eulogising him after his death, is replaced by a younger MP whose claim to fame is cheating in academic papers, presenting a forged signature to get a job, and lying about it all to a court while suing the journalist who exposed him.
This website has already argued that the constitutional system of re-filling parliamentary seats when they are vacated during a parliament's term needs reform. If the PN knows what's good for it, the election of Ryan Mercieca would neither reflect the will of his party nor the will of those who voted for him without knowing what the man is capable of. A vote cast in 2017 is not an appropriate expression of popular will in 2020.