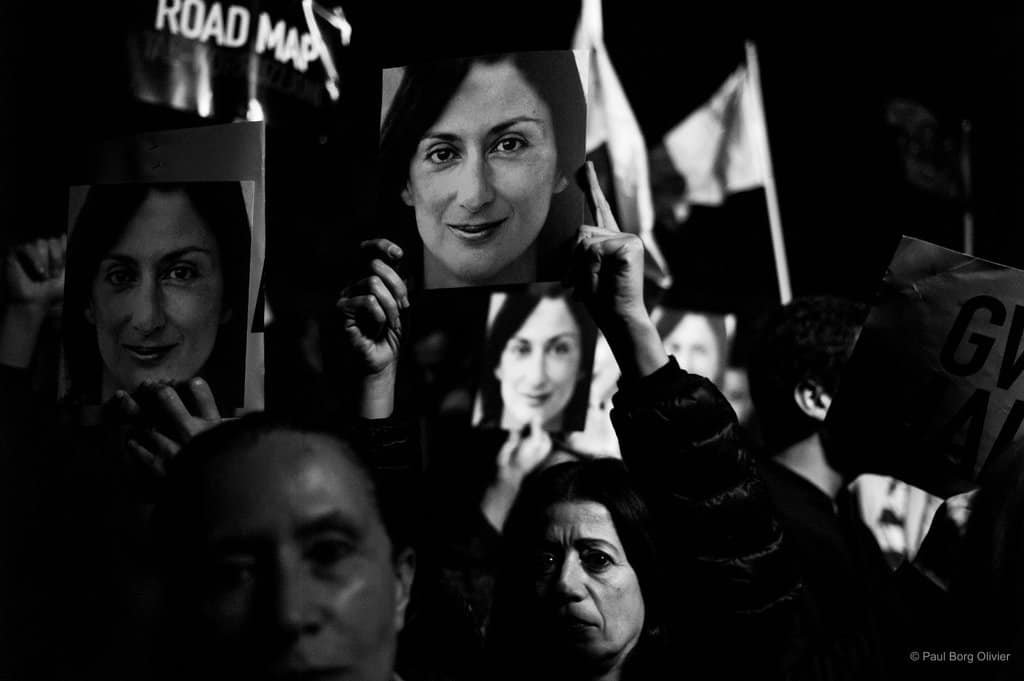 "I swear by Almighty God that the evidence I shall give shall be the truth, the whole truth, and nothing but the truth."
The evidence coming out from the hearings of the Daphne Caruana Galizia inquiry is mind boggling and quite astonishing. It shows to what depth the core values of some people have descended, and how Joseph Muscat and his cronies desecrated the most rudimental morals and ethics of our society. He surrounded himself with corrupt, criminal, thieves and liars for one simple reason – to get rich in the shortest time possible.
The assumption that a sworn commitment to tell the truth because they are Catholic and they would never lie after taking an oath before a crucifix is audacious. If one could count the number of times witnesses perjured themselves while giving evidence before the three judges, one could be considered the new Ibn Musa al-Khwarizmi.
Last week Paul Apap Bologna took the stand and he too swore to tell the truth and nothing but the truth, so help him God. But dear Lord, did he? Apap Bologna refused to answer many simple questions by either saying that he needed to 'go back to check' or he 'was not aware' or just did not know or remember. Throughout the sitting Apap Bologna was reminded several times by the Board the significance of his oath. Here is a small extract posted on social media by Jason Azzopardi lawyer parte civile for the Caruana Galizia family:
Jason Azzopardi: "Would it not have been reasonable to ask why Fenech, a great entrepreneur, resigned?"

Paul Apap Bologna: "I didn't speak to Fenech."

Jason Azzopardi: "Be careful, mobile data concerning Fenech will be coming out."

Paul Apap Bologna: "I may have spoken to him."
Since late 2019 the public inquiry Board has been hearing evidence to try to establish the background to Daphne Caruana Galizia's murder and whether it could have been avoided by the State.
Amongst the tens of witnesses there were a number of government officials, mainly from the office of the prime minister, who told the Board that they were unable to recall or give proper answers to a lot of questions, saying that they 'could not remember' what happened.
The refusal to give clear and simple answers irked quite a lot the members of the Board. "We are troubled by your lack of credibility" said Judge Joseph Said Pullicino to Nigel Vella, assistant head of communications at the OPM. It looked like OPM had prepared a standard answer to be used by former and present staff at Castille: "I do not remember" and "I don't know". The Board had to remind the witnesses many a time that they were under oath and they were unimpressed by attempts to deflect responsibility.
A number of communications officers were called to answer questions about an incident at Castille when journalists were locked in a room following a press conference by the former prime minister Joseph Muscat. OPM head of communications Matthew Carbone denied that journalists were forcibly held in the room even after newsrooms broadcast footage of the incident.
Ronnie Vella, another OPM communications official, when pressed by the Board about his whereabouts in Rabat on May 2017, said that "I don't remember". The Judges reminded him that he was under oath and to "be careful of what you are saying". Then he quickly changed his version when presented with colour photographs showing him seated in the bar where a journalist and two people were present. "We were there after a press conference to have tea," Vella replied. When asked if he was taking photos or video of two people in the same bar he said that "maybe I was playing with my phone" though the photos showed him looking the other way.
The shifting of the blame was a common occurrence in many testimonies. Joseph Bannister, former chairman of the FIAU, said that he did not take action on Pilatus Bank because it was the remit of the Supervisory Board. Chief Supervision Officer at the MFSA, Marianne Scicluna said that the Authority could not take action against Konrad Mizzi and Keith Schembri as the two were not licensed with the Authority.
On Friday, Jason Azzopardi asked former Minister for Foreign Affairs about whether there was pressure from the Prime Minister's office to recall one of Daphne's sons from his posting as a career diplomat at the Malta High Commission in India. Carmelo Abela refused to answer, dodging the question, and saying that he doesn't see 'any relevance' to the inquiry. When Abela was ordered by the board of inquiry to reply to the question put to him by Azzopardi, the minister said 'I don't remember'. Does that remind you of anything?
That crook Keith Schembri, ex-chief of staff of Joseph Muscat has been caught lying at least twice when other witnesses testified that what he said in front of the Board was false. Dr Adrian Vella, said under oath that he had delivered a written message from Schembri to the Yorgen Fenech, the owner of 17 Black. Schembri had denied passing on the note, but the doctor told the court in no unclear terms this week that he had picked up the letter by hand from Schembri's Mellieħa home and delivered it to Fenech.
Dr Vella is currently being investigated by the Medical Council.
Superintendent George Cremona, Head of the Anti-Terrorist unit at the police, testifying under oath, said that he had started contacting foreign experts from around 4.30pm on October 16, 2017 and had arranged for the FBI to send a team to Malta. He presented documents to prove his claim including a letter to the US Ambassador.
The superintendent's testimony raises questions about a claim made by Keith Schembri last December while under oath in a separate court. Schembri had said that it was his idea to get the FBI and that he had personally called the police commissioner on the night of the murder to push for their involvement.
It is clear now that the Office of Joseph Muscat did not only have a gang of criminals, a band of thieves but also a confederacy of liars. That, ladies and gentlemen is Joseph Muscat's corrupt legacy.