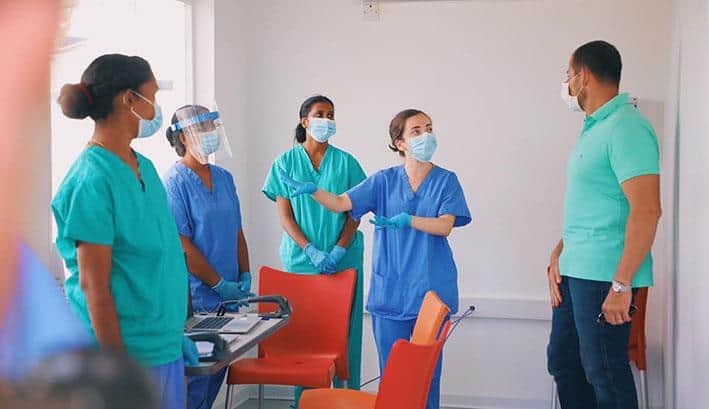 "I was scared. Do you know what it's like to hold someone else's life in your hands? It's like playing God. Can you think of anything scarier than that?"- Sidney Sheldon
Let's start with something light. A great piece of news was announced by Jeffrey Pullicino Orlando, Chairman of the Malta Council of Science and Technology late last week. After months of research he revealed that the covid-19 virus is more active between 23.00 and 06.30. The news made the round of the world's newspapers and scientists all over the world are analysing this new theory, and wondering why 23.00 and not 23.30.
Robert Abela, Prime Minister of Malta, gave 30 minutes notice to journalists to gather for his press conference last Friday (coincidentally just before Repubblika's documentary about Daphne Caruana Galizia was about to be broadcast) to announce new measures about the pandemic which has now been beating on the island with much fervour. Robert, taking JPO's discovery on board, officially announced that as from Monday all bars, including band and political clubs, and restaurants are to close down at 11pm so that the virus will be contained. "This is scientific and we must trust the source."
In an imaginary WhatsApp message, Joseph Muscat told Robert how to solve the problem once and for all: 'There is a way to bring down the numbers. Stop the swab tests completely and not only the curve would flatten but we will be the only country in the world without one single positive result.'
Now let's get serious. On Saturday a new record of positive tests was announced: 204. If we compare that with the UK population the result would be more than 27,000. Should this number frighten us and urge government to more serious and concrete action? Victoria State in Australia had been on full lockdown – they call it tier 4 – for months with just single positive numbers of cases in a population of about 5 million. They nearly recovered now and soon the state will be considered as safe.
Angela Merkel warned Germans of difficult times ahead as the positive cases went up to 8,000. She is worried. Now if we compare Malta's positive cases to Germany's population it would come to 38,000. Now imagine what Angele Merkelwould do in our situation. Definitely not saying that everything is under control. Merkel is very worried but Robert Abela is not. He is glad deaths are not in the thousands, as was expected. What cheek.
The US Centres for Disease Control and Prevention (CDC) say that COVID-19 risk in Malta is high. They recommend travellers avoid all non-essential travel to Malta. Some examples of essential travel may include traveling for humanitarian aid work, medical reasons, or family emergencies. Older adults, people of any age with certain underlying medical conditions, and others at increased risk for severe illness should consider postponing all travel, including essential travel, to Malta.
Are Minister for Health Chris Fearne and the Superintendent of Health Charmaine Gauci in agreement with the actions taken by Robert Abela, or are they playing the 'yes sir' game? When figures were in the tens last March we had a semi-lockdown. With these horrible figures what action is being taken? Closing bars and restaurants at 23:00? Make people wear masks? Is this the answer? It is definitely not. Is Minister Fearne listening to the advice of the professionals? Was he serious when he said that smokers can take their masks off to smoke a cigarette? He sure would, as after all he is a surgeon himself. Does he really think this will work? Do lives matter here? Or is the economy more important?
It is well known that children are carriers. Do we need to keep schools open, so that their parents can go to work? Statistics doing the rounds of social media are showing that there are already 48 positive cases, between teachers, staff and students. This can only mean more cases and more difficult tracing. But to the world Owen Bonnici looks like he had his way.
People are not taking the pandemic as seriously as it deserves this time round. That's because of Robert Abela's arrogance. He played it cool, went for his summer on his yacht at Marina do Ragusa licking ice-cream. He invited people to go out and enjoy the summer, as everything was perfectly under control. He challenged rules and went around without wearing a mask. He even gathered his faithful in Balzan with the number of cases climbing day after day. And he also met his supporters in Mdina last Sunday. You know, to make everything look normal. He even announced people will be getting €100 in vouchers again, so they go out and spend them in bars and restaurants. A big well done. Silvio Schembri is guaranteed another 6 months of analysing the results and data about the vouchers give-away – which we are paying for.
Robert Abela is with his back against the wall having totally lost control of the pandemic because of his arrogance. He is now also admitting that he could have handled the situation better. Just like all the PL apologies we 'made mistakes', 'looking back we could have acted differently', 'we acted in good faith'.
You know this happens when you are unable to plan for the future. Instead of shouldering political responsibility, the prime minister is now handing over the onus to the citizen. You just cannot fight a pandemic with theatrics and buzzwords.
Get your act together Robert, stop playing the know-it-all, swallow your pride and take serious action. For the sake of all of us. This is not business as usual. You should have analysed the good results the government secured between March and July and where you failed. You had all summer to tweak the system used. But you are too proud for that. You think you know best and you said that it was all over and you beat covid. But it roared back and caught you with your pants down and now you are managing by crisis. Not good Robert. Not good at all. A good politician plans for the long term not for the immediate.
Robert Abela, stop playing God. You are not there yet. You will never be. We know that you love centre stage and we also know that you like to be bossy and arrogant. But here you are playing with people's lives. Climb down from that pedestal and get to work. Health before economy. The dead don't need money.