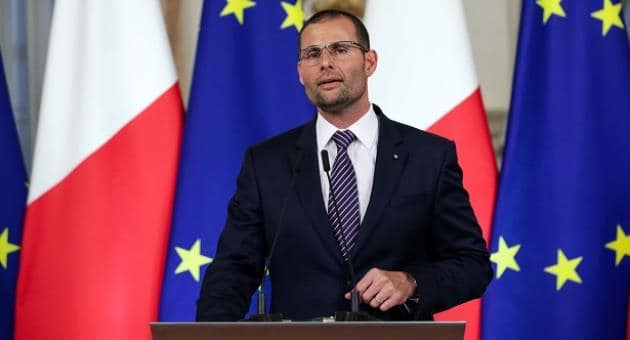 We're getting a lot of sophistry masked as clarity. First, the prime minister said that convicted Daphne-killer Vince Muscat had not named a politician in the context of Daphne's murder. That's not what we heard from Newsbook so the question was put to Angelo Gafà. He was weirdly even more categorical. Whoever is pointed to by the evidence as being involved in Daphne's murder has now been charged, he said.
The prime minister felt the need to intervene again this morning and flex some of those muscles of his. The Daphne investigation remains open, he said. The task force continues to work. But when asked point blank by Net's Kenneth Xuereb if il-Koħħu had named a politician (someone who has been in politics but is not anymore) he dodged the question.
What's happening here is that a line is being drawn around the narrow act of commissioning, procuring and executing a homicide. Within the limits of the law as it stands in this country, it may very well be the case that the police are correct to believe they have everyone.
That's because we don't have proper anti-mafia laws (on the Italian or American model) that would be widening this circle. It doesn't mean that our arsenal of legislative provisions cannot be used to go after the arm's length clan-members who in Italy would be charged with associazione mafiosa.
Here's what a line around the narrow homicide case leaves out.
First.
The murder of Daphne Caruana Galizia may have been first imagined by the alleged mastermind Yorgen Fenech and executed with the involvement of Alfred and George Degiorgio, Robert and Adrian Agius, Jamie Vella – all deny any wrongdoing – and Vince Muscat who has been convicted of the crime and Melvyn Theuma who has been given immunity from prosecution after confessing his role in it.
But Yorgen Fenech would not have decided to kill Daphne Caruana Galizia because of her looks. The compelling evidence heard in this case points us to look for the motivation of the murder in the attempt to conceal the corrupt 17-Black/Electrogas deal and the consequent effort to preserve the profits from that crime. On the one hand the beneficiaries of those profits are Yorgen Fenech's associates: Musayev, Gasan, Apap Bologna and so on. On the other hand, there are his accomplices in government that agreed to take his bribes to award him the contract: Konrad Mizzi and Keith Schembri.
That's politicians in the mix that the police and the prime minister are fully aware of.
Just because they may not be able to charge these people with murder, does not mean there are no consequences they should be facing for the illegal activity that led to, was the cause of and profited from the murder. The State is failing to act on any of this and until that failure is reversed the prime minister's protesting claim that the law rules in Malta remains an untruthful boast. The Electrogas contract stands and its owners continue to profit from its operations. And Keith Schembri and Konrad Mizzi are still laughing.
Second.
An intrinsic component of the perpetration of a crime is the attempt to get away with it. I'm focusing for the moment purely on the murder, not the crimes of corruption the murder sought to cover up.
Certainly, by not owning up to the crime, Yorgen Fenech, the Degiorgio brothers, the Agius brothers, Jamie Vella, and until they did in exchange of a pardon or a reduced sentence, Melvyn Theuma and Vince Muscat, attempted to get away with murder.
But they got help. Melvyn Theuma confirmed that he tipped off the Degiorgios that they were about to be arrested in December 2017, six weeks after the murder. He says Yorgen Fenech told him to and that Yorgen Fenech told him Keith Schembri tipped him off.
Melvyn Theuma also said that Kenneth Camilleri "from Castille" approached him with a message for the Degiorgios to promise them bail and a big sum of hush money. And he also said that Yorgen Fenech repeatedly informed him of tipoffs he got from Keith Schembri along the way.
Lawrence Cutajar used the information he was getting from his juniors and approached an old friend Edwin Brincat in order to get hold of the evidence against Yorgen Fenech before the investigators working for him did.
Silvio Valletta kept a personal, close and friendly relationship with Yorgen Fenech while he headed the department that was investigating him for murder.
Joseph Muscat texted Yorgen Fenech to have a three-way conversation with Keith Schembri around the time he was formally briefed by law enforcement agents that Yorgen Fenech was a murder suspect. He used a chat he had set up between the three of them soon after the murder had been committed.
Keith Schembri denies, but the evidence suggests he had Adrian Vella, the doctor he shared with Yorgen Fenech, deliver for him a letter to Yorgen Fenech while under arrest instructing him on what to do to divert the police's attention in the murder investigation towards Chris Cardona.
Joseph Muscat directed Keith Schembri to communicate with Yorgen Fenech moments before Yorgen Fenech attempted to flee the country the night of his arrest. Keith Schembri did so.
Joseph Muscat harboured Keith Schembri at his home late into the night on the eve of his chief of staff's arrest. When the arrest happened Keith Schembri's phone and all the evidence within it was not found.
Here then is reasonable suspicion that Adrian Vella, Kenneth Camilleri, Lawrence Cutajar, Silvio Valletta, Keith Schembri, and Joseph Muscat may have sought to obstruct the course of justice after the murder of Daphne Caruana Galizia. There's definitely some (ex-) politicians in that list.
Third.
Vince Muscat is providing evidence in other matters apart from the Daphne Caruana Galizia murder. He has, for example, been pardoned for his role in the murder of Carmel Chircop. That's because Vince Muscat is a career criminal and a gofer in multiple violent crimes.
Since April 2018 Vince Muscat has had many conversations with the police and not just about the conspiracy to murder Daphne Caruana Galizia in October 2017. What other crimes, apart from Daphne's killing and the murder of Carmel Chircop did he discuss with the police?
Did he discuss his involvement in the HSBC Bank heist, the one where he was caught out during the shoot-out and for which no one has ever been convicted after former police inspector and Chris Cardona protege David Gatt was acquitted? Did Vince Muscat mention any former or present politicians in connection with that case?
And had there been another conspiracy to kill Daphne Caruana Galizia, as distinct from the conspiracy run by the chain of command with Yorgen Fenech at the top? We know this may have existed from testimony given by Melvyn Theuma who told an open court that another Degiorgio brother, Mario, who is not in jail, had told him that his brothers had received separate instructions to kill Daphne Caruana Galizia from another middleman working for Chris Cardona.
Has Vince Muscat corroborated that information?
Understand now that if a parallel plan to kill Daphne Caruana Galizia did happen, the persons involved in that plan cannot be accused alongside the people who actually ended up killing her on somebody else's instructions. But it's a serious offence to conspire with others to kill someone, even if for whatever reasons, such as for example that someone else got there before you, the conspiracy you are involved in does not reach its end.
How serious? Thirty years in prison serious.
So, let's be clear. This case is not 'solved'. It is right for the police to start with the people with the detonator in their hand, so to speak. But all of Daphne's killers – and those who profited from her elimination, those who tried to help her killers get away with it, and those who planned to kill her until someone else got there before them – must all face justice.