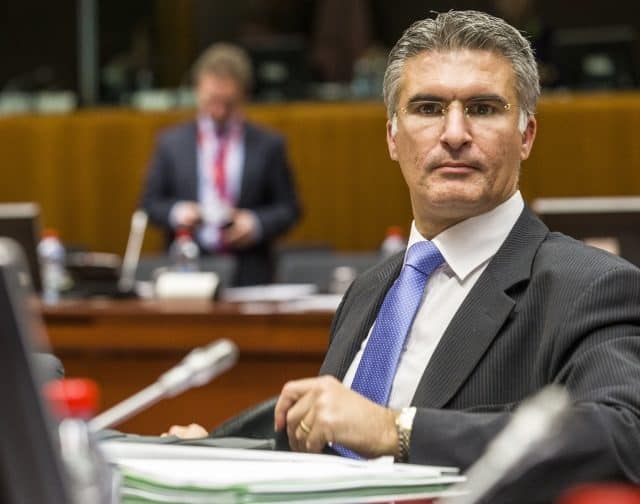 Carmelo Abela, staggeringly, called yesterday for Jason Azzopardi to resign.
Jason Azzopardi was not an HSBC employee when the 2010 botched heist happened. He did not have access to the machine that printed access cards used in the robbery. He did not give evidence in the investigation and then told the press he never had. Jason Azzopardi was not identified by two accomplices in the crime as their man on the inside.
That was Carmelo Abela. But Carmelo Abela said he expects Jason Azzopardi to resign because Jason Azzopardi shared with the world what he was aware of about what Carmelo Abela is said to have done.
This doesn't end here. There are other never fully explained attempts at robberies with much in common with the HSBC Qormi episode, all-around 2010. There were also robberies in Ħal Balzan and in Santa Venera that year. These boils tend to burst in sequence like a chain reaction.
The fact that the police are investigating Carmelo Abela's possible complicity in the Qormi robbery does not prove he was involved. Far from it. There had been an investigation into Toni Bezzina's grand scheme of having the walls of a 9 square metres attic in a village party club whitewashed that was the subject of a criminal investigation as well. Fortunately last Saturday the police told Toni Bezzina they found he has no case to answer. Good on Toni.
It may yet happen to Carmelo Abela as well and he's innocent until proven otherwise and he hasn't yet been proven otherwise. In respect of the robbery, that is.
But things don't look good on a government that includes in its numbers someone against whom there is enough evidence for the police to look into whether he helped armed robbers enter a cash vault of a bank. Don't get me wrong. Whitewashing an attic using public works employees does not amount to charity either. But cabbages and kings.
Nor does it look good that Carmelo Abela fibbed and fudged about whether he knew the police sat him down to look into the matter.
Consider that Carmelo Abela is a colleague of the people who rejected requests from his alleged accomplices for immunity from prosecution to turn state evidence against him. I'm not saying here that the decision to reject their request for immunity was necessarily the wrong one. I am saying that the decision cannot be seen to have been taken serenely just because we're told Carmelo Abela sat outside the room while his mates discussed the matter inside.
It's just not enough.
Nowhere near enough. This is way too serious for that.
It is way too serious for anyone in Carmelo Abela's predicament to try to discredit this by making Jason Azzopardi its source. The problem with Jason Azzopardi is that the time it takes from when he learns a fact to the time he shares it openly is much shorter than the time it takes institutions like, say, the police. Never mind the time it takes the perpetrators to admit they are lying.
But that's how we find out about things. If we were going to leave it to Carmelo Abela to tell us he's been interviewed about the bank robbery, we were never going to find out about it.
Shooting Jason Azzopardi down would not stop the investigation into Carmelo Abela that Jason Azzopardi spoke about. Of course, Carmelo Abela feels he can't be blamed for trying.
The people of Malta are complicit in the mess they're in. The Labour Party knows it can brush off a police investigation into armed robbery into one of its own. It knows it can go on without blushing or blinking when the national auditor exposes a quarter of a billion-euro contract for an elderly home extension as illegal. It knows people will happily pay electricity bills that include the margins promised by Electrogas to the politicians its owners bribed or promised to bribe.
The Labour Party knows the people of Malta are perfectly happy to be run by crooks.