Nobody sets up camp outside the Police Headquarters, enduring the wind, rain and unsanitary conditions for 72 hours, for the good of their own health. People tend to prefer their home comforts, don't they?
In Malta, these home comforts have been threatened for a very long time – a reality that came sharply into perspective when Miriam Pace was buried beneath the rubble of her own home in March 2020. Nothing is safe in Malta, not even your own bricks and mortar.
The fact that Malta Government is in bed with the construction industry is an open sore, from the PA paying for a private jet to fly one of its members back from holiday to cast her vote in favour of Silvio Debono's mega-development in Pembroke to Joseph Portelli sitting on top of his monstrous tower in Paceville bragging about 100 more years of construction. You'd think we'd have had our fill.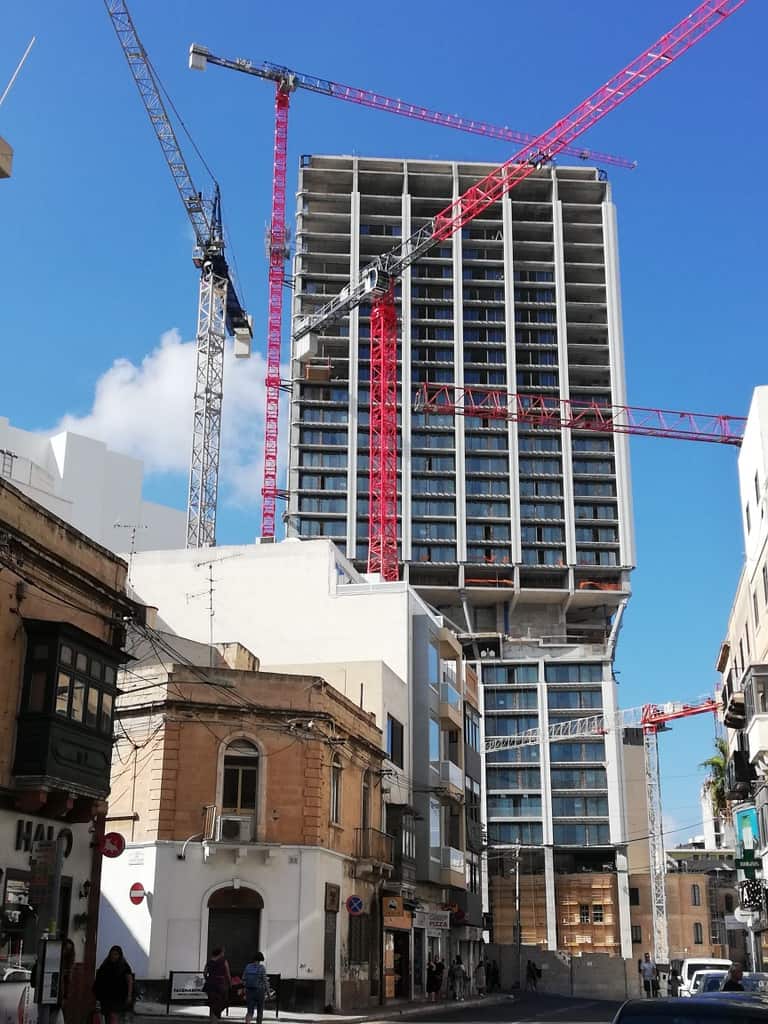 Evidently not. Last Sunday, more incestuous affairs of the heart and pocket were revealed with Konrad Mizzi sharing confidential chat and kisses about a planned €80 million project to relocate the ITS campus to Smart City with that PL ħabib, Yorgen Fenech. This project itself resulted from the Tourism School being unceremoniously removed from its campus to make way for Silvio Debono's Pembroke mega-development on which the private jet-setting PA member gave her assenting vote. What goes around comes around as they say.
Konrad Mizzi, whose claim to fame includes being the only sitting minister in Europe named in the Panama Papers, was busy feeding Yorgen Fenech lots of juicy titbits while expecting a €5 million cut for his help in securing the winning bid – and all this before the actual tender was announced. It helps to have friends in high places while supping from very long spoons.
'Let's do this bloody ITS my friend,' said Fenech to Mizzi, 4 months after Fenech was outed as the owner of 17 Black, designed to pump €5,000 a day into the offshore accounts of Mizzi and his partner-in-crime, Keith Schembri, from the corrupt Electrogas deal, widely cited as the motivation for the assassination of Daphne Caruana Galizia.
It just doesn't stop, does it?
When Mizzi was summoned to the PAC to answer questions about his role in the crooked Electrogas deal, he waved his refusal around as if he were turning down an invitation to some distasteful wedding. Mizzi's marriages, including that 'real' one to Shanghai electric Sai Mizzi Liang, are based on lots and lots of love for the illegal acquisition of lots and lots of dirty stinking cash.
Mizzi didn't turn down the PAC 'offer' once, twice, or even three times as the cock doth crow. Just after he'd been outed for his cosy tête-à-têtes with Yorgen Fenech, he announced his refusal to turn up to the PAC for the fourth time, mirroring his refusal to answer questions at the Public Inquiry.
While the good people of Malta were busy slurping down the dregs of ONE TV, the other good people of Malta – namely Robert Aquilina and Alessandra Dee Crespo (President and Deputy President of Repubblika respectively) – decided that enough was enough and announced they'd set up camp outside the Police Headquarters in Floriana for 72 hours, demanding the arrest of Konrad Mizzi.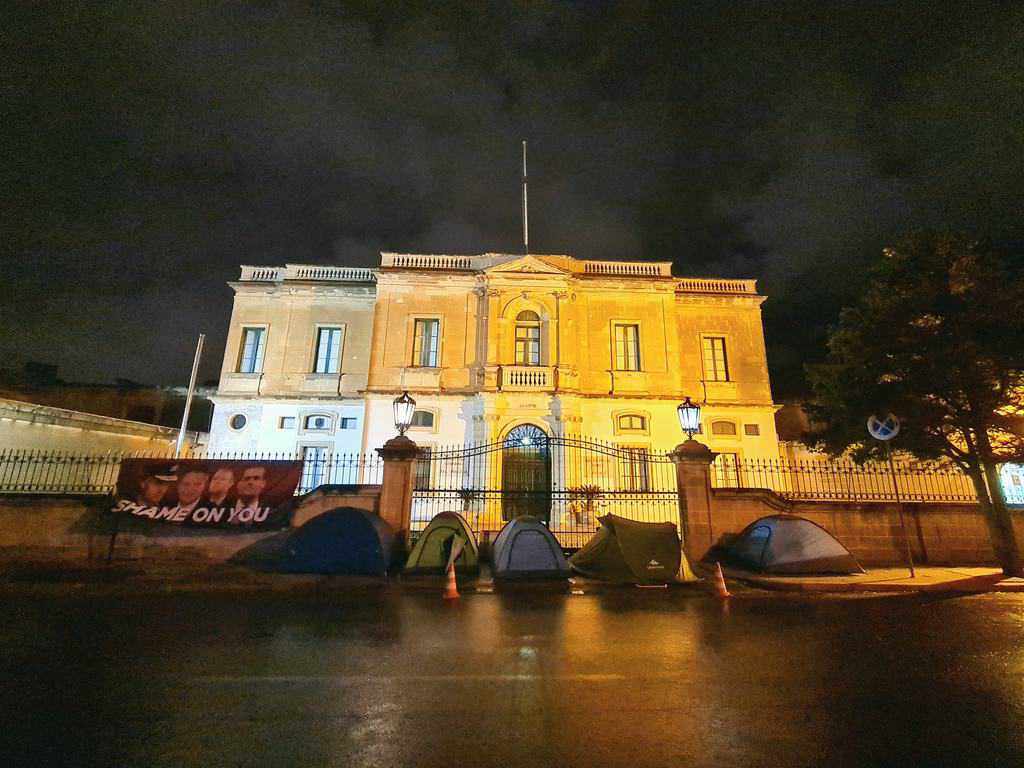 That's what decent people do, you see. They, quite literally, put their money where their mouth is and forego the daily basics which we all take for granted – like hot showers, toothpaste, a comfortable bed. They forego the daily basics which Mizzi, along with his mafia associates, has surreptitiously removed from the people he's supposed to serve – the citizens of Malta.
Think of the fraudulent deals involving Electrogas and Enemalta. Think of all those power cuts. Think of the way in which 3 public hospitals were stolen in the corrupt Vitals/Steward swindle. Think of the way in which the commercial and hospitality sector has been taken over by government funders and cronies so that even Valletta, once a safe haven amidst the destruction, is now overrun with café tables spilling out across the narrow streets while the sound of drilling in the main square – Freedom Square – leaves your coffee cup shaking and your attempted conversation null and void.
In Malta, all the things you take for granted have diminished, including the air you breathe. Even that most basic principle, the right to life, was snuffed out on the 16th October 2017 when the woman who exposed every corrupt deal carried out by this criminal government was blown to pieces in her car.
Yet the assassination of Daphne Caruana Galizia was not enough. The findings of the Public Inquiry – that the State of Malta is responsible for Daphne's killing and Joseph Muscat is responsible for the culture of impunity that facilitated her murder – are not, it seems, enough. The scandalous affair between the current justice minister, Edward Zammit Lewis, and Yorgen Fenech is not enough. The grey-listing of Malta is not enough. The ongoing scandals that hit Malta's media on a more than daily basis are not enough.
The danger to journalists, activists and government critics has intensified since the Public Inquiry published its report at the end of July. Following a manic episode where websites and emails of independent media were 'spoofed', alongside intimidating anonymous phone calls, messages as well as other threats, Manuel Delia was forced to leave Malta for his own safety. His absence at the recent events marking the 4-year anniversary of Daphne Caruana Galizia's brutal assassination was a statement in itself. Despite everything, our journalists are still not safe. Freedom of expression remains under threat and the PL propaganda machine is on full throttle, powered by Karl Stagno Navarra and prodded along by Fenech's spokesperson, Simon Mercieca.
It's a bit of a mess, isn't it, especially in a country told to clean up its act by the FATF, the Venice Commission, the European Parliament and others while forever plummeting in the media freedom stakes.
As for police protection, in a country where the disgraced ex-Police Commissioner was leaking information to assassination suspects and the lead investigator into Daphne's murder was holidaying with Yorgen Fenech, perhaps we've got what you'd expect in Abela's culture of continuity – nothing. Worse than nothing. Because by doing nothing, you leave people isolated and exposed to whichever gung-ho gun-toting retrograde decides to have a pop at you. Serves you right for not sticking to omertà. Serves you right for sticking your neck out. Serves you right for standing up to be counted.
Just the other week, shortly before the 4-year anniversary of Daphne's assassination, more spoof phone calls started up which cloned the numbers of Jason Azzopardi, an unnamed journalist and, most repugnantly, Daphne Caruana Galizia. Police arrived at the homes of Jason Azzopardi and the journalist in the middle of the night, believing they were called out to investigate a threat. This happened on alternate nights during the same week. Sleep deprivation is itself a form of torture. It's also a 'Cry wolf' scenario so if a real cry for help is made, this may tragically go unheeded.
Maybe the police thought Robert Aquilina, the President of Repubblika, was crying wolf when he publicly requested police protection on the 29th August after a warning to 'be careful' by an unnamed Labour politician. How else to explain why it took them over a month and a half to provide any form of protection and this only after the aforementioned spoof phone calls?
While camped outside the headquarters of this same police force this week, Aquilina made the same plea following a Facebook post threatening to run the activists over with a bulldozer. By refusing to take action, including arresting the culprit, the Continuity Police Commissioner, Angelo Gafà, has left this person free to commit the crime. (Ed. note: After this article was submitted Repubblika was informed the police investigated the death threat and will be pressing charges – MD).
This is leaving the lambs to the wolves. Except Repubblika are far from lambs and the only clothing they wear is integrity. This is, as it was for Daphne, a David and Goliath situation, but never forget that David won. They may have assassinated Daphne but her voice lives on and it resonates loud and clear in this seemingly small-scale but massively significant protest happening right now before our eyes.
These people, risking their lives and wellbeing, are doing what normal decent people do when democracy is under threat and atrocities have been committed. Although as Aquilina points out, 'this action is meant to be 'not normal' because we can't go back to normal as if nothing is happening.'
Representatives of Repubblika are protesting to protect and safeguard the civil liberties of everyone in Malta. They are protesting in the face of gross injustice. They are standing up, as they've stood up so many times before, and they are more than happy and willing to be counted.
If croissants can be sent from France to sustain these modern-day heroes, it doesn't take much for you to join them. Leave your home comforts for an hour or two. Be there in solidarity and make your voice heard. Stand up and be counted at Castille or lie down and wait for that bulldozer to flatten you because mark my words, it surely will.