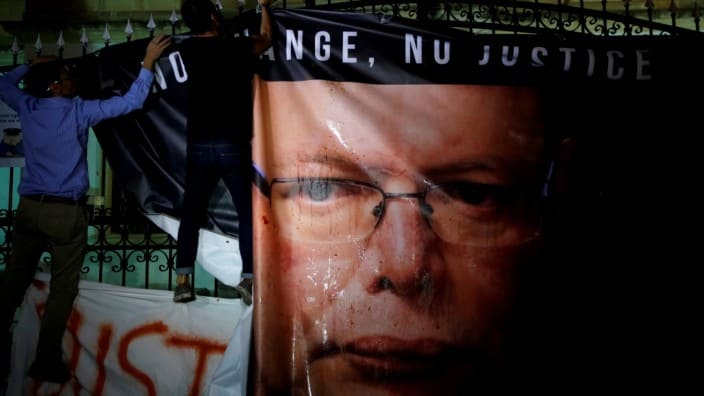 Just five days after Robert Abela was sworn as prime minister on 12 January 2020 incompetent, and since investigated by a magistrate's order for alleged complicity in crimes, Lawrence Cutajar resigned from his post as Commissioner of Police. Not to diminish his income Robert Abela gave him a consultancy appointment worth €31,000 per annum which was revoked in June of the same year after allegations surfaced that Lawrence Cutajar might have tipped off Melvyn Theuma about the latter's forthcoming arrest. Melvyn Theuma later admitted being the middleman in the conspiracy to kill Daphne Caruana Galizia.
Angelo Gafà succeeded Lawrence Cutajar as Police Commissioner. Angelo Gafà had served as CEO of the Police Department. In spite of that, he was still employed on a probationary basis for one year. The government organised a recruitment process to present an image of transparency and autonomy but the final call was Robert Abela's.
All Malta sighed relief hoping that finally things will work and the police will be doing their jobs and take action against criminals, real criminals.
That's not some hungry man who steals a can of tuna. All expected that concrete action would be taken against money launderers, the real ones not some elderly couple who helped needy neighbours by giving them credit until their pension comes in. We had high hopes. But alas non or little action has been taken. Again, he was given the benefit of the doubt and many thought that the inaction of his first year at the helm of the Police Force was because of his probation. Many thought that Malta will see the true Gafà after June 2021. But little happened. A near complete status quo.
The money laundering sharks are still swimming free in the noxious deep sewers of what has become the filthy mafia state of Europe. Not even getting grey listed by the FATF managed to move the police into action. While Botswana was removed from the list, Malta is still there amongst the worst of the bad. And Robert Abela looks quite happy about it.
Now that the Commissioner has been in office for nearly 18 months what people are expecting from Mr Gafà is more than the force's rebranding with new designs and new colours for the police car fleet. New uniforms won't cut it either.
The people are soliciting justice. Youths are demanding to have a normal country where the rule of law is supreme, so that they could live in their home country and not be forced to leave. Their parents would rather their children find stable careers here.
Apologists may argue that Keith Schembri was charged with money laundering but that wasn't Mr Gafà's initiative. It was a direct consequence of the conclusion of the magisterial inquiry requested by Simon Busuttil who had been mocked by the corrupt Joseph Muscat who tried to make the sheep in front of him laugh at his jokes about 'empty pizza boxes.'
We all remember the scene in Parliament with the corrupt former prime minister telling Simon Busuttil that he would have to escape Malta in shame. Strange that both of them left the Maltese Parliament – Simon Busuttil to become the Secretary General of the EPP group at the European Parliament and Joseph Muscat in involuntary response to protests by civil society.
Some might point out that the police commissioner also, one year late, arraigned Pilatus Bank high officials and directors on money laundering charges. But then again that came after the conclusion of a magisterial inquiry and after the FIAU handed the bank a fine of €5 million. Too little and too late.
People of goodwill are still waiting for action to be taken against the usual suspects like Lawrence Cutajar, Peter Grech, Konrad Mizzi, John Dalli, and Joseph Muscat. People of goodwill are waiting for Mr Gafà to re-open the Egrant investigation.
The Police Commissioner has up to now failed miserably to take concrete action against any politician or high government official accused of corruption. Impunity continues to reign unabated. We need action. Not next week, not tomorrow. We need action now.