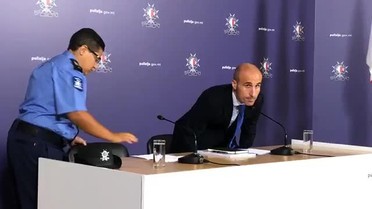 Listed in the Panama leaks of 2016. Exposed by further leaks for setting up a structure to receive bribes. Exposed by the auditor general for direct interference in public procurement. Exposed in connection with the sale of Enemalta stock to Shanghai Electric. Exposed for the Montenegro deal. Exposed for the VGH deal. Exposed trading official secrets on the ITS project.
He has missed appointments with delegations from the European Parliament, with the Auditor General, with the Public Accounts Committee. For years he dodged press questions and when he didn't he was consistently caught lying.
One of the persons identified as his briber in the Electrogas scandal was charged with killing a journalist to avoid them getting exposed.
There are open inquiries on the Panama Papers, on 17 Black, the Montenegro wind farm scandal, and the VGH hospitals scandal listing him as one of the principal suspects in very serious crimes. The inquiries have been going on for several months, some several years. If there had been no evidence against Konrad Mizzi they'd have folded a long time ago.
A year ago, he was arrested by the police and held for interrogation. He was then released again.
After all this time, Police Commissioner Angelo Gafà still hasn't found enough grounds to charge Konrad Mizzi. With anything. This can't be right.
There's a political fear in the Labour Party that if Konrad Mizzi were to be brought to a point where he can start seriously worrying about prison, he'd spill the beans on his accomplices, beginning with Joseph Muscat.
Granted Joseph Muscat is no longer Labour leader but the Labour Party is not keen on a repeat of November/December 2019. It is not keen on any form of humiliation.
The evidence in the public domain against Konrad Mizzi and his behaviour as a bully fugitive with friends in high places are so stark and so widely known that is hard to imagine any reason for the Police Commissioner to withhold action against him which goes beyond the interest of the Labour Party.
That's just Lawrence Cutajar with a uniform that fits better.
The time for talking is over. We need to see action. I can't be there myself but if you're near Police Headquarters tomorrow (Tuesday) at 6pm, Repubblika will be speaking to the press and those present about this subject. Maybe this time, Angelo Gafà gets to see sense if he's shown it clearly enough.