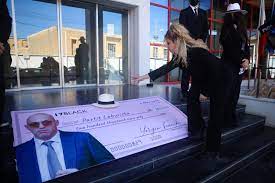 Questions put by this website to Ronald Vassallo, spokesman for the Labour Party, on whether the Labour Party accepted funds from the Tumas Group since its former CEO, Yorgen Fenech, was charged with murdering Daphne Caruana Galizia, were sidestepped.
Ronald Vassallo only replied to one of three questions put to him concerning whether at any time Robert Abela or any senior party official discussed a presidential pardon for Yorgen Fenech with any of his relatives. Vassallo replied that "the granting or otherwise of presidential pardons is discussed at cabinet level only. It was the Opposition leader who had surprisingly taken a public stance in favour of granting a presidential pardon to Mr Yorgen Fenech."
Meanwhile Ronald Vassallo ignored a direct question on whether the PL accepted donations from the Tumas Group and or members of the Fenech family in the last 2 years.
Donations from the Tumas Group in the last 2 years would have been problematic for several reasons. Labour MPs sat on the Public Accounts Committee that was looking into wrongdoing reported by the Auditor General in the Electrogas scandal. Investigators have testified in court that they considered the protection of the Electrogas profits as a motive in the murder of Daphne Caruana Galizia. And Yorgen Fenech's successor as CEO of the group, Ray Fenech, was shown in evidence produced in court to have advised his nephew on how to avoid arrest.
The Labour Party's failure to give any form of reply as to whether it has been receiving funding from the Tumas Group after its CEO was arrested and charged with murdering a journalist, strongly suggests that they indeed have been accepting such funding.
Last September, PN youth activists let by new MP Eve Borg Bonello protested at Labour headquarters after Times of Malta reported that a Labour-linked firm had drawn up a consultancy deal with Yorgen Fenech that appeared to be a front for donations to the party.