The following is an English translation of Robert Aquilina's speech outside police headquarters on Wednesday.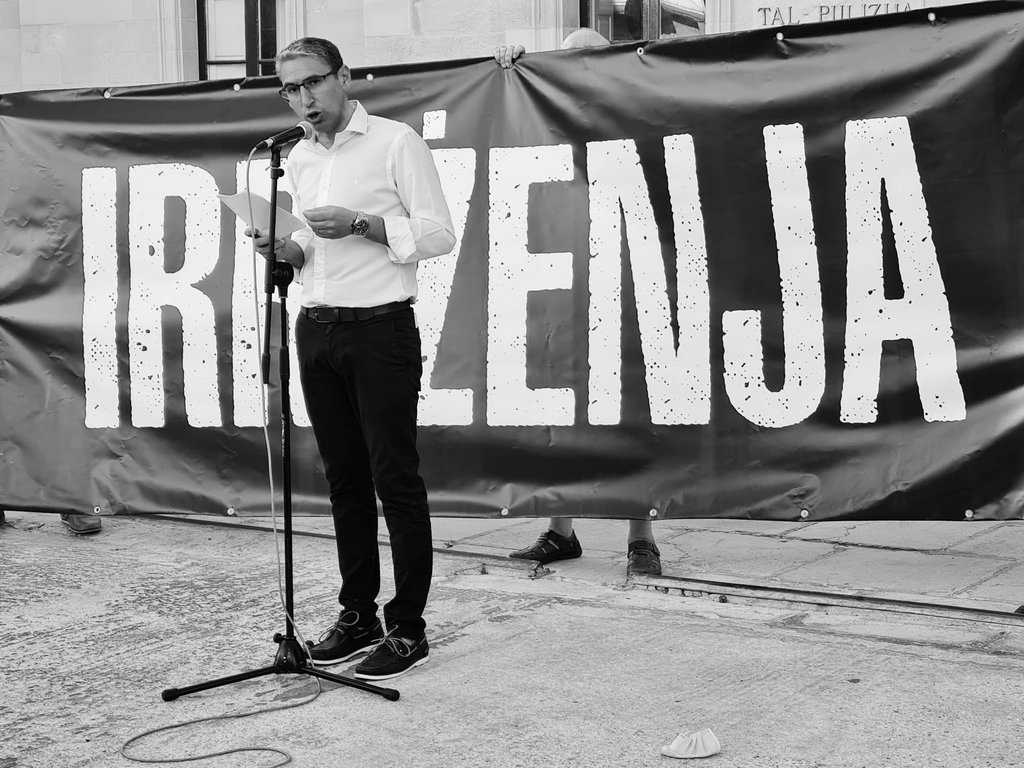 A year and three months ago – together with my fellow members – I entered the Police Headquarters for a meeting with Commissioner Angelo Gafà and the Deputy Commissioner Alexandra Mamo.
On that occasion, the two officials had been occupying their post for nine months already.
During that meeting, I looked straight at Gafà and told him that he had not applied to be appointed Commissioner in a normal time, but at a time when a journalist had been assassinated with mafia methods. Due to corruption and the system of criminal power that the journalist had exposed, a bomb had been placed under her car seat, at a time when very high officials of the police corps had been caught out helping criminals instead of protecting the people.
I reminded him that in our country no member of parliament has ever been charged in court for corruption, even though the Maltese are convinced that politics is dirty, or rather very dirty.
I told him that for our country to take the right direction, we need a Commissioner who would not treat politicians and businessmen as 'untouchables'.
I told him that Malta needed a Commissioner with guts.
I told him that we hoped that that Commissioner would not be the Commissioner following the one who took over from him, or the one who would succeed him, but he himself, sitting in front of me.
I told him that if he worked on the corruption that is choking this country, he would be undermined by the government.
I told him that if he acted on corruption, we would back him openly, and that we would come to the Headquarters not to protest, but to support him.
I told him that we augured that he would succeed in the role he had assumed.
We had been waiting for months and continued waiting for more months.
Four months after that meeting, we came here and on the iron railings outside the headquarters we stuck the photos of those who were still considered untouchables.
By then, Gafà had been occupying the post of commissioner for over a year.
We did not expect him in just one year, to overcome all the wrongdoings that had been committed in the previous years. But we expected to see some concrete steps being taken.
So, we came here to tell him that time was pressing and that we still had not seen any positive tangible action from him.
Because of the pressure we exerted on that occasion and on the following weeks, Gafà started court proceedings against John Dalli, after nine whole years of impunity.
Since that time, we have come to these Headquarters many other times to hold news conferences and we even spent three days and three nights in pouring rain to show our anger at the fact that regarding numerous cases of obvious and documented corruption – as in those involving Konrad Mizzi – he had done absolutely nothing.
We always warned that there are limits to patience.
This limit has now been exceeded.
This month, Gafà will have occupied the position of Commissioner for two years. So, it is time for us to draw our own conclusions.
I shall start from the criteria that Gafà himself established when he had applied for this job and was being interviewed by Parliament. That day, he had committed himself to two things.
First: Gafà gave his word that he would be totally independent and would not allow any politician to influence him.
Has he in fact taken any politician, even just one, to court on charges of obscene corruption that has been taking place since March 2013?
Has he taken the corrupt former Prime Minister Joseph Muscat to court?
Has he taken the Minister with a pedigree for corruption, Konrad Mizzi?
Has he taken Keith Schembri to court for the corruption he carried out from the Prime Minister's Office?
Has he taken Edward Scicluna and Chris Cardona to Court?
Has he taken Yorgen Fenech to court on charges that also involve Muscat, Mizzi and Schembri?
Tell me whether he has taken at least one person involved in the corruption leading to Daphne Caruana Galizia's death to court.
He hasn't even shown himself capable to act on the obscene case of the phantom job for Melvyn Theuma – a very simple case to proceed on.
So, we are forced to conclude that regarding this criterion, Gafà's track record is one of total failure.
The second commitment taken by Gafà was to promise that he would be informing the public regularly about the activities of the Police Corps especially by means of press conferences.
The last press conference by Gafà was held on 24 February 2021 – fifteen months ago
Worse still, I am informed that whenever Gafà gets to know that there are journalists waiting to question him in front of the Depot, he finds ways and means to avoid them by entering and leaving from a secondary door.
The Police Corps are having to make to do with a commissioner whom, instead of being accountable, is in hiding. For Gafà, accountability has become a game of hide-and-seek.
Therefore, even with the criteria that Gafà established himself, he has also failed badly.
And what is there to say about the steps which he was obliged to take against the officials in the Police Corps who were caught helping criminals from within?
What has he done about those officials whom we have heard witnesses against in Court?
Has he taken Silvio Valletta to Court? Has he taken Ian Abdilla to Court? Has he taken Ray Aquilina to Court? Has he taken Lawrence Cutajar to Court?
No, he has not taken one of them to court. So even from this exam, Gafà has failed pathetically.
From the witnesses which members of the Police Corps gave in Court two days ago, in the case against the ex-official of the Malta Gaming Authority, it has emerged that last December, an expert employed by the Court found evidence that indicated that someone in the police corps had been bribed so that no action would be taken against the crimes committed by Iosif Galea and his alleged accomplices.
This means that Angelo Gafà had known for at least 6 months that there were police officials who were corrupt and that the corruption in the Corps led by him was allowing criminals to enjoy impunity.
And Gafà wants us to believe that it is just a coincidence that this Iosif Galea is a friend of Joseph Muscat.
In the same way that he wants us to believe that it is just a coincidence that this same Iosif Galea was arrested by the Italian Police while he was on holiday with Joseph Muscat.
Mr Gafà, the responsibilities and powers of the Police Commissioner bring with them the duty of accountability to the public. Since you refuse to state what you did when you became aware of criminals paying off the police so that nobody would touch them if they were caught, our conclusion must be that you did absolutely nothing.
Our conclusion on this point is that Gafà has also failed miserably.
What can be said about the investigations which he was supposed to do while there would be ongoing magisterial inquiries about the same subject which he is obliged to investigate?
Gafà knows all too well – and in our meeting a year ago I reminded him – that when a Magistrate is carrying out an inquiry, it is the duty of the police to perform their own separate investigations, and, if they come to conclusions before the Magistrate, they must begin the prosecution on that case and, in so doing, inform the Magistrate with that fact and begin accusing the suspects in Court without delay.
But Gafà has not acted in this way over the past two years. Like his predecessor, Gafà has acted as though when a Magistrate is investigating a case, the police are exonerated from also investigating it.
And Gafà cannot deny this. The facts show that the Magistrates have always come to conclusions before him.
Gafà's track record is that he always hid behind the work of the magistrates. He is so unmotivated to move cases of corruption forward that he only acts when he is forced to do so.
Tell me, is this decorous behaviour?
Thus, on this point too, Gafà has failed completely.
And how has he acted on the inquiries which have been concluded?
On the Egrant Inquiry, he should have investigated Karl Cini. But he did not take Cini to Court. He took Jonathan Ferris to Court instead.
One does not need to be a professor to understand why Ferris taken to Court while Karl Cini of Nexia BT – the man who wrote the email about Egrant – remained untouched by Gafà.
About the Pilatus Inquiry, he should have taken steps against the owner of the bank, against its directors, against the MLRO, and against the bank itself. He only took steps against the MLRO and against the bank…but he let the owner of the bank and its directors off scot-free, enjoying the fruits of the deceit which they had committed.
So even when the Magistrates do their work, Gafà still leaves things half-baked. He acts with an iron fist with small fry and with cotton gloves with the big fish.
So, on this point as well, Gafà has totally failed.
And what about the morale of the Corps?
Gafà inherited a police corps that was shocked by the disgusting things that occurred at the Headquarters, but which was generally motivated to work. This is how whoever is involved in some way with the Police Corps describes the situation when Gafà took over as Commissioner.
Gafà managed to make a mess even where things were proceeding well. In fact, he even managed to do worse than his predecessor.
Gafà considers all the police – except for a clique of chosen individuals – suspiciously, as people who are not worthy of his trust.  He has removed all sense of initiative and of professional satisfaction.
He boasts that he has introduced discipline. He has managed to demoralise a whole Police Corps. Whoever one speaks to – except the few core individuals – will repeat the same thing. Everyone is sad about the way the Corps has collapsed and about the disrespectful way Gafà treats the police.
In fact, one of the police unions had to resort to industrial action, which has been taking place over several months. Gafà allowed this industrial dispute to deteriorate and lengthen over several months… it is still pending up this very day. This is all deleterious to the Police Corps and to Malta.
Like myself, you journalists have heard of a long list of Police members who have resigned from the police corps, including policemen who had only a few years to go before reaching the required twenty-five years' service – they too resigned.
A few months ago, the Assistant Commissioner who was often present at our activities to ensure that things proceeded smoothly, also resigned.
This official was considered by everybody as the symbol of rectitude and discipline within the Corps. I wish to thank him heartily for the exemplary service he has given.
The resignation of this true gentleman shocked the police corps and was the biggest proof of the fact that you cannot work with Gafà if you want to proceed with integrity.
The Police Corps under Angelo Gafà has become one which is characterised by injustice within the Corps itself.
I cannot help mentioning – for example – that a few months ago a police superintendent – Mr Raymond Anastasi – won proceedings that he had started with the Ombudsman about promotions to the grade of Assistant Commissioner. The Ombudsman ruled that the process of promotion was vitiated. D'Anastasi won the case presented to the Ombudsman, but Gafà did not even bow to the Ombudsman's verdict. He continued to take an obstinate stance, to the extent that D'Anastasi was obliged to open a constitutional case.
I also must mention vindictive transfers that certain policemen had to undergo simply because they were faithfully fulfilling their duty. I am not going to mention the names of those policemen who were victims of this cowardly behaviour, in order not to expose them – since they are still in service – to further suffering, vengeance and injustice. But I can assure you that everyone within the Corps knows who I am referring to.
Is this behaviour worthy of a Police Commissioner?
And what about the reputation of the Corps?
As soon as he was appointed, Gafà threw himself heart and soul into an exercise of rebranding and marketing.
He ordered the police vehicles to be painted like those of the British police.
He ordered the Police Corps to start using social media.
We have nothing against these initiatives.
But these measures alone were insufficient to improve the reputation of the police Corps.
I can tell you – and I know what I am saying – that the police themselves do not trust the Police Corps.
As was the case under Lawrence Cutajar, under Angelo Gafà the Corps is still an institution of impunity and injustice.
It is an institution which acts against the small fry but does not touch the big fish and their mortal sins.
The truth is that organised crime can rest assured that with Gafà as Commissioner there is little risk that it will have to face justice.
The case of Iosif Galea, who as we know, despite a European arrest warrant which had been issued a year and a half ago, was caught holidaying in Italy in the company of the corrupt former Prime Minister Joseph Muscat and his wife Michelle, is the latest proof of the strength that Joseph Muscat and his corrupt cronies in the police force still wield.
This scandal and the other scandals we learned of in the past two years show clearly that the Police Corps is still in the same situation that the Public Inquiry on Daphne Caruana Galizia's assassination found it to be.
It is still a Corps of impunity, of omertà, of friends of friends, of tolerance of corruption, of inaction towards obvious criminality.
Every time I came here to hold a press conference in front of the Police Depot, there was always some journalist who asked me whether I was asking for Gafà's resignation.
My answer every time was that we believed that Gafà had the necessary ability but lacked the will to lead the police force the way a Police Commissioner is expected to do so in the present circumstances.
I always answered in this way because we always kept hoping that it was perhaps only a question of time. We felt it was our duty to give him a chance.
Today, that hope has completely evaporated.
Angelo Gafà killed that hope with his own inaction. The Commissioner wasted all the chances we gave him and which the Maltese people gave him.
Today, without hesitation, we can say that Angelo Gafà is an integral part of the acute problem that the Police Corps – and thus our country – have.
Today, without hesitation, we can say that the only honourable route which remains for Angelo Gafà is for him to resign.
We have absolutely no trust left in Angelo Gafà.
Thankfully, the Police Corps is bigger than every member who is a part of it, including the Commissioner. There are various people – both within the Corps itself, as well as presently outside of it – who are capable and who possess the necessary guts and determination to take Gafà's place and to fulfil their duty as the law and integrity demands.
I appeal to the hundreds of honest police officers whom I believe constitute most of the Corps and who want nothing more than to earn their pay to provide for their families while faithfully serving society in the Police Corps:
You all know that we are aware of the critical state in which you find yourselves. We know – because we speak to you often – that you are suffering injustices, that you are being humiliated. We appreciate you. We see in you the solution, not the problem. We have never been as close to you and in contact with you as we are today.
I appeal to you to remain strong. Do not leave the Corps which is so dear to you. It is necessary that, for the good of the country, you remain in the service. The future of the country depends on all of you as well.
Above all, I appeal to you that, whatever your superiors may tell you, you fulfil your duty without favour to anyone, so that you may continue to look into your children's eyes and be proud of who you are.
I would like to conclude by directly addressing Angelo Gafà:
Recognise the fact that you have failed.
You have no credibility left.
In the name of all that is good, for the respect toward the uniform that you wear, you should avoid further disgrace to this Corps and to our nation.
We have a Police Corps that has become a national humiliation.
We have a demoralised Police Corps.
Above all, we have a Police Corps that is still a facilitator of injustice and of impunity.
In the interest of justice, in the interest of all that is good, in the national interest, resign.
Make room for those who are competent and above all eager to ensure the carriage of justice without favour to anyone.
Mr Gafà, recognise the fact that because a journalist was killed in our country – and she was killed because of corruption and impunity – today, in Malta, a civil society which works in the realm of legality exists. Recognise that this civil society will not allow you to continue to do as you please, and it will certainly not allow you to remain in your position so that you do nothing.
Our country needs a Police Commissioner who works and who achieves results. Gafà has shown that he is not and does not want to be that Commissioner. For this reason, there is only one path left available to him: for him to resign.