A report in the Azeri Times published on 16 October, the day Daphne Caruana Galizia died, reports on a March 2017 report by the Civic Solidarity Platform. CSP brings together human rights NGOs from Europe, Asia and the Americas.
The 'Caviar Diplomacy' report into Azerbaijani politics lists Malta as one of the Azerbaijini oligarchs' safe havens for money laundering. It particularly refers to a close association with Maltese politicians who one way or another assist Azerbaijani interests on the international scene.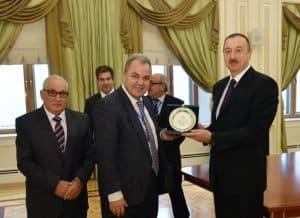 "According to our sources in Baku, Malta is considered by Azerbaijani oligarchs as one of the 'provinces' of Azerbaijan," the report by the Civic Solidarity Platform, published in March, states. "Malta is one of the key locations where corrupt Azerbaijani officials kept their money in offshore banks".
Anġlu Farrugia is specifically referred to for having certified elections in Azerbaijan as free and fair when the rest of the world thought they were anything but.
Joe Debono Grech ignored the political imprisonment of a journalist in Azerbaijan betraying the Maltese Labour Party's particular commitment to press freedom.
Later the same day, Azeri Times reported Daphne Caruana Galizia's assassination observing that "her most recent revelations pointed the finger at Malta's prime minister, Joseph Muscat, and two of his closest aides, connecting offshore companies linked to the three men with the sale of Maltese passports and payments from the government of Azerbaijan".