This too is what makes us a Mafia state.
This utter depletion of a sense of propriety. This complete ambivalence to the duty of the political class and the heads of our institutions to lead the people in times of national crisis. This callous pretense of business as usual when the grief is still so raw. This capacity of our political leaders to lie, and smile as they lie.
Whilst the European Parliament rose in solidarity and sympathy to the occasion, our Joseph Muscat took on his favourite role of salesman. Whilst Parliamentarians from across Europe called for an independent investigation in Daphne Caruana Galizia's murder, Joseph Muscat instructed his staffers to say MEPs boycotted the memorial.
Look at how Super 1 took a stock photo of the empty chamber and passed it for a photo of a deserted session where MEPs ignored the death of Daphne Caruana Galizia.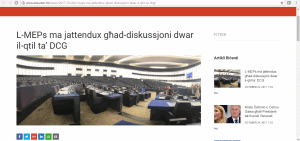 A lie. A viscous, cruel lie. This is Joseph Muscat telling any Labour Party supporter with a modicum of conscience there is no reason to make a fuss about the witch of Bidnija being blown to pieces. No one cares anyway.
When what really happened was a full-house plenary with members of all political parties left to right united in unison, solemnly applauding the speech of President Antonio Tajani calling for the Maltese government to allow international policemen to investigate the crime.
Look. This is what really happened:
WATCH: Speech by the President of the European Parliament Antonio Tajani on the murder of Daphne Caruana Galizia, and reiterating his confidence that "Maltese authorities will spare no effort in getting to the bottom of what happened."

Geplaatst door Permanent Representation of Malta to the EU op Dinsdag 24 oktober 2017
On the national TV station they wiped off the event from the news like desk-workers in the Ministry of Truth from 1984.
Then Kurt Farrugia, who thought he'd never be called a coconut again in his life, misquotes Antonio Tajani to make him say he has confidence Maltese authorities will spare no effort in getting to the bottom of what happened.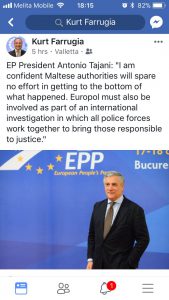 Another outright lie. The spokesman of the Maltese government thinks there's no one left who can speak Italian. President Tajani said he expects the Maltese authorities to spare no effort, not that he has any confidence whatsoever that they would. This was no praise. This was a warning.
President Tajani is so clear in his mistrust of the Maltese authorities that he actually goes on to say that he thinks there should be an international inquiry with police from outside Malta to investigate the case.
He is backed by the European Commission Vice President Frans Timmermans who told MEPs the European Commission will if needed investigate the Maltese authorities itself if investigations reveal systemic issues.
If? Oh there are plenty of those Mr Vice President.
Meantime, just in case you hoped any institution of the government has been left to function according to its constitutional manual, the Maltese embassy to the EU reposts Antonio Tajani's speech with the same deceitful, lying spin of Kurt Coconut Farrugia. Not a word is changed from Farrugia's barefaced  lie in spite of the fact one would think someone at our permanent representation speaks Italian.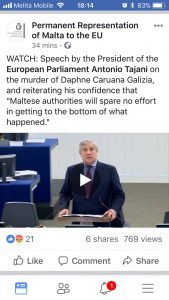 This is a crisis of confidence in Maltese institutions that has now reached biblical proportions.
And our Moses catches a plane and goes to Dubai to tell them they can get Maltese passports for a million euro.
He shrugs off the moral authority of the European Parliament as he shrugged off the Caruana Galizia family, as he shrugged off civil society protesters, as he shrugged off Daphne Caruana Galizia while she was still alive.
Prime Minister, this is truly shameful. You are now going out of your way to be offensive and hurtful. You are transforming the smugness in your appearance and speech into formal public policy.
Forcing the President of Malta to stay away from the country on the pretext of diplomatic politeness was a stretch. But flying yourself out on a sales job that has no connection with your public office in order to force on everyone the point that you are ignoring the ongoing crisis, reveals an emotional and a political deficit which is simply unacceptable for a person in your position.
You know full well you must carry the responsibility for creating in the country the atmosphere that has brought us to the current state of affairs. You must carry the responsibility for the culture of impunity, for the failure of our institutions and for the failure of basic security.
You must carry the political responsibility for the assassination of Daphne Caruana Galizia.
There can be no justice while you're still in office controlling the institutions that should be keeping you in order to protect yourself and those around you.
There can be no justice while you pretend nothing's going on and you go to Dubai. Again. To sell passports. Or whatever else it is you go down there to do ever so often.
The rest of the world is watching you. While you're in office the reputational damage to this country can never be recovered.
It is time for you to step aside. The Labour majority that won the last election is surely greater than you are as an individual. The country can still be governed effectively without you at its helm. Rather the country cannot be governed effectively with you at its helm.
Go now. Let Malta now start working on solutions to find its way out of the mess you have put us in.
The Photo with this post is from Reuters.