The Chief Justice received today the EP delegation who are on a fact-finding mission whether rule of law works in Malta.
They just got their answer. It doesn't.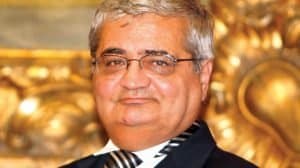 Chief Justice Silvio Camilleri is reported to have told the Parliamentarians that in his view the police have, like the rest of us, seen enough evidence to justify the commencement of investigations into the Malta connections revealed by the Panama Papers findings.
The fact that they haven't shows something is wrong.
We knew the views of the Chief Justice on this subject from his October speech warning all of us not to rely on the courts  to get justice if the police don't do their job. That was before Daphne Caruana Galizia was assassinated. That was before the attention of the Europarliamentarians was raised.
Now they heard it too.
Labour has a habit of waiting for judges to retire in order to do its thing. It is chillingly providential that the Chief Justice was still in office when this meeting was held. The conversation with his successor, whichever puppet Labour moves to appoint, would likely be very different.
One of the MEPs we met yesterday on this delegation told us he was Minister responsible for his country's accession to the EU. In his view if Malta were applying to join the EU now, with the quality of its institutions in the state they are, there would have been no hope for this country joining the EU.