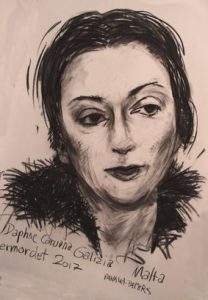 The Hesseschen Landtag, the parliament of the German Federal State of Hesse, is honouring journalists who were killed or arrested because of their work with an exhibition of portraits of the journalists.
You can view the portraits on the official exhibition website here.
Speaking, in German, to
Frankfurter Rundschau
, Christopher Plass who sits on the Hessen state press board said  "the exhibition requires a lot of respect from the visitors. These journalists did their work knowing it was very dangerous. The case of journalist Caruana Galizia, who was killed by a car bomb in Malta in October 2017, makes it clear that freedom of the press may be threatened on one's own doorstep. One cannot always look only at Latin America or Africa."
The exhibition can be visited until Friday by registered visitors in the state parliament.