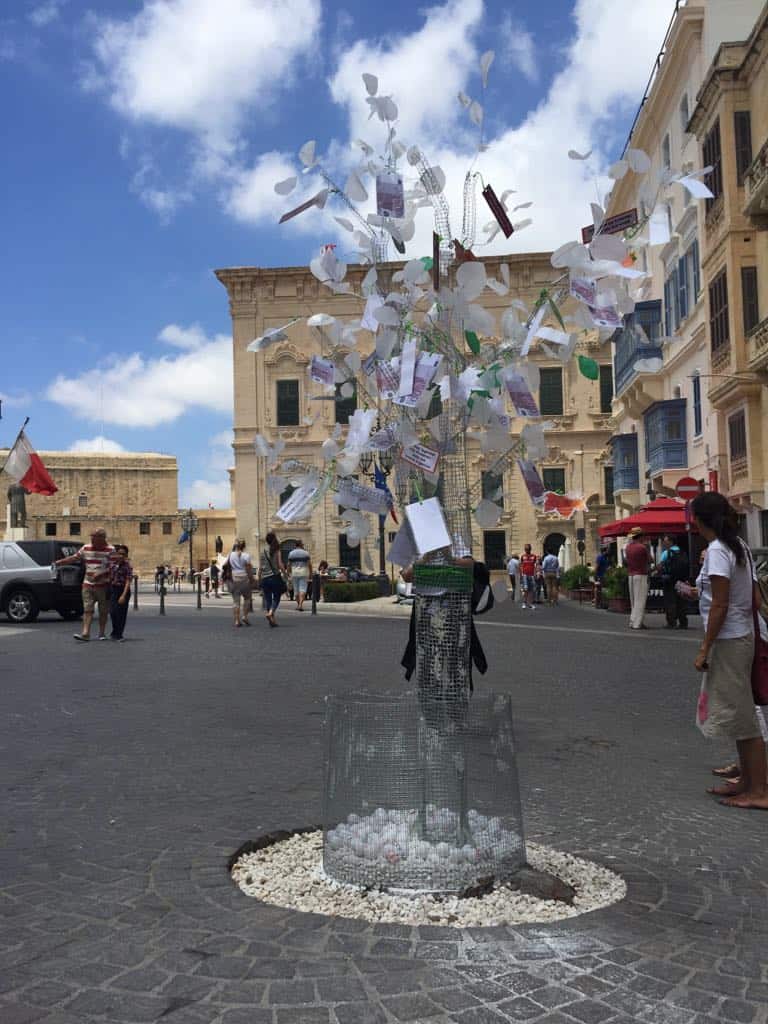 Statement today by #occupyjustice:
A Tree of Justice was 'planted' outside Upper Barrakka Gardens on Saturday afternoon with protest letters hanging as 'fruit' from its branches, to mark eight months since the assassination of the journalist Daphne Caruana Galizia.
"The roots of evil are all we are left with," said #OccupyJustice, a group of activists led by women, who placed the tree instead of the decades-old Holm Oak (which had survived World War II, but not this Environment Minister).
"Our message this month is simple: Muscat, Schembri and Mizzi, why don't you all make like a tree and leave?" said #Occupyjustice, reiterating their claim that in view of the constant stream of document evidence, the Prime Minister must go and take with him his two closest aides.
"The Prime Minister can see this tree every day from his office window and maybe it will be a reminder that his Chief of Staff Keith Schembri and his top Minister Konrad Mizzi set up a money laundering structure in order to receive illicit kickbacks, and he is protecting them from the very place which should impede these things – Castille – because he clearly has vested interest," #OccupyJustice said.
The activists said that since Daphne Caruana Galizia's assassination, Malta's reputation spiralling down the drain.
"Only this week we've seen EU Commissioner speak of possible infringement procedures against Malta. We've seen how the Athens court has effectively decreed that Malta is unsafe for whistle-blower Maria Efimova and, therefore for whoever dares to speak out against Joseph Muscat," they said.
"But clearly there was no interest in the country's reputation but only in money pocketed," they said. Quoting Mahatma Gandhi, #Occupyjustice said that "Earth provides enough to satisfy every man's needs, but not every man's greed." "But one day the Prime Minister will realise that his soul does not feed on money."
"We will keep on fighting to save our country from being hijacked by mafia crooks and we will not rest until justice is served," #OccupyJustice said.
#OccupyJustice said they are determined to fight for what is right, for justice and for a fair and equal society.
"This is our nation, this is our home, and we are the people. We expect better, we deserve better, we demand better."