Owen Bonnici misled the public with a statement today suggesting I withdrew court action arguing his censorship of the protest in Great Siege Square is a breach of human rights. I have done no such thing.
I have issued the below statement in response.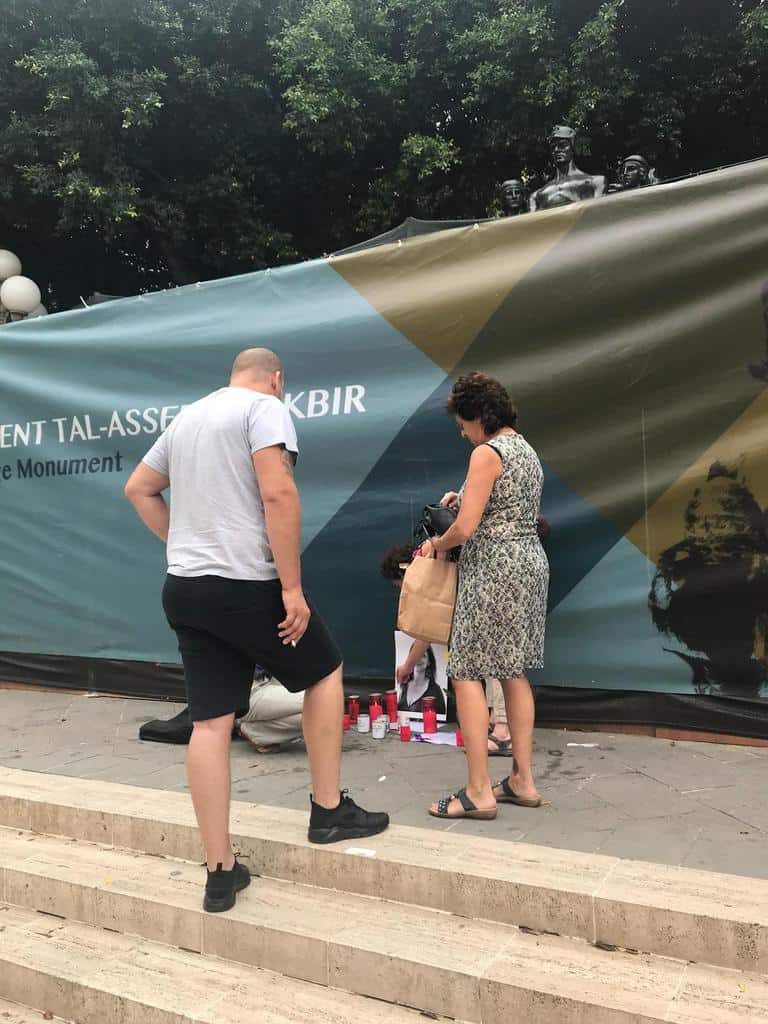 Stqarrija bi tweġiba lill-Ministru Bonnici
Nirreferi għall-istqarrija tal-lum tal-Ministru Owen Bonnici.
Kif spjegajt pubblikament f'diversi interventi pubbliċi u fuq il-blog tiegħi, nhar it-Tnejn li għaddew jien għamilt rikors Kostituzzjonali kontra l-Ministru Owen Bonnici u d-Direttur lli jaqa' taħtu għaċ-ċensura tal-protesta minn quddiem il-Qorti.
Ir-rikors Kostituzzjonali m'hux irtirat. Qed jistenna li l-Qorti tappunta d-data għall-ewwel smiegħ tal-każ. Il-Ministru Bonnici ma rreferiex għal dan ir-rikors iżda l-istqarrija tiegħu kienet manifestment intenzjonata biex tiżvija lill-pubbliku jaħseb li xxejjret xi bandiera bajda minni jew mill-attivisti sħabi.
Tant ir-rikors Kostituzzjonali mhux irtirat li fl-atti ta' dak ir-rikors illum talab biex jidħol fil-kawża l-Avukat Joe Brincat li qed jargumenta dwar il-Monument tal-Assedju l-Kbir. Inċidentalment il-Ministru Bonnici u d-Direttur li jaqa' taħtu ammettew sa dal-għodu stess li ma neħħewx il-protesta minn fuq il-Monument imma minn mal-art quddiemu.
Kif spjegajt għaddejt biex niftaħ ir-rikors Kostituzzjonali fl-istess waqt li ilmentajt li l-Ministru Owen Bonnici u l-gvern komplew jiċċensuraw il-protesta minkejja ordni li għamlitilhom il-Qorti li jispjegaw l-aġir tagħhom wara t-talba li għamilt preċedentement għal mandat t'inibizzjoni. Minflok wieġeb lill-Qorti, il-Ministru Owen Bonnici ġie jitmellaħ mill-Qorti u tenna l-ordni biex il-protesta tiġi ċċensurata.
Dan frustra t-talba tiegħi għal mandat t'inibizzjoni u ċaħadli d-dritt li ninstema' minn Qorti miftuħa ngħid għaliex il-gvern m'għandux jibqa' jiċċensura l-jedd għal espressjoni ħielsa.
Minflok it-talba għal mandat t'inibizzjoni, allura, jien bdejt kawża kostituzzjonali fuq il-mertu tal-argument.
Il-Ministru Owen Bonnici ġie jitmellaħ mill-Qorti u mit-talba tiegħi u minflok tenna l-aġir abbużiv tiegħu billi ċċensura l-protesta bl-użu ta' ħaddiema li jaqgħu taħtu.
Jien u sħabi l-attivisti ntennu li hu jedd tagħna nipprotestaw u se nkomplu nfittxu l-protezzjoni tal-Qrati mill-abbuż tal-gvern.