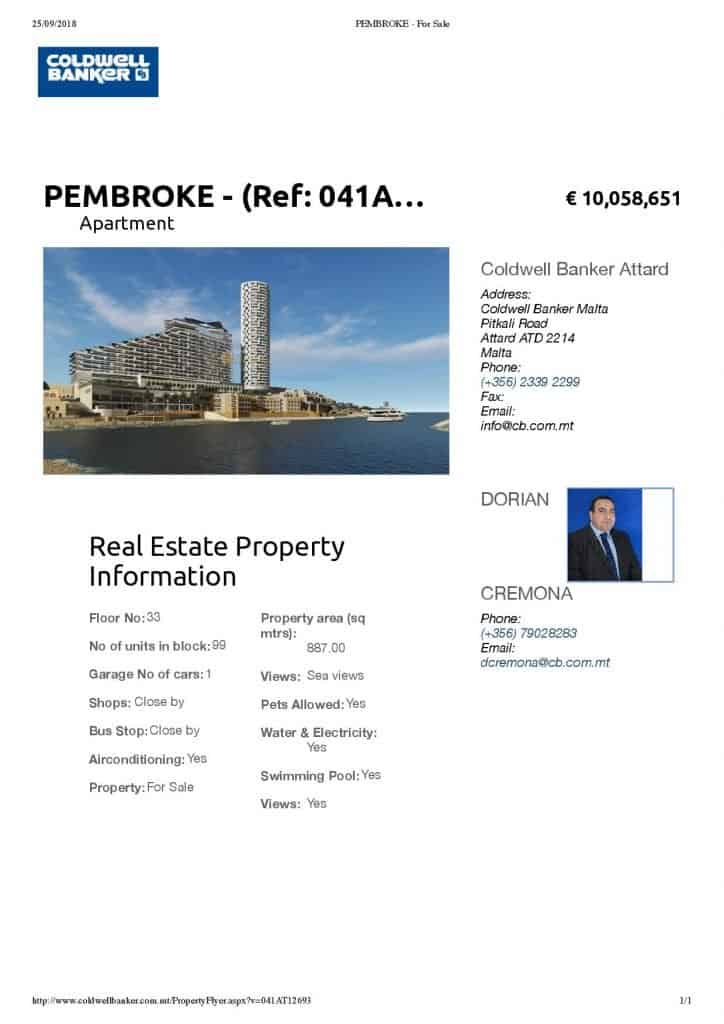 I'm sorry. I had not see this before. Thank you for a more expert property reviewer to point this out. I wouldn't want to consider a 27th floor apartment worth a measly €7 million, when I could touch the sky with €10 million.
I am no class-envy, workers of all the world unite, working class hero nihilist. But, and please, please remember this, this tower is being built on and sold from public ground. Public does not mean 'owned by the government'. Much less does it mean that Silvio Debono got this from his grand-mother.
It means that the land is either to be used for a public utility or left the way it is for future generations to see what they want to do with.
Instead, the apartment is being sold for €10 million. Some people rationalise the government will make a nice deal from the taxes paid on that sale although Dorian Cremona, real estate agent extraordinary made famous today by these Coldwell Banker ads making the rounds, must also monitor his blood pressure. But, as with the sale of passports, blood money is not cleaner if it is paid in tax or charity. It remains blood money.
You know, if someone had €10 million and chose Pembroke to spend them in, you'd have to wonder not just about the stupidity of their wealth but also the oddness of their choices. €10 million can buy you some nice homes away from home, you know. And not all of them would be next door to a Hard Rock complex, the artificial beach of St George's Bay (thankfully not washed away), and the sex parlours of Paceville.
I don't want to kick my country. There's a million and one reasons to move here. But €10 million for an apartment? In the spinning storm of corruption and money laundering we are being tossed in, you'd be mad not to suspect something is not right.
And the accommodating appeasement of the political class is another red flag if any where needed. The fact that the PN leader stated he opposed the project two days before the vote at the Planning Authority was taken, is neither here nor there. The planning conditions is an issue in this case but a secondary issue.
The real shocker here is the conversion of public land into a superlative machine for inexplicable property transactions that make no sense whatsoever if they are only what they are designed to appear to be.
Consider this jaw dropping detail discovered by Newsbook. One of the Planning Authority directors paired with the votes against to ensure the approval of the project was flown in and out of her Sicily holiday by private jet to be at the voting. Civil servant Jacqueline Gili, who by civil service standards is not even entitled to a club class upgrade when she travels for work, was sent a private jet to interrupt her holiday, driven to the board meeting to vote and ferried back to her Sicily swimming pool in deluxe luxury.
Has this ever happened before? Has a PA board member ever been flown by private jet to vote at a meeting when they were away on holiday? In which cases has it occurred? Who decided this was a justified expense? Who is paying for this? Was the matter discussed with anyone outside the PA? Was the dB group involved in the decision? Was the office of the prime minister?