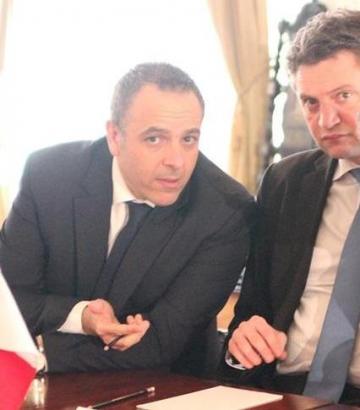 ABLV Bank, itself currently in liquidation after major money laundering revelations, had informed its Latvian regulator of payments worth $1.4 million from a Seychelles company owned by an Azerbaijani energy businessman to 17 Black, a company that contracted to pay funds to secret companies owned by Keith Schembri and Konrad Mizzi.
The information emerges from a report in re:baltica, Baltic investigative journalism centre, that last May had dug into the Malta connection with ABLV. This story must be seen in the context of answers given yesterday by the anti-money laundering agency of Latvia to MEP Ana Gomes.
The report also found that American "anti-money laundering authorities" identified payments from the Seychelles company Mayor Trans to Dubai-registered 17 Black Limited as possible "shell company activity, suspicious wire transfers and money laundering".
Mayor Trans is owned by Azerbaijan national Rufat Baratzada who also has US interests as he holds shares in micro-payments company Net Element.
The Baltic website also reports that the investigation in Latvia is still ongoing. However, the website sees no sign that the initial inquiry by Malta's FIAU last February has since been upgraded to an "active criminal investigation" as the Latvian banking regulator, the general prosecutor and the justice ministry have confirmed Malta has not asked for any legal assistance in this case.
MEP Ana Gomes yesterday also said that the Latvian anti-money laundering agency provided information about "ultimate beneficial ownership" that likely means the Maltese authorities have known since February the identity of the owners of the Dubai company that contracted with Keith Schembri and Konrad Mizzi's company to pay them large sums of money.
This information would be otherwise very hard to come by as Dubai — as Magistrate Bugeja recently learnt when his requests for information on the ownership of Egrant were ignored — is very secretive about the ownership of companies registered in its jurisdiction.