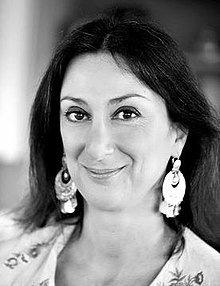 Activists are planning a number of events during October to mark a year since the assassination of Daphne Caruana Galizia.
The 16th of October
The 16th of October 2018 is a Tuesday. A vigil is being held at the Great Siege Memorial that evening as has happened every month over the past year. Mass will be said before the vigil in a Valletta church.
At 3pm on the 16th of October there will be a silent gathering on Triq il-Bidnija in memory of the hour and the day Daphne Caruana Galizia was assassinated.
Other events are being planned throughout the month of October.
March for Truth and Justice
On Sunday 14th October a March for Truth and Justice is being called in Valletta insisting on the call ignored and censored by the authorities over the last year.
Freedom Lectures
A series of 'Freedom Lectures' is being organised on separate dates in October with visiting speakers from journalism, politics and activism invited to give talks and answer questions on free expression and civic rights.
Details of these events and others that are still being planned will be announced in due course.