Sent in by someone I know. I should add that guest posts like this one are unsolicited and coming from people whose direct engagement with politics is limited to voting and being aware of what's going on. Adrian Delia in his Times Talk interview today says he's 'frustrated' with MPs who slag him off. It's not them he should be listening to but to people who in spite of themselves, and in spite of having voted PN all their lives, will not vote PN while he's leading it.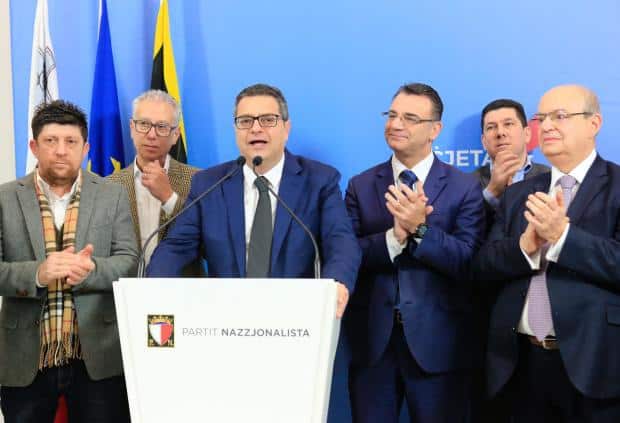 I am one of the many core PN voters who decided not to show up during the last election. It was not an easy decision, and it turns out to be one which I partially regret.  You see, I am no activist, and I have no participation in politics beyond debating my friends, colleagues and family. 
I believe it is incumbent on people like myself to do their duty and vote whenever they are called upon to do so, and for the first time in my life, I failed to fulfil that duty.
Looking back at my decision to abstain, I can narrow it down to one reason and one reason alone. I am still not convinced that Adrian Delia and his team are not colluding with Joseph Muscat. 
My paranoia started when Adrian Delia asked Simon Busuttil to resign following the Aaron Bugeja inquiry. 
At the time, the following questions came to mind:
Considering the circumstances of the Egrant case, would a reasonable person blame Simon Busuttil for deriving that conclusion?

 

What the fuck was a fake trust instrument doing at the office of such a close friend of Muscat?

 

How can a report be conclusive if it requires the cooperation of countries that chose not to cooperate with the inquiry?

 

How can a report be conclusive if the journalist who broke the story is not around to give us her version of events?

 
No true leader would have asked for Simon Busuttil's resignation. His was a justified reaction to a bizarre set of circumstances that only Joseph Muscat and his team should be made to answer for and no one else. A true leader would have protected Simon Busuttil. Instead, he reinforced the uninformed and uneducated opinion that this was the greatest lie in Malta's political history when common sense and reason would dictate otherwise.  
My paranoia was exacerbated when senior PN members saw fit to solicit contributions from a company that I believe epitomises corruption in this country, only to plead ignorance after the fact. 
There were valid candidates on the PN MEP ticket: Roberta Metsola, David Casa, Peter Agius, Frank Psaila, Michael Briguglio, David Stellini to name a few, all of whom I would have been happy to vote for, which explains my regret. 
Yet, if the PN is not capable of convincing people like myself of something so basic yet so important, then the responsibility is on them, even if my paranoia turns out to be just that.
If they are who they say they are, they should unite the party they have divided and lead a serious effort to attract as many new, young, competent and motivated faces to the PN so that they may carry on the struggle, and then resign to ensure their presence does not impinge on their efforts – something which I expected from Simon Busuttil, Mario De Marco, Ann Fenech and the team at the time of the electoral defeat. 
Robert Arrigo is wrong in wanting to give elected leaders the time to build, and I would also have expected more from him when it should be sufficiently clear that Adrian Delia will not be able to command the support he seeks.
Progress must be made, and it can only be made through change that acknowledges and respects the history of the PN that is made up of so many good people who have made this country proud. 
Richard Cachia Caruana is also partially wrong in saying that the solutions of the PN must come from the future, as the future of the PN cannot be created without a united effort from its past. 
Adrian Delia could have represented the required change, despite his baggage, before he chose to take polarising selfies with Joseph Muscat, and before he decided to throw Simon Busuttil under the bus. 
If these people mean well and truly love the PN, they must unite the party and acknowledge the mistakes made, identify and groom the new generation and resign from strategic and administrative functions while always being available to be of service to the new team and the party.  
Such is the meaning of loyalty and love for the party.