Statement by #occupyjustice after their action in Valletta today.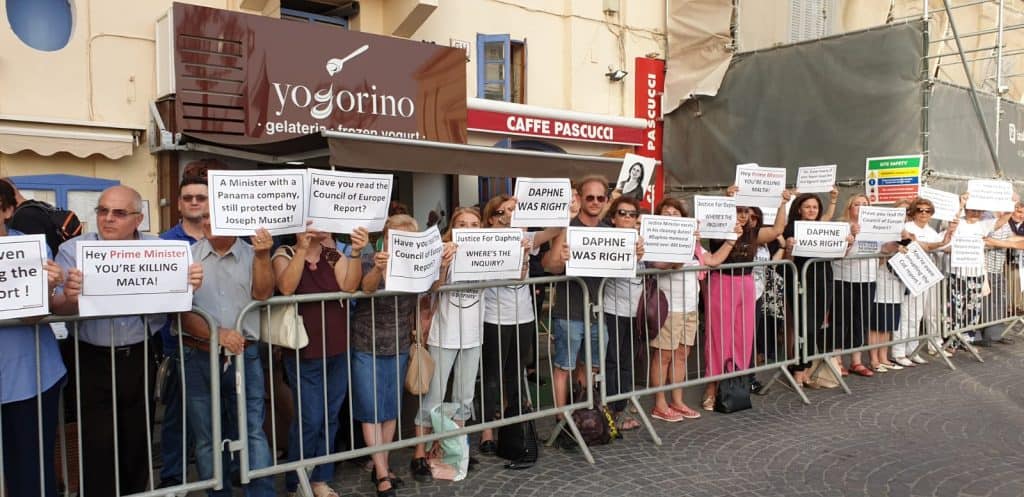 Have You Read the CoE Report?
A number of #occupyjustice activists today gathered around Castille square while the Press Conference for the 6th South EU Summit was being held. The summit was attended by Mr Emmanuel Macron, President of France; Mr Giuseppe Conte, Prime Minister of Italy; Mr Nicos Anastasiades, President of Cyprus; Mr Alexis Tsipras, Prime Minister of Greece; Mr António Costa, Prime Minister of Portugal; and Mr Pedro Sánchez, Prime Minister of Spain.
The activists held placards, which read:
Justice for Daphne – Where's the Inquiry?
Have you read the Council of Europe Report?
Hey Manuel Mallia – Have you lobbied against the CoE Report yet?
Hey Prime Minister – You're killing Malta!
A Minister with a Panama company, still protected by Joseph Muscat!
The Rule of Law Collapses – So Does Your Roof!
You're even corrupting the CoE Report!
So, how many of you have read the full Egrant Report?
Justice Minister excels in his cleaning duties! #Daphne memorial cleared over 400 times! and
Daphne Was Right
#occupyjustice said, "We are shocked and appalled that the Heads of State do not feel disgusted and ashamed to be seen and photographed with Malta's Prime Minister, Joseph Muscat, as well as with his cronies. We are here to remind them that Malta is the only country where politically exposed people with Panama companies are still holding Government positions as the Minister for Tourism and the Prime Minister's Chief of Staff.
"We are here to remind these heads of state that, despite the large number of reports published on Malta, and in particular the last one published by the Council of Europe, no independent inquiry into the murder of the journalist Daphne Caruana Galizia has been initiated. We are here to remind them that impunity still reigns in Malta, and that passports are still being sold to people known only to the government, with no proper due diligence conducted. We are here to remind them that they visited a country where the basic human rights of protestors are being trampled upon every single day by the Justice Minister Owen Bonnici, who orders the clearing of the protest memorial in front of the law courts more than twice a day. We are here to remind them that a Government Member of Parliament planned to exploit this delegation to serve the interests of the Prime Minister, instead of the country, by using this conference to lobby "against Peter Omtzigt" the author of the damning report on the state of the rule of law and democracy in Malta. We are here to remind the Maltese and foreign residents that the fact that roofs are, literally, falling on their heads is a direct consequence of the collapse of the rule of law.
"We are also here to remind the world that, almost 20 months on, we still do not know who commissioned the killing of Daphne Caruana Galizia and there is not even a semblance of a search for an answer. Prime Minister, Keith Schembri, Konrad Mizzi, Owen Bonnici, Chris Cardona, Edward Scicluna and Yorgen Fenech, we shall not rest until you all take responsibility for your actions.
"For this is our nation, this is our home, and we are the people. We expect better, we deserve better and we demand better."