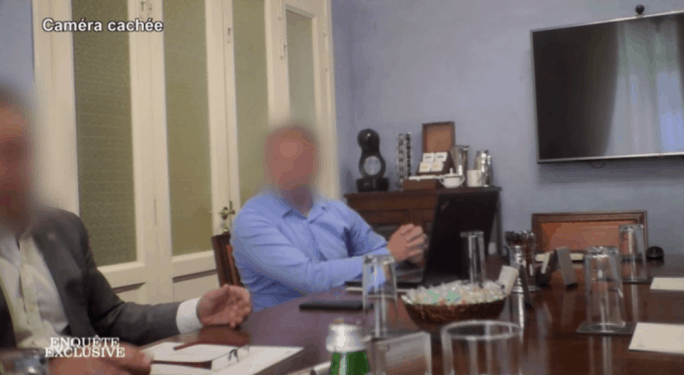 A Magistrate has accepted a request from NGO Repubblika for an inquiry into whether Jean Philippe Chetcuti, a senior lawyer at the Chetcuti Cauchi law firm, committed crimes when he was caught in a camera sting operation by French TV journalists admitting he could arrange for a Maltese passport for an African client with a criminal record.
On that tape broadcast by French TV channel M6, a man with his face blurred by the TV producers and later identified as Jean Philippe Chetcuti was seen bragging about his close personal contacts to government ministers including Prime Minister Joseph Muscat who was his school bus buddy in their youth.
Jean Philippe Chetcuti was also caught on camera saying that Parliamentary Secretary Julia Farrugia, the line minister responsible for selling passports to millionaires, was a close friend of his wife and that Justice Minister Owen Bonnici used to be a litigator working at his firm.
He bragged about these connections in the context of the journalist – who pretended to be acting for African clients seeking Maltese passports – asking whether Chetcuti Cauchi could arrange for his client a passport even though he would fail the due diligence process required by the law. In the film Jean Philippe Chetcuti suggested that he could.
Following this video, Repubblika filed a request in the court for a Magisterial inquiry into whether bribery and trading in influence had occurred.
Magistrate Caroline Farrugia Frendo decided today Repubblika have provided sufficient grounds for an inquiry into alleged trading in influence to commence. She also decided that at the present stage there were insufficient grounds to commence an inquiry into bribery but these could eventually be discovered by the new inquiry she was ordering.
Magistrate Caroline Farrugia Frendo is the fourth Magistrate to agree with civil society's interpretation of the law on inquiries that private citizens have a right to ask for inquiries when they have sufficient grounds to suspect a crime following similar decisions in other cases by Magistrates Ian Farrugia, Doreen Clarke and Claire Stafrace Zammit.
Repubblika is assisted in this case by Jason Azzopardi.