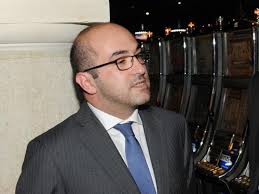 Directors at the Tumas Group may have been expecting the arrest of the scion of their family Yorgen Fenech who ran the group as its CEO for the last few years.
A document has emerged that shows that he resigned his Directorship of the group's holding company dated last 12 November.
The document is signed by Yorgen Fenech's uncle Ray Fenech who has been running the Tumas business for the last several months ostensibly on behalf his nephew, then CEO.
The document is supposed to be published on the website of the Company Registry but until this morning it was not in the Tumas Group's filed documents. However the Company Registry was already updated in a way that removed Yorgen Fenech from the list of directors.
Yorgen Fenech's arrest brings into greater question the validity of the Electrogas contract one of the biggest public contracts awarded by the government in the last 6 years.
The Tumas Group risks facing pressure also from their business partners including Siemens who own a third of the Electrogas consortium.
When Yorgen Fenech was revealed to be the owner of 17 Black in October 2018, business partners in the Maltese shareholding of Electrogas — the Gasan Group and the Apap Bologna family — denied any wrongdoing. They have so far made no public remarks today.
The Tumas Group also owns the Hilton Hotel that over the next days is scheduled to host several events that may prove problematic for participants. These includes a large KPMG gathering. KPMG has already been mired in scandal before after its association with Pilatus Bank and its disgraced owner Ali Sadr Hashemi Nejad was revealed. Another event is the awards ceremony for the gaming industry as part of the yearly SIGMA conference. None of the organisers of these events have yet indicated they will be cancelling their bookings at the Hilton Hotel.