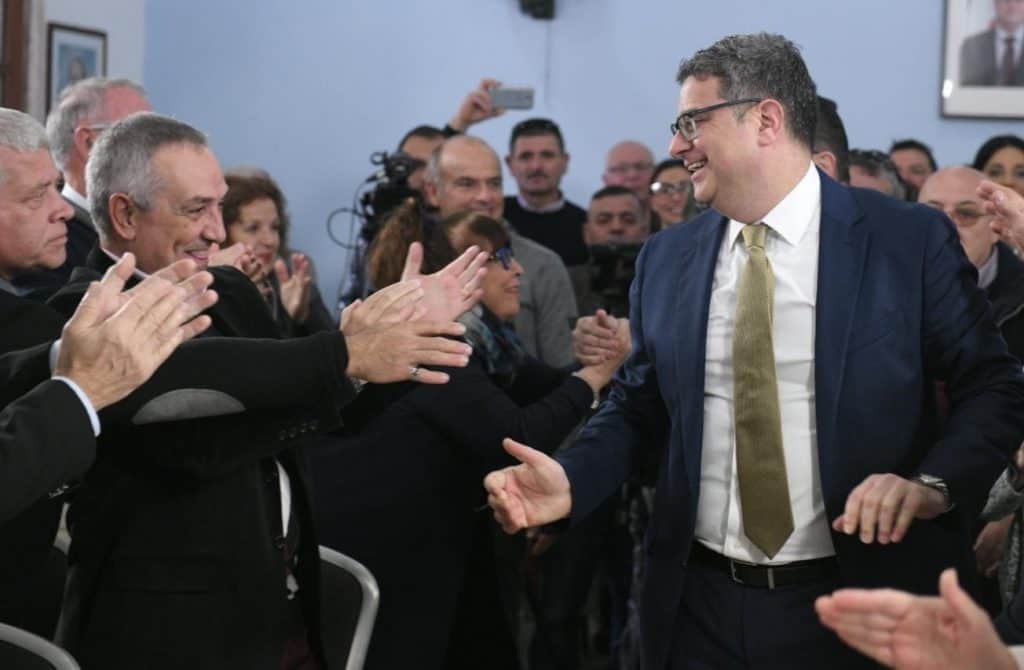 A desperate situation is when one is on the verge of despair. This is the situation with the Partit Nazzjonalista.
A cancerous syndrome diagnosis is not yet pronounced. But is felt encrypted in brain cells of most; a condition that could indicate severe psychosis that could lead to suicide. He who contemplates suicide is a murderer as much as a victim.
And yet according to natural law and Christian beliefs, the human being is master of himself; can read his own self, can tentatively programme his actions submissively or responsibly (not through AI), could venture towards overwhelming fear. Extinction or more realistically efforts towards survival is only the result of man's thinking and actions.
Hope is the last to die. Human beings could be influenced not just by heroes whose 'being' appears light years ahead. But by one's cautiousness and determination to give one's all when faced with a crisis – perceived or real.
Similar historical anecdotes stand as witnesses in our islands' political development. Cautiousness wins the day only when reconciliation, resulting from freedom, respect and dialogue, is reciprocated on most sides. When such desired approach fails, issues of principles, as are what the PN should deal with in this present meltdown, can only be upheld by determination and by political conviction.
The above is addressed to both factions and innocuous sub-groups in the Partit Nazzjonalista. It is also directed at us lesser mortals.
The Sunday 9th February "show of force" meeting at Mellieħa has established what months back I termed as warring factions. So claimed and engineered by the PN leader himself. Factions characterised by personal-interest as well as by matters of principle.
The principle is intra-party democracy and the PN credentials as an alternative government. A principle which the leader shares; even calling for all citizens to join in this open dialogue that could include welcoming saboteurs on the premise that all subject themselves to obedience. A dialogue that according to his Sunday apparent affable address stinks of arrogance and a call for submission. A case where the nomenclature of "kap" is not simply translated into mature and benign leadership but veers towards diktat and submission. The Kap would do well to read Ġorġ Borg Olivier's days when faced with dissent.
On the one side we have an identified faction that presuming affection from party followers of the past is claiming tenancy of leadership. On the other side we have a group of at long last questionably identified individuals, puzzlingly expressing their stand but experiencing difficulty rallying general support; it could only be considered as a group of like-minded persons with a presumed objective. Given the seriousness of the crisis this could be interpreted as indecisiveness.
While I keep insisting that political factions are a valuable asset, since according to Maor (1997) these are understood as a form of conflict organisation which reflects the tendency of intra-party actors to act collectively to reach common goals, a political faction is required to have definite characteristics including:
exist for a certain period of time
possesses a minimum of organisation
exhibits a common group-consciousness
actively pursues political goals
can be discerned as a bloc within the party.
Majority issues as from its inception are not necessarily a characteristic of a faction. Majorities evolve through time. Its captive market of influence extends beyond the party secretive walls. Depending on the nature of its objectives its audience could include the whole of political society, irrespective of one's thinking and opinions. Constituted bodies and civil society need to feel persuaded by the dissenting faction's language.
As a start this dissenting faction need to make its voice heard professionally, respectfully and courteously even if a determined action is being propagated. It should develop a discussion platform with strict rules for whoever would feel joining. Dissenting groups need to be allocated airtime on party media that today is just a defensive palisade for the leadership team.
Possibly the issues on the immediate agenda are the leadership team of the party and the much-awaited party reform.
An outsider is not in a position to delve deeply into such objectives, let alone expressing opinions, since at time of writing all is just perception, gossip and indeed nebulous. Unless the dissenting faction is prepared to clearly explain and provide justifications for its objectives and through time identifying a possible political action programme that includes the participation of outsiders who may have a role, it may rest assured that support would remain questionable.
Hiding behind time honoured statements that these are "reserved matters" for complex party structures is contradicting the party's hypothetical acclamation of its beliefs in intra-party democracy and a deliberation that goes beyond aggregation.
This is not what generally happens in political parties in Europe. Party shareholders or 'tesserati', people in the streets do not care whether there was chaos during a meeting, or whether names were called. They would only dare ask to be told what issues were discussed, what diverse positions were assumed and a possible way forward. It is then left to individuals to respectfully divulge their positions individually or collectively.
A faction, that would exist for a certain period of time, as is the case with the PN, still need to have a minimum of organisation. It is not clear up to what extent this faction could exhibit a common group-consciousness and is organised to act collectively – as a distinct bloc within the party – to achieve its goals. It at least needs to have a number of lead-spokespersons. Flamboyant personages, irrespective of their professional acumen and good will, need themselves realise that it would help if they take a step back.
As much as I may sympathise and empathise with the "Kap" as a human being, I just fail to reconcile with his hallucinatory aggressively-induced psychosis that prohibits him from admitting his initial and recent blunders, irrespective of extant severe opposition.
Fighting corruption in parliament and in courts is the mission of a head of the Opposition. Fighting dissidents in his own party on the premise of questionable mass support in the light of in-party transgressions is certainly not leadership material. The PN does not need heroes the "kap" acclaimed. A statement that holds good in his respects. The "kap" is sincerely being asked to cease practicing notions of submission on his own men and on whoever may disagree with him. This goes beyond a coronavirus that kicked off by restraining admission of its existence. The imposition of censor and half-truths must be done away with. Someone with the "kap"'s displayed good qualities cannot but be someone fighting his own self.
Given this scenario of ambiguity and uncertainty, given that apparently this dissenting faction could be throwing caution to the wind, and embarking on a determined way forward, it needs to afford itself a degree of support that is not confined to party levels.
Caution could have called for a moderator. Determined action calls for an individual or individuals of calibre whose reputation, integrity and organisational skills are beyond reproach. Such people are already militating in the party, others from outside could eventually assist in the rehabilitation of the party, once the stables have been cleared.
All involved could learn some lessons reading how Aldo Moro, a well-known, low profile, forward-looking and notary-like figure, was in 1959 picked as Secretary General of the Democrazia Cristiana plagued with dysfunctional 'correnti' and loss of electoral support. A successful practicing politician and a political thinker.
A political faction in a party inspired by Christian democratic values in search of an author. Illusory as it may seem individuals with differing opinions believe that the Partit Nazzjonalista can still be the solution.