Sent in by someone known to me.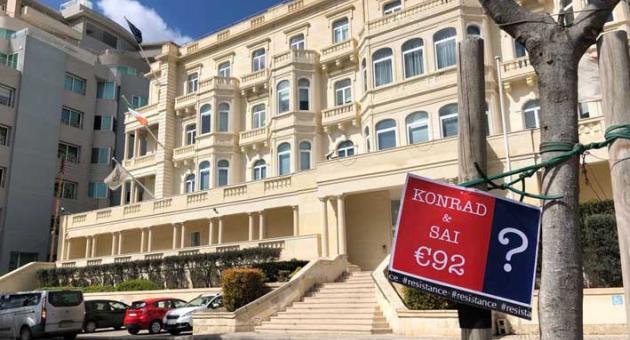 However odd is the decision by the US Attorney's request to the New York federal court to drop the case against Ali Sadr Hashemi Nejad on five counts for money laundering, etc., there are no reasons why investigations should be abandoned in Malta against him and other perpetrators, amongst whom were prominent persons in Malta, of the confirmed criminal activities of Pilatus Bank and some of its customers.
Recent news locally regarding the bank is that, in a letter tabled in parliament last month, the bank's MFSA appointed administrator, Lawrence Connell, stated that in December 2019 a fine of €10,000 was paid because of 'failure to reply to two requests for information from the FIAU in January 2017'. Great news indeed. Is one expected to be satisfied that justice has been done and that this is the end of the story?
Surely not in my view; probably shared by many others. Much has been written on the infamous history of this bank and the damage caused to Malta's hitherto very good reputation in banking and as an international financial centre of repute. Only if ever Pilatus' detailed business plan which accompanied their 2013 application to the MFSA for a licence as a credit institution is made public can one gauge the extent to which the bank's main shareholder, chairman and CEO, Ali Sadr (an Iranian national with no banking background), misled the Maltese regulatory authorities. In January 2014 the MFSA gave Pilatus a licence as a credit institution and this was upgraded to a more comprehensive category 2 banking licence in August 2015 when due diligence procedures should have been taken to a higher level.
According to sketchy details on its website, the bank offered services to private and corporate clients, respectively to high net worth individuals (HNWI) and financial institutions; the areas served being Europe, the Americas and Asia. Later, the website also claimed that Pilatus was the 13th largest bank in Malta with customer deposits topping €300 million.
I highlight some relevant matters which lead one to wonder why the police never took any action to follow up the various leads, including FIAU reports, which clearly indicated that Pilatus was involved in serious breaches of Malta's anti-money laundering legislation. It will be recalled that even Magistrate (now Judge) Aaron Bugeja in his enquiry into the Panamanian company named Egrant ordered (not simply recommended) a police investigation into potential money laundering at Pilatus.
Before her brutal assassination in October 2017, Daphne Caruana Galizia had openly accused Pilatus of various crimes including dubious payments to senior Maltese and Azerbaijani figures. Pilatus and Sadr reacted in a very hostile manner and this could well have prompted the plans to get rid of her and thus of her highly regarded, in Malta and elsewhere, incisive investigative journalism especially after she made specific reference to the names allegedly linked to suspicious transactions
Indeed, in an endeavour to shut her up, Pilatus and Sadr instituted a lawsuit in the US (not in Malta so that the financial impact on DCG would be much greater were she to lose the case against her) accusing her of malice, defamation and causing damage to the bank's 'reputation and actual and prospective economic relationships'. In light of even the limited information that has emerged since then on the investigations carried out to date within Pilatus, one cannot but marvel at the audacity of those who instituted this legal action!
Before then, in 2016, leaked FIAU reports flagged evidence of money laundering and serious compliance shortcomings. It was only in March 2018 that the MFSA intervened by appointing an administrator with instructions to start winding down Pilatus' operations. Eight months later the bank's directors were notified by the European Central Bank that Pilatus' banking licence had been revoked after its chairman was arrested in the US on money laundering charges.
On the day Connell took over, total assets were said to have been €126.9 million with 162 customer deposits totalling €114.4 million and an equity of €10.8 million. Thus, one concludes that, by the time the MFSA took decisive action, some two thirds (about €190 million) of deposits had disappeared from the bank's books. No audited accounts have been made public since those as at the end of 2016.
It is inconceivable that no information could nonetheless have been obtained from previous inspections by both the MFSA and FIAU on the names of such depositors although it has been admitted that the bank operated, illegally, a dual accounting system with the obvious intention of not readily revealing to all staff the names regarding whom secrecy was vital so as to cloak any illicit activities. This makes very relevant Ali Sadr's nocturnal visit (revealed on our TV screens so vividly and courageously by a NET News reporter) to Pilatus' Ta' Xbiex premises followed immediately by his flight to Baku on a chartered private jet with a suitcase allegedly containing his personal clothing!
He claimed that he never took away any documents from the bank. All he need have done is to help himself to a tiny pen drive or other digital device holding the records of the top-secret accounts. Yet the then police commissioner took no action, possibly on superior orders, as it transpired that the then prime minister's chief of staff (and who knows how many others including persons in prominent positions or their relatives) were amongst the bank's customers.
Indeed, it is an undisputed fact that Keith Schembri had an account with Pilatus but with a balance of just a few thousand Euros. If that were so how did he – and others who claimed to have held dormant accounts or with insignificant balances – quality as HNWI customers? Were there other accounts in that name or others with much higher balances amongst the records that presumably were taken away by Ali Sadr that night?
Pilatus had been set to open an office in London's Mayfair district in April 2017. Amazingly, notwithstanding the serious allegations that had already emerged, the MFSA had granted it a 'passport' to operate in the UK. However, the UK authorities had already indicated that no permission would be forthcoming for the London office to open accounts for UK residents.
A magisterial inquiry into potential criminal wrongdoing by Pilatus employees was launched just before this. The results of this inquiry are still awaited and it remains to be seen especially if there was full adherence by the  bank's senior official responsible for compliance to all legislation concerning due diligence procedures to be carried out before accounts were opened for customers; concerning the origin of all incoming fund transfers regarding the bank's equity as well as deposits from local and overseas sources.
Apart from this outstanding inquiry and the other matters highlighted above, a number of other important aspects concerning Pilatus remain obscure and any doubts on these need to be cleared in the public interest. As space precludes me from listing all of these, I mention a few instances which, in some cases, point to an apparent reluctance on the part of the police and/or regulatory authorities, as applicable, to take timely and appropriate action.
In the course of a separate inquiry, senior MFSA officials strenuously defended their decision to issue a banking licence to Pilatus stating that reliance was made on a foreign reputable institution to carry out the requisite due diligence. Strange that clearance was give despite the fact that the proposed person to be chairman and CEO put forward a passport issued by the island of St. Kitts (a tiny Caribbean island with a population less than that of Gozo) that was well known for willingly issuing passports to applicants even with a shady background.
When the situation had got hot after the revelations of the Panama papers and Pilatus' involvement in alleged money laundering activities, the European Central Bank was constrained to make a statement that the bank fell under the supervisory and regulatory powers of the MFSA and not the ECB as was being insinuated in an apparent attempt to put the blame on the ECB who firmly stated that they supervised and regulated only the three largest banks in Malta. Thus, the responsibility for licencing Pilatus – evidently with some haste – and, subsequently its supervision, lay squarely on the MFSA's shoulders.
In April 2017 a Maltese non-executive director resigned, after more than four years in the post because he was unhappy with the way things were run within the bank. Yet the MFSA appointed an administrator practically one year later.
Instead of taking appropriate action on what was revealed by various FIAU reports and giving them much-needed additional manpower, the Director who was doing an excellent job was faced with obstacles that forced him to resign and a senior official who was very experienced in money laundering investigations was ousted and his request to be granted the protection provided by law as a whistle blower was turned down by government.
More than two years have passed since the MFSA appointed an administrator to run down Pilatus' operations. In his first report for the six-month period to August 2019 (handed to government last March) Connell stated that Pilatus was 'a money transfer operation' rather than a bank providing investment, corporate and retail services to HNWIs.
Surely it is time that all the dirty linen comes to light and that action is taken against those involved in participating in, or turning a blind eye to, whatever illegalities took place, whether within Pilatus; by its customers or laxity/inaction by the relevant regulatory authorities or the police.