Match. Yes, the Maltese people have yet to finish off the match against the corrupt Joseph Muscat, the man who for six years raped and plundered their country.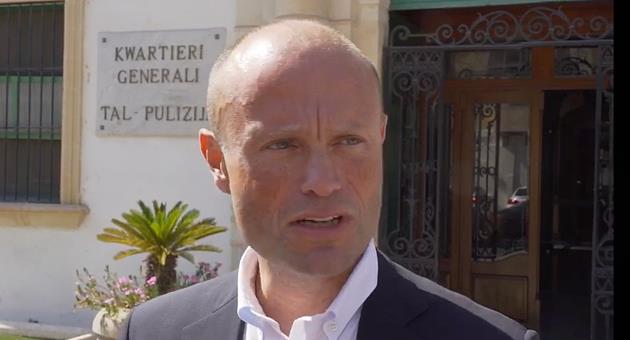 Joseph started his 'mission' way before 2013. He worked relentlessly with his bosom friends, Keith Schembri and Konrad Mizzi on the 4th floor at the Glass Palace. They planned their roadmap to riches in every detail. When they won the general election over a fatigued and out of touch with the electorate Nationalist Party, and just after taking their oath, they put into operation their plans. Three accounts were opened in Panama – one for Konrad Mizzi, one for Keith Schembri and one for a more important person. Karl Cini told Mossack Fonseca that he would Skype the name later in the day.
Many believed that the third company belonged to Joseph Muscat and who could blame them? Who, at the time, was the most important person in Malta other than Joseph Muscat who had just won an election with the largest margin in the political history of the island? Being the snake that he is, Joseph ordered a magisterial inquiry, craftily worded so that Magistrate (since then promoted to Judge) Aaron Bugeja did not have much to work on. The conclusions of the inquiry was what everyone was expecting. There was no evidence that Egrant belonged to Michelle Muscat as was alleged by Maria Efimova, a former employee of Pilatus Bank. Efimova had to escape from Malta fearing for her life. Attempts by the Maltese Government to extract her back to Malta were refused by the Courts in Greece.
Meanwhile, in 2017, Joseph Muscat went for an early election, during Malta's EU Presidency, which he won again. Later that year Daphne Caruana Galizia was assassinated. In July 2018, the greatest show started. Joseph Muscat called a press conference with all his MPs as a backdrop. He referred to the 'biggest political lie in Maltese history.' He even managed a tear or two.
Michelle, the Maltese Kwijn, went on Salvu's talk show where she played the victim. She hid her arrogance well. No 'I was in transit my dear, don't you read the newspapers?' remarks. No henna tattoos. No shiny jewellery. She played the suffering wounded mother and wife. She recounted the calvary they went through until they were proved 'without a shadow of doubt' that they were innocent. Yet through this calvary, she still attended gala dinners wearing her silvery Valentino pumps, her pearls and diamonds and her fur coat. Watching her, Peter Sarstedt's song 'Where Do You Go My Lovely' came to mind.
She talked about her children and the bad people at their school. "Will daddy go to prison?" She explained how they as a family had to convince their twins that those were all lies. Lies to hurt their daddy.
But in November 2019 civil society started demanding justice. They had had enough of the lies and the corruption of their prime minister. Joseph Muscat had to resign in shame. So that ended his political career. No more meetings with queens, Popes, presidents and meetings in Brussels. No more Petrus wine, no more Bvlgari watches. Joseph the Kink and Michelle, his spouse, became common people. To add insult to injury the OCCRP selected Joseph Muscat as Person of the Year in Organized Crime and Corruption. I wonder how Michelle explained this to her children.
But as the saying goes all good things come to an end. It may be true that Joseph Muscat has managed to amass huge amounts of money through corruption to spend on luxurious holidays. But, the net is closing. On Friday he was interrogated by the Police. Coming out of the Police HQ, Joseph was uncomfortable although less visibly so than Pawlu Lia. His forehead furrow was prominent. He avoided looking at the cameras. He looked tired, more like a sixty-year old than a man in his mid-forties. No doubt that he is experiencing the weight of justice bearing down on him. Till now civil society have won the game and set.
Soon, hopefully, we will win the match.