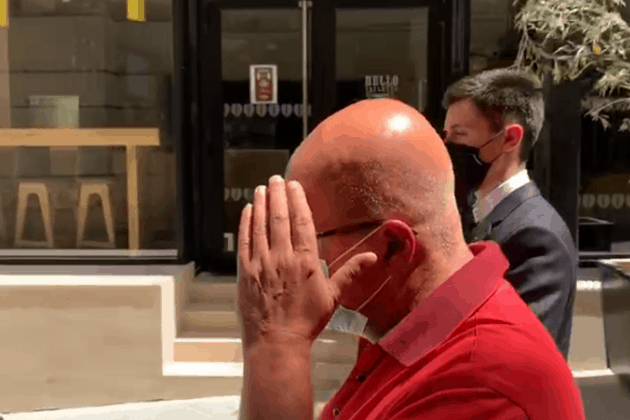 After news broke of the arrest and arraignment of Aldo Cutajar for money laundering, his brother, Mario Cutajar, issued a statement last Monday providing the "facts" explaining how he had nothing to do with his brother's deployment to Beijing and Shanghai and had therefore no responsibility to carry.
The thrust of the statement was intended to clarify that since Aldo Cutajar had not lost his civil service job in 2005 when he was convicted of embezzling public funds, Mario Cutajar never had to reinstate him to the service.
Last week's statement actually tried to pin blame on former Prime Minister Lawrence Gonzi who accepted a recommendation from the Public Service Commission not to fire Aldo Cutajar after a court decided to withdraw an earlier interdiction order.
But there was something in last week's statement that did not sit with me. The statement referred to the decision taken in 2016 to dispatch Aldo Cutajar to Beijing as Deputy Ambassador there. The statement said that "Mr Aldo Cutajar was sent by the Ministry for Foreign Affairs, at which he worked at the time, to the Maltese embassy in Beijing. This took place after the respective ministry (foreign affairs) asked for and was given all the necessary clearances by the Security Services … The Principal Permanent Secretary had no connection whatsoever with any above mentioned circumstance."
A security clearance for these sort of positions is needed because the EU shares secret documents with ambassadors (and deputy ambassadors act as ambassadors in many meetings) and does so after the country that dispatches them assures the EU they are reliable and trustworthy people. That applies to ambassadors in China as well because, for example, Europe's trade relationship with China is coordinated centrally and all EU Member States negotiate with China as a common front.
I have looked into the procedure and found that "the Security Services" do not give people clearances. They issue recommendations to the office which Mario Cutajar is the boss of, and was the boss of when his brother got cleared for Beijing.
Before Malta joined the EU, Malta had to adopt procedures on how people who would be trusted with EU secret documents would get security clearance.
The authority designated by the government as the "Security Accreditation Authority", that is the body that issues security clearances, was the Cabinet Office. Which Mario Cutajar is the boss of. This information comes out of the Manual of Procedures for the Handling of Classified Information in the Public Service. I am relying on the version I have access to which was valid when Mario Cutajar was appointed Principal Permanent Secretary and therefore chief of the Cabinet Office. If this has changed, it has changed by the hand of Mario Cutajar. Either way therefore, Mario Cutajar is responsible for his brother getting the security clearance he needed to go to Beijing.
The government's security procedure say that before the Cabinet Office clears a candidate, the security services conduct a review of the candidate's past in "a security clearance procedure designed to determine whether an individual is a fit person in terms of character, honesty, and trust-worthiness to have access to classified information."
Somehow, Aldo Cutajar, who admitted to embezzling funds from his employer, appears to have been granted security clearance by the office of his brother Mario Cutajar.
Sources told this website that the Security Services conclude their review process in these cases in either one of two ways: they either say they have no adverse comments on a candidate or state that they do not recommend that a candidate is cleared for security.
It is significant that last week's statement by the government did not say whether the security services had any adverse comments about Aldo Cutajar. It merely said that Aldo Cutajar was issued with all the security clearance he needed.
More from the government's procedure manual: "Prior to a Security Clearance Certificate being granted, vetting enquiries are carried out by the Security Service in order to establish that there are no areas of vulnerability by carefully assessing behaviour, integrity, reliability, and personal rectitude of the individuals concerned."
A candidate for security clearance is required by the procedure to fill a detailed form including a declaration on past convictions. The government's policy on security vetting says that "it is the policy of the Government of Malta that no one should be employed in connection with work the nature of which is vital to the interest of the state who… has shown dishonesty or lack of integrity which throws doubt upon his/her reliability, etc."
In its statement of last week, the government made a concluding remark of dubious philosophical soundness: "Ethics equates to facts." This clumsy synthesis came in response to the Chamber of Commerce's calls for Mario Cutajar's resignation on ethical grounds. Even entertaining the government's witless brevity, here are a number of facts that need to be considered:
Aldo Cutajar was dispatched by the Maltese government to the general consulship in Shanghai placing him in a position which he could have exploited for personal profit. That decision was taken in 2018, in the aftermath of the Sai Mizzi scandal from the same office.
The Shanghai posting came after Aldo Cutajar was made Deputy Ambassador in Beijing. For that role he was given a security clearance in spite of an earlier conviction for embezzlement where the victim was the government.
If the government stuck to its own procedures, the security clearance needed for the Beijing posting was issued by the office of Aldo Cutajar's brother, Mario Cutajar. If it did not stick to its own procedures, the decision would have been taken by Aldo Cutajar's brother, Mario Cutajar.
And now some comments about the ethics of this.
We've already had a situation where a convicted felon was dispatched to a diplomatic position. That was Cyrus Engerer who could not get his security clearance and ended up camping next door to the receptionist at Dar Malta because he could not be allowed near the office of the Permanent Representatives where the hot EU documents are kept.
With Aldo Cutajar the situation is worse. It seems this chap acquired security clearance in spite of a criminal conviction for a case that casts serious doubts on his reliability. After this case the EU will be right to doubt Malta's system of issuing security certificates. Once again criminal interests take possession of the infrastructure of our state under the guise of family ties and partisan loyalties.
If "ethics equates facts", whatever that means, Mario Cutajar should resign.