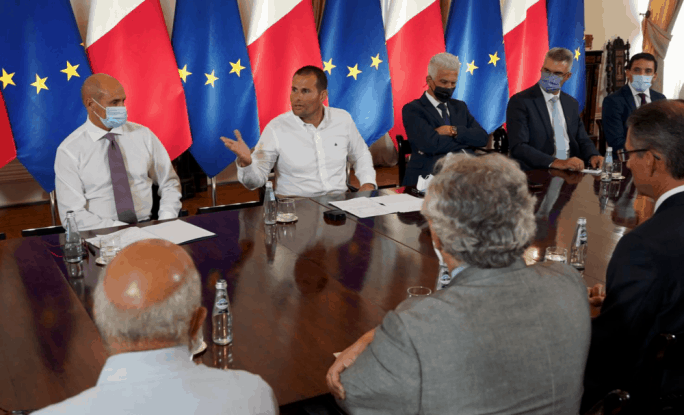 When last January, Robert Abela was sworn in as prime minister to replace the corrupt Joseph Muscat who was forced to resign by civil society, people thought that at last, Malta would have a down-to-earth humble man to lead it. He played his boy scout role to perfection with much 'I love our country' while smiling with his hands on his heart. During the first few days or maybe a couple of weeks people thought that he was the right choice. He gathered sympathy when on TV he offered his hand to Chris Fearne as a sign of goodwill. People thought that Chris Fearne was a bad loser after being seen to barely touch his Prime Minister's outstretched hand. They were wrong. Chris Fearne knew Robert Abela.
Robert Abela during his campaign had promised continuity. Many were fooled when he dismissed Lawrence Cutajar from Commissioner of Police. We are on the right track, thought many. They were wrong. Little did they know that on the same day of his removal Robert Abela had given the corrupt chief of police a €30,000 consultancy job.
Within a few weeks people came to know the real Robert Abela when he started announcing national decisions on his party's TV station. Robert showed his true partisan colours. Everyone knows the biased colours of TVM, but to emphasise his superiority and status, he preferred to be seen with the Labour flag and logo as a backdrop.
Then came the Covid-19 and Robert Abela's ego took over. He started by playing down the dangers of the virus by stating publicly that the coronavirus is not a deadly disease. He let Chris Fearne and Charmaine Gauci face the pandemic but took over when there were positive results. Do you remember his monotonous monologues? Robert Abela kept challenging the advice of the health professionals. His cheeky meeting with journalists outside the Courts of Justice without keeping a safe distance is proof enough of his arrogance.
Robert Abela tried to ridicule the doctors' association about its fear of a second wave. He told them that "waves are in the sea" and told the Maltese people to go out and enjoy their summer. He even gave them €100 worth of vouchers to spend in restaurants. He repeated that he wanted to enjoy the summer and so should they – although not many can afford to have a luxury yacht in Sicily. "The best thing people can do now is go to the sea and enjoy themselves."
I can still see him, with a grin slashing his face declaring triumphantly that "we have won the war" and that Malta is again open for business. "Tell the tourists that as a country we have defeated COVID." Taking the advice of Tony Zahra he lifted all restrictions and opened the airport, again against the warning of health professionals. They even created a pyrotechnic show to celebrate. "Everything is under control. We will remain open for business." Pity that later Tony Zahra declared that "with hindsight, I think we opened too early."
Even Tourism Minister Julia Farrugia Portelli must have regretted saying on a BBC news programme that Malta has all the 'mechanisms' in place to welcome British holidaymakers. Pity that most probably Malta will be blacklisted by Whitehall as a non-safe country by the end of the week.
Meanwhile, Malta's reputation as a safe place for tourists got a trashing from RAI 1 on Sunday. The Italian station reported that 8 youths who were on holiday in Malta were found positive to Covid-19 on their return to Italy. It looks like we are exporting the virus now. No.
Julia Farrugia Portelli might say that the youths brought the virus with them from Rome. But if she's right, why open the airport? And if you had to open the airport why do you not test the arriving passengers? Julia Farrugia Portelli, although clear that she is not fit for purpose, is still minister for tourism.
In a recent meeting with the MCSD when numbers started to spike again  Robert Abela was the only one not wearing a mask. Look at me. I am not afraid of the coronavirus; I am invincible like my predecessor Joseph the Invictus.
Robert Abela seems to forget that you need a good memory if you want to lie. At a news conference last week announcing that people not wearing a mask will be fined, a journalist asked if he then intends to give them an amnesty like last time. The Prime Minister retorted that the journalist was not correct and that he never gave an amnesty and went on to explain in detail what an amnesty means. That same evening Net TV broadcast a clip from a previous conference showing him giving specifics about the amnesty he was giving to people who were fined about breaking the quarantine.
His bravado prompted him to tell the professionals that they were alarming and fear-mongering the people. Unwise words, as the second wave of the virus will keep irking him.
Unlike Robert Abela, Chris Fearne interviewed on a local radio station, admitted that the organised mass events that took place aggravated the situation and contributed to the spike in covid-19 numbers. The Health Minister said that the advice by the hotel sector lobbyist Tony Zahra was wrong. That is an honest 'we were wrong' and maybe Fearne was targeting his boasting prime minister.
Covid-19 figures have averaged around 50 cases a day. Yet, Robert Abela still insists that everything is under control or rather under complete control. It is clear that we are experiencing a second wave. But in Malta nobody carries political responsibilities for their mistakes. Because Malta is the island of impunity.
If he is wise the prime minister should talk to the tourism minister and act. His and her actions were out of place and they endangered vulnerable people. Because of their words and statements people are less cautions as can be seen from the crowds in Paceville, Buġibba and Marsascala. The professionals were not fear-mongering or envious of his success at beating the virus but they were being cautious and they were proved to be right. Robert Abela was once again wrong.
Mr Prime Minister, this is not a political game. This is about the common good, the health of the people. And you should change your Labour Party hat to the one that should be worn by the Prime Minister of a country.