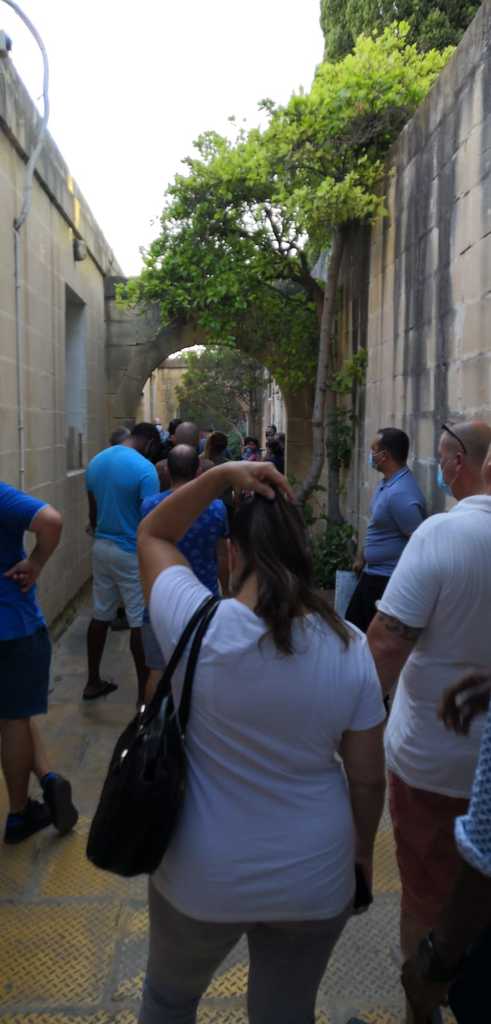 Take a look at this picture. This was taken this morning outside police headquarters. These people waiting in line are teachers employed in Malta's schools on a casual basis. That means they do not have permanent employment with schools but are contracted yearly before the scholastic year starts and have a contract that sees them through to the next summer holidays.
Every year these teachers are obliged to provide their employer with a fresh police-conduct certificate. It's part of the process to get a teaching contract. If you get a permanent job you won't have to do this again until you apply for a promotion or a transfer to another school. But if you're on one-year contracts this bitch is a yearly August heat chore.
This year, however, is the first time this line is happening in the middle of a coronavirus crisis. These people are getting ready to go to school in two weeks' time and to receive students a few days after that and yet they can't help being huddled together to get a stupid administrative errand out of the way.
To me this is but one more early sign of the fact that the government has not properly examined school procedures in order to re-open schools with the right measures of prevention against the spread of the virus.
The requirement for the conduct certificate could have been easily waived for all teachers who had a clean certificate a year ago, especially those that this year are teaching at the same school they taught at last year. After all, no yearly certificate is required from permanent teachers and there is therefore no escalated risk. One-year contract teachers could be asked to declare (by email) that they have not committed any crimes in the year since their last certificate on pain of dismissal if they were found to have lied. That would reduce the line at police HQ to new teachers only.
If bureaucracy proved too inflexible for such a radical change, they could have set up an online application for teachers so they would not have to go to Floriana and mingle with who knows who to collect the certificate physically.
If that sort of science fiction is too far out, teachers getting these contracts might authorise their employers directly to consult the police, and give the police data protection clearance to share their conduct report with their employer to avoid this physical contact.
Why am I making such a fuss? Because if they didn't think of this, they haven't been examining basic routine procedures to cut away unnecessary exposure to the virus. They need to do this because they both need to protect the health of children and the health of vulnerable people the children come in contact with, but also because they need to avoid as much as possible school closures and the loss of more school days because of the emergence of localised clusters.
Clusters of infection will happen. School days will be missed. Many children will not be able to visit their grandparents or their vulnerable relatives for some time. These are facts we have to live with.
But can the government please wean itself off bureaucratic vices, simplify processes, temporarily do away with expandable routine, and focus on providing our children with education in a healthy environment? Are we really asking too much?