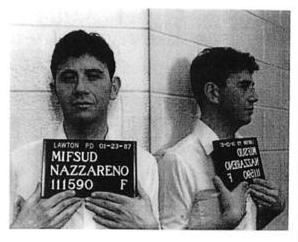 Nazzareno Mifsud from Qormi was found hung in his cell after an apparent suicide. He was in prison waiting for a court decision on a request by the American authorities for his extradition after living as a fugitive from US law since 1987.
This website is informed Nazzareno Mifsud was found dead around 6pm on Monday. He was hanging by a neck tie.
Arthur Azzopardi, Nazzareno Mifsud's lawyer, told this website he was under shock at the news. He was informed of the death by the local police about half an hour after his client was found dead. Most of Reno Mifsud's family had not yet been informed of the news.
Arthur Azzopardi told me he was on the phone with his client this afternoon, two hours before Nazzareno Mifsud apparently ended his own life. They were discussing with other lawyers Reno Mifsud's legal strategy, including on the next hearing in Malta's Magistrates Court planned for September. Arthur Azzopardi told me he agreed with his client to continue the call tomorrow. Reno Mifsud gave no signs on the call that may have suggested he did not plan to have tomorrow's meeting.
Nazzareno Mifsud, known as Reno, has been on the run since he did not show up for his 1987 trial in Oklahoma after the local police charged him with molesting two young boys in his house.
Testimonies filed by investigators say Reno Mifsud, at the time aged 23 years, an immigrant from Qormi, Malta, sexually molested his foster-son aged 15. The abuse is believed to have happened in January 1987. The accusations are aggravated by the fact that Reno Mifsud had the legal responsibility to protect his victim.
The previous month, in December 1986, Reno Mifsud sexually molested his neighbour's son, then a 12-year-old boy. The assault happened inside Reno Mifsud's home. The young witness testified Reno Mifsud assaulted him after failing to rape him. He the threatened the boy he would kill himself if his victim spoke up about what had happened to him.
He was arrested after a police complaint filed by his neighbour but he escaped the United States before his trial started to come back to his country of birth, Malta. At the time of his escape he skipped a $3,000 bond. Two bonds of $100,000 each were ordered after his escape.
At the time of his escape Reno Mifsud was a soldier in the US army and has been on the military's most wanted list for 33 years.
He lived in Malta, the UK and the Netherlands working as a technology consultant.
In 2015 Oklahoma investigators confirmed Reno Mifsud was living in Malta after finding his Facebook profile with information about his life in Malta and photos of himself.
The case was being closely followed because it was considered a test case for the new US-Malta extradition treaty. Financial crime blogger Kenneth Rijock reported recently that Reno Mifsud's case is "far more than a simple sex crime case; it is a test of whether Malta will abide by the rule of law, and extradite fugitives to America, to face justice.
"Court watchers are thinking that the Mifsud case is a test of Malta's court system, because coming down the road is said to be a massive indictment, which will see prominent Maltese citizens, as well as lawful residents, in the dock for extradition, on serious charges, including money laundering, which features a maximum penalty of twenty years in federal prison, and where parole has been effectively abolished, meaning that defendants must serve at least 85% of their sentences."
Before news of Reno Mifsud's suicide came out, Kenneth Rijock commented that "if Malta's courts promptly extradite Sgt. Mifsud, then American prosecutors can rest easy in the knowledge that they will obtain custody of their targets, but if there is any unreasonable delay, or dilatory action by local lawyers and rubber-stamped by local judges, then there will be a problem."
Reno Mifsud is the 10th "unexplained death" under the custody of prison chief Alexander Dalli. In a recent interview with this website Alexander Dalli said his leadership of the prison was the subject of 25 ongoing magisterial inquiries, including on 8 unexplained deaths. There have been another two deaths reported in prison since that interview.