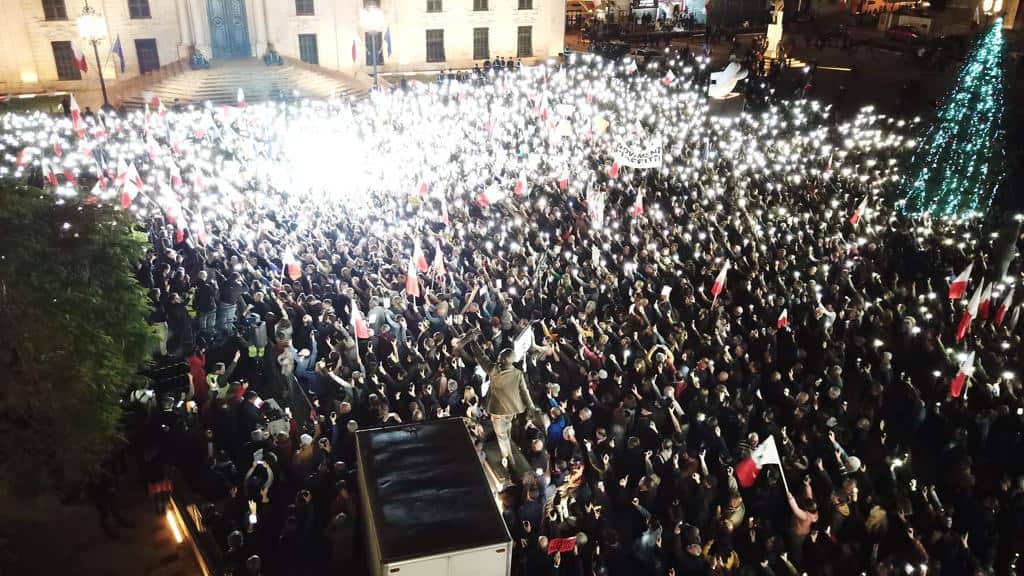 "The only thing worse than a liar is a liar that's also a hypocrite!" – Tennessee Williams
Pinocchio is a fictional character and the protagonist of the children's novel The Adventures of Pinocchio written in 1883 by Italian author Carlo Collodi. Pinocchio was carved as a wooden puppet by a woodcarver named Geppetto in a Tuscan village. Pinocchio dreamt of becoming a real boy and he is notably characterized for his frequent tendency to lie, which causes his nose to grow.
For Joseph Muscat, crowned most corrupt person in the world by OCCRP in 2019, lying has become his second nature. One can best describe him as a pseudologue, a pathological liar.
He claimed that he was the only prime minister to solve a political murder. A big lie if there ever was one. Not only did he not solve Daphne Caruana Galizia's murder but we are learning from Yorgen Fenech's compilation of evidence and the public inquiry that his office is a suspect in the murder and that directly or indirectly he covered up to protect the masterminds and the executioners. Joseph Muscat was a bosom buddy of the man accused of masterminding the assassination. He used to receive expensive gifts from, and was in constant contact with, Fenech. The latter and Melvin Theuma the middleman, used to visit Castille regularly. Not only did he not solve anything but all eyes are now focussed on him. No wonder he is creating diversions with interviews, posts on social media and what have you. The liar is feeling the heat.
On TVM, after his resignation from Parliament Joseph Muscat denied having anything to do with the confusion around the arrest of alleged mastermind Yorgen Fenech accused of mandating the assassination. "I can say that, in my eyes, I saw no wrong moves take place before me. I saw a resolve for the case to be resolved," he said of the court reports that uncovered police leaks and OPM staff implicated in contacts with the assassination's middleman Melvin Theuma.
"Today I hear things that I did not know about; it is clear that there are things that one would have never been able to know about." Please note that Joseph Muscat was named as the man of the year in organised crime and corruption 2019. Quoting OCCRP: "Under Muscat's leadership, criminality and corruption have flourished — and in many cases gone unpunished — in the small Mediterranean archipelago of Malta, creating an environment that led to the 2017 murder of investigative journalist Daphne Caruana Galizia, investigators and government critics say." What a lying narcissist.
Saviour Balzan, MaltaToday's chief, told the public inquiry that Joseph Muscat had sworn on the lives of his daughters that there had been no hanky-panky at Pilatus Bank and said he could not believe how someone could swear on his daughters' lives when he didn't mean it. On 'Pjazza' Joseph Muscat played the same desperate card. Bringing his daughters in imagined difficult situations just to try to make us take him seriously. As if anybody cares what he thinks. Today he is a nobody. He doesn't matter anymore. His opinions have as much weight as that of Żaren tal-Ajkla.
What he should focus on is how to answer for the mess he left Malta in because of his greed for money. For what he did not do and for what he would have liked to do. He can do nothing now. He is history. A bad chapter in our history. What a hypocrite.
Joseph, 'an admirable man of principles' spoke to his stooge Karl Stagno Navarra on an edition of 'Pjazza' aimed at idolising the shamed former prime minister. He said: "I am a man of principle. I spoke against the open theatre and so I only went there once because I'm still against its design". He didn't dare say that as a man of principle, he only visited the European Union offices in Brussels just once because he was against it and invited voters to either burn their vote on EU membership or frame it. During an interview on TVM this week Joseph Muscat brazenly said he was never against the European Union. But all can remember his articles just before the EU referendum. What falsehood.
Once, in Parliament, Joseph Muscat acted as if he lost his cool when he was under pressure after Chris Cardona was caught lying about cavorting with one of Daphne's assassins at a private pool party. Joseph Muscat went into a furious rage charging Simon Busuttil that he was a "fraudster" and saying that if the Egrant report would be published entirely Simon Busuttil would have to escape the country. At that time nobody had seen the Egrant inquiry report but thanks to Adrian Delia the entire report has been made public. And we can confirm that he was lying. Simon Busuttil not only did not escape from the country but was appointed as Secretary General of the PPE, the European Parliament's largest group. Again Joseph Muscat the liar.
Muscat had to step down as prime minister last January following the actions taken by civil society organisation Repubblika and #occupyjustice. They publicly charged him with corruption and protecting those linked to the 2017 murder of journalist Daphne Caruana Galizia.
Muscat's resignation from parliament comes weeks after his former chief of staff Keith Schembri was briefly arrested in connection with a police investigation into alleged money laundering from the sale of Maltese passports. Schembri is expected to be charged for money laundering and receiving kickbacks after an inquiry on the matter was finalised.
Muscat's fate was written as soon as those around him decided 'governing' was another word for heist. The events of recent years and many we are still to learn about can fill volumes with stories about theft, corrupt deals and sale of a nation's soul while scheming to carry out the biggest heist our country has ever seen. Thanks to Muscat and his thieving cronies, Malta has not only been robbed of millions of euro on an almost a daily basis, but even worse, Malta has been robbed of its international good name, with faith in its institutions shattered across the globe.
To see how standards slipped during his six years as prime minister, remember the fuss that was made about the Café Premier scandal when it first broke, during Muscat's first week in power. Today it seems to have been a venial sin compared to the scandals that followed. At the time, Muscat told us his 'mistakes' were due to inexperience. I think it was more like testing the limits in preparation for what was to ensue.
We do know that Muscat's glitter and shiny image lost its lustre when thousands of protesters took to the streets of Valletta in the last weeks of 2019. The public anger was overwhelming and could not be ignored any further by Muscat's own ministers. Muscat could not hang on any longer. In spite of all his efforts to make it look like a sacrifice because he was 'betrayed' by his closest buddies, he had to resign in shame. In spite of the exceptional political crisis, Joseph Muscat kept the tattoo on his right bicep which allegedly reads: Invictus.
The Daphne Caruana Galizia murder trial has set a decisive precedent: for the very first time, accomplices in a political murder have been identified and will be brought to justice. The shocking extent of impunity was laid bare for all to see. We learned that the murderers planned the crime in Joseph Muscat's office in cold blood, expecting to get away with it. They fully relied on the inaction of their loyal appointees, convinced of their influence over police investigations and the judiciary as a guarantee against prosecution.
Muscat even denied that he ever witnessed any proof on the corruption allegations lobbed at his administrations, and his chief of staff, repeatedly. "I have always rested on facts". Said the man who was crowned as the most corrupt political person of 2019. Yet evidence showed otherwise. What a fake.
One can say that Joseph Muscat is a prolific liar. Prolific liars are those who tell five or more lies per day. They tend to be young and have a high occupational status, and are more likely than the average person to believe that lying is acceptable in some circumstances. And finally, they tend to lie for their own self-interest, such as to protect a secret.