Here's this morning's editorial on General Workers' Union daily l-orizzont. It takes a point from an important decision at the Royal Court of Justice four days ago that quashed guilty verdicts by a lower court that convicted 15 protesters who broke into the airfield of Stansted airport in 2017 to disrupt a repatriation flight dragging migrants to Nigeria, Ghana and Sierra Leone.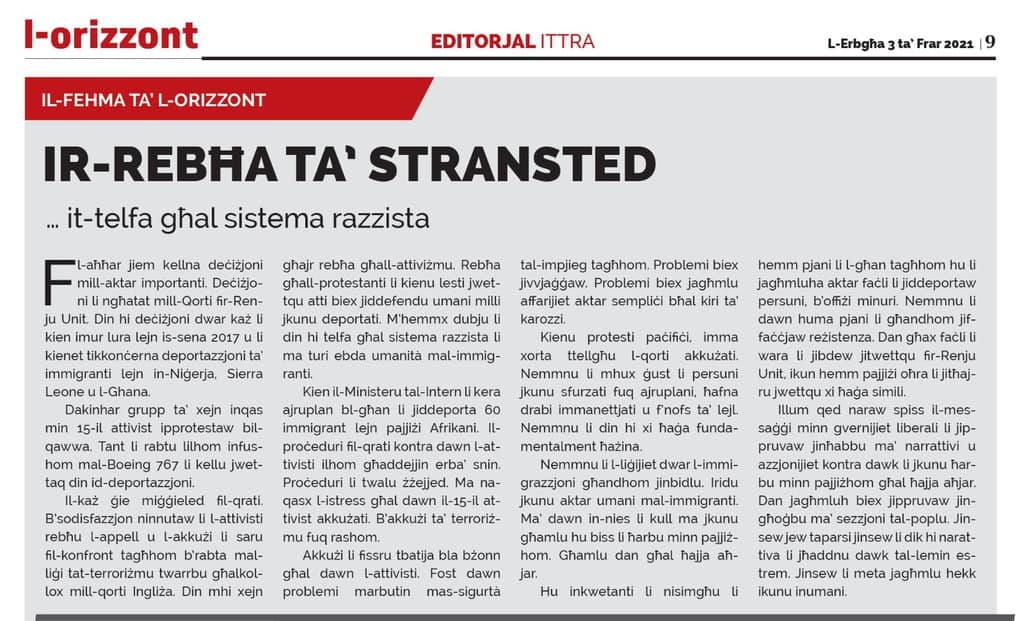 Forced repatriation of migrants detained because of "illegal immigration" is Malta's policy as well. So l-orizzont's decision to hail the British court's decision is of special domestic significance.
Ignore for a moment the grating typo in the headline of the article. And focus instead on the issues l-orizzont's editor raises here.
Firstly that the forced repatriation of migrants is "not fair". The editor says the newspaper is against forcing migrants on planes, often in cuffs, often during the night. This, the editor says, "is fundamentally wrong".
The author is writing about an action by the UK authorities. But there's no doubt he has Malta in his sight. Two weeks ago the Maltese government proudly announced it had forced "failed asylum seekers" on chartered planes. They came here by boat in 2019 and 2020 and were forced out by plane in a mission celebrated by Minister Byron Camilleri with a photoshoot and warm congratulations to the armed officers who dragged them back to whatever hell they escaped from in the first place.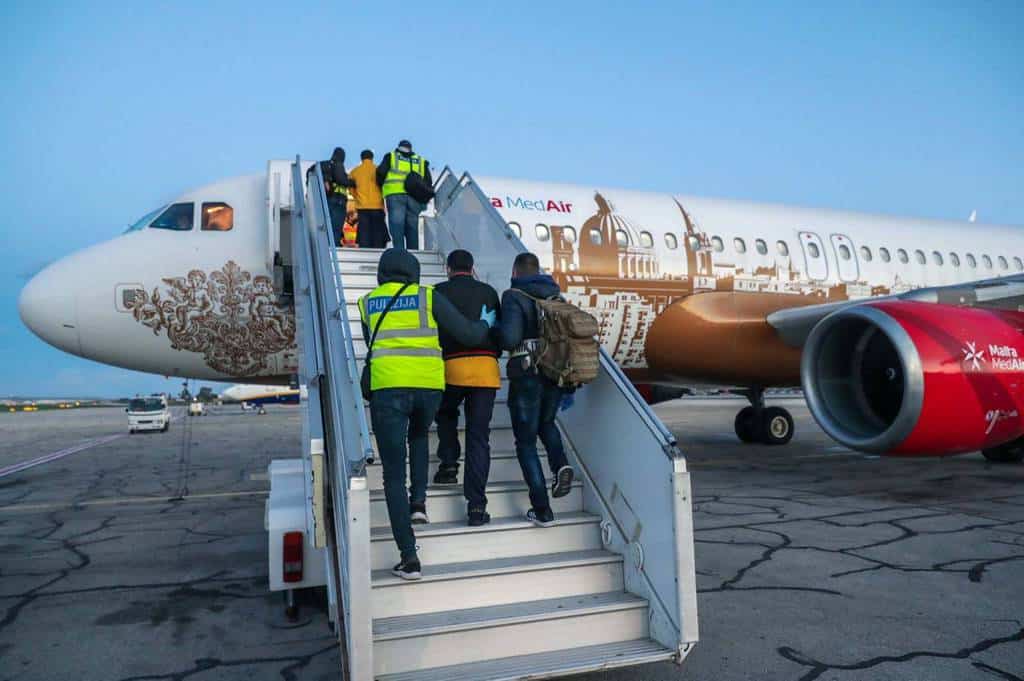 L-orizzont's editor then speaks about the protesters who've had suspended prison sentences quashed by the UK appeals court yesterday. The group, known as the Stansted 15, cut through the perimeter fence of Stansted airport and locked themselves together around a Boeing 767 jet in 2017. The jet they surrounded had been chartered by the UK's home ministry.
They put their arms inside pipes that were then filled with expandable foam and secured themselves around the nose wheel and wing of the aircraft.
They were convicted of "intentional disruption of services at an aerodrome". Three of the 15 got suspended jail sentences and the other 12 were handed community orders.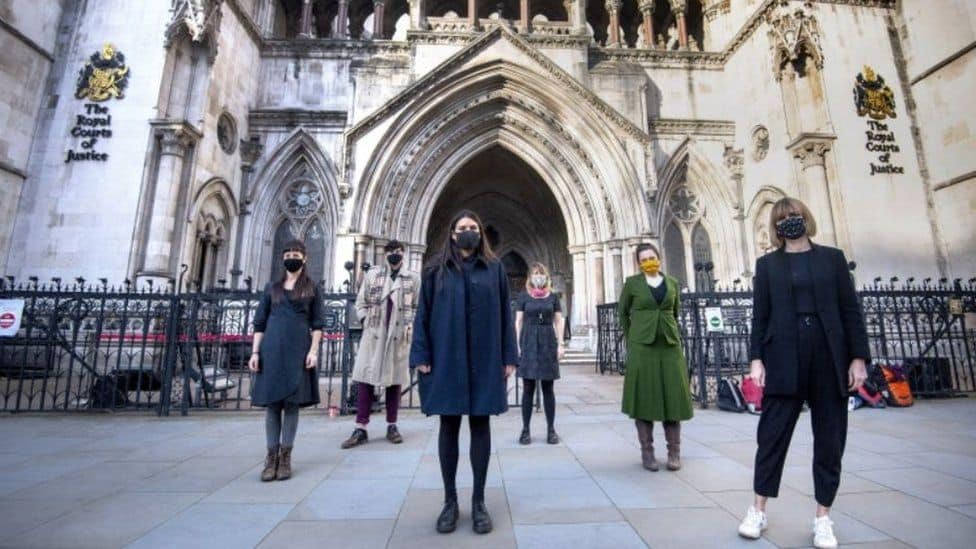 L-orizzont today commented that these charges "caused unnecessary suffering to these activists, including the security of their job. They had problems travelling, even renting a car. They protested peacefully but they still found court charges".
It felt as if l-orizzont's editor was encouraging activists to disrupt the next flight chartered by Byron Camilleri before it leaves the ground.
Because this is l-orizzont, you're probably expecting the other shoe to drop. But l-orizzont's editorial line is consistently anti-racist.
Consider the atmosphere in this country last Eastertime, when Repubblika filed a police complaint after Robert Abela decided to hold back the rescue of migrants struggling in Malta's area of responsibility allowing 12 people to drown. At the time he also decided to hire an ill-equipped fishing vessel to force the survivors back to Libya. And he also decided to order the army to push towards Sicily a boatload of migrants that had made it within sight of Malta's shoreline.
At the time Robert Abela led an onslaught on Repubblika, effectively charging the organisation's leaders and their lawyers with sedition and undermining the government's efforts to prevent contagion from covid which was less understood then than it is now. Jason Azzopardi was forced to resign his brief as Repubblika's lawyer in this case because his political party said it was being harmed merely by remote association with the cause.
L-orizzont did not take up the government's line at the time. They were not critical of the government to be sure. I imagine they would not have dared. But like this morning's editorial, they found, even in that toxic atmosphere, ways of sending a strong anti-racist message to a racist government.
As Repubblika was raising public awareness to the plight of the victims of Robert Abela's decisions, their bodies tossed at sea, l-orizzont made its own appeal. On Easter Sunday, it-Torċa (which is l-orizzont's sister newspaper) asked the country where its humanity had gone.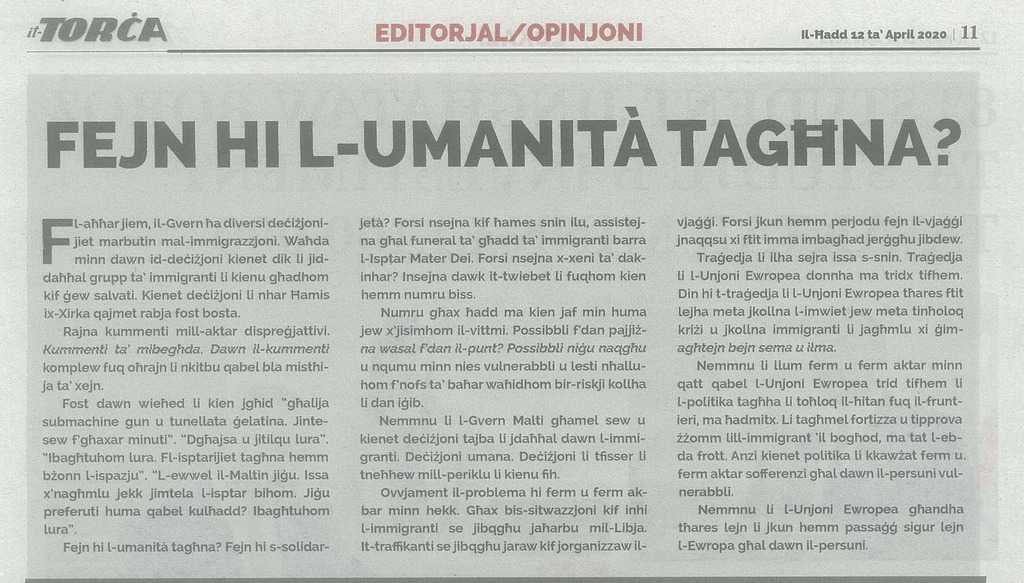 "Where is our humanity? Where is solidarity? Perhaps we forgot how 5 years ago we witnessed the funeral of a number of immigrants outside Mater Dei. Have we forgotten that day's scenes? We have forgotten the coffins bearing only numbers."
That editorial was on the newsstands while Robert Abela ordered the army to ignore distress calls from our search and rescue area and to organise instead a push-back poorly concealed as a 'rescue' by a fishing vessel with its name painted over. On the day when anyone might have read that editorial, and on 3 fateful days that followed, 12 men and boys died, denied our most basic compassion.
12 days later, on the 24th April, whilst Repubblika and its activists were being eviscerated on TVM, on One TV and on social media, l-orizzont's editorial played a different tune. "When are we going to deal the wave of racism?" it asked as it challenged the Maltese authorities to get serious about the integration of migrants in our community and to lead a proper fight against extremist attitudes of hate and discrimination.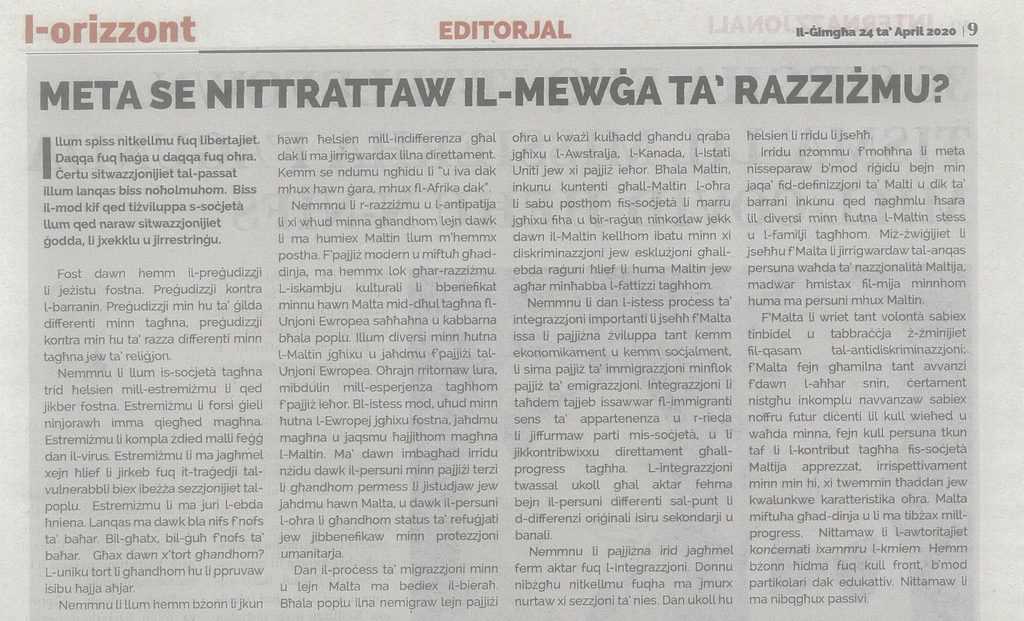 L-orizzont today spoke in defence of activists and protesters who disrupt cruel policies such as forced repatriation that may be, as Byron Camilleri emphasised a few days ago, "legal" but are, as l-orizzont's editor wrote today "inhumane".
L-orizzont says that repatriation laws "should change. Migration laws should treat migrant humanely. All that these people have done is escape from their country for a better life."
L-orizzont continues today: "We are too often seeing messages from liberal governments that flirt with narratives and actions intended against those who have escaped their countries for a better life. They do this to try to ingratiate themselves with a portion of the public. They forget or they pretend to forget that this is a far-right narrative. They forget that doing this makes them inhuman".
You're absolutely right, sir. I can only hope Robert Abela reads l-orizzont.