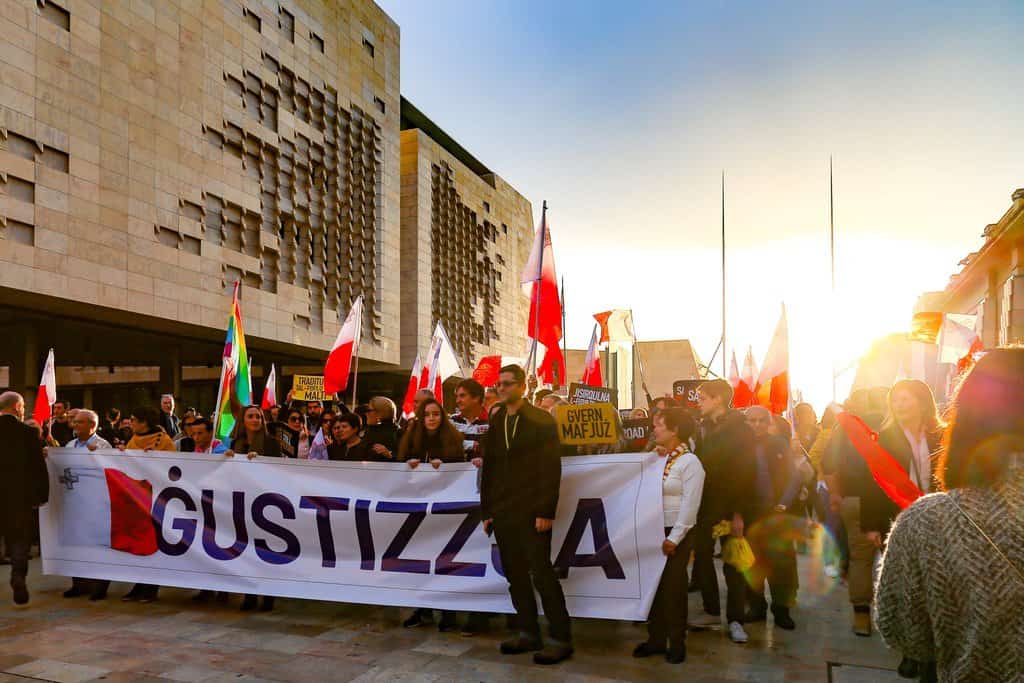 Repubblika, #occupyjustice and this website are calling the public to join in our protest on Monday 1 March at 5pm in front of Parliament House. We must renew our demands for justice for Daphne Caruana Galizia, her family and the entire country.
It makes us indeed very angry to see Prime Minister Robert Abela rush to close this case that should be and is indeed still wide open. He is using the admission by one of the assassins that killed Daphne as some sort of evidence to back his argument that the State has done its job.
There is no justification for the prime minister to congratulate himself. He is trying to distract the country from the simple fact that politicians continue to enjoy impunity for the corruption they have been caught in and the benefit they collected from the killing of the journalist who exposed them.
The government is still singing from the hymn book it dished out the day of the murder: everything stops once the killers are caught. But the conspiracy to kill Daphne was intended to profit the mafia piovra that has gripped our country.
Nothing has been done about the Electrogas contract.  Its owners still profit from it in spite of the fact that it is mired in corruption and stained in blood. Government MPs are preventing an inquiry into the case from happening.
We've known for five years about Keith Schembri's and Konrad Mizzi's Panama companies set up to collect 5,000 euro a day in bribes from Yorgen Fenech. Nothing was done about that.
Nothing has been done about the obstruction to the pursuit of justice in the cases of the killers.
There's been no action on any of the following facts:
Joseph Muscat kept up a relationship with Yorgen Fenech even when he knew he was suspected of killing Daphne Caruana Galizia;
Right after Daphne's murder, Joseph Muscat set up a chat with Yorgen Fenech and Keith Schembri;
Joseph Muscat wanted to speak to his two buddies privately even after Yorgen Fenech's ownership of 17 Black became public knowledge;
Keith Schembri spent hours at Joseph Muscat's house on the eve of his arrest after which his phone vanished never to be found;
Hours before Yorgen Fenech's arrest, Keith Schembri spent a long time on the phone with him.
No action was taken on what the State's witness said:
That the Degiorgio brothers were warned about their arrest 50 days after they killed Daphne on the back of information from Keith Schembri;
That Kenneth Cammileri "from Castille" negotiated with him silence and liberty for the Degiorgio brothers;
That Lawrence Cutajar interfered to get hold of the evidence against the accused behind the backs of his own investigators.
No action was taken after Keith Schembri's attempt, with Adrian Vella's help, to persuade Yorgen Fenech to blame Chris Cardona for the murder.
Right up to this week, the prime minister tried to deny the fact that two witnesses for the prosecution – not one, two – told the Police that Chris Cardona is also involved in Daphne's murder.
A short stint in prison for one of the killers does not amount to justice for a woman killed for her service to Malta. It's not even a start of the healing of the wound inflicted on our country. None of this means that institutions are working.
We can't ignore the fact that Robert Abela tried to shut down ahead of its time a public inquiry set up to determine the failure of the State. Fortunately he failed.
We're here because of the consistent efforts of a civil society and of independent journalists determined to ensure that truth and justice prevail. The pandemic has so far prevented us from leaving our homes but now we learn that the Police has decided to permit public protests.
This is why we'll be meeting this Monday in front of Parliament to remind MPs of our determination to fight the piovra that has gripped Malta.
Those who answer our call are invited to take all precautions to avoid spreading covid and to keep a safe distance.