Calling Alessandra Dee Crespo the "editor" of The Third Siege of Malta is reductive. It suggests a purely revisory role, a censor who is perhaps kind, but a censor nonetheless. Alessandra's role in this book is of co-creator. Choosing themes, joining disparate writings written over four years and sewing them into a coherent narrative is not the job of a censor, it is not a negation. It's the job of a creator, and this book is as much hers as it is mine. This is her speech at yesterday's book launch.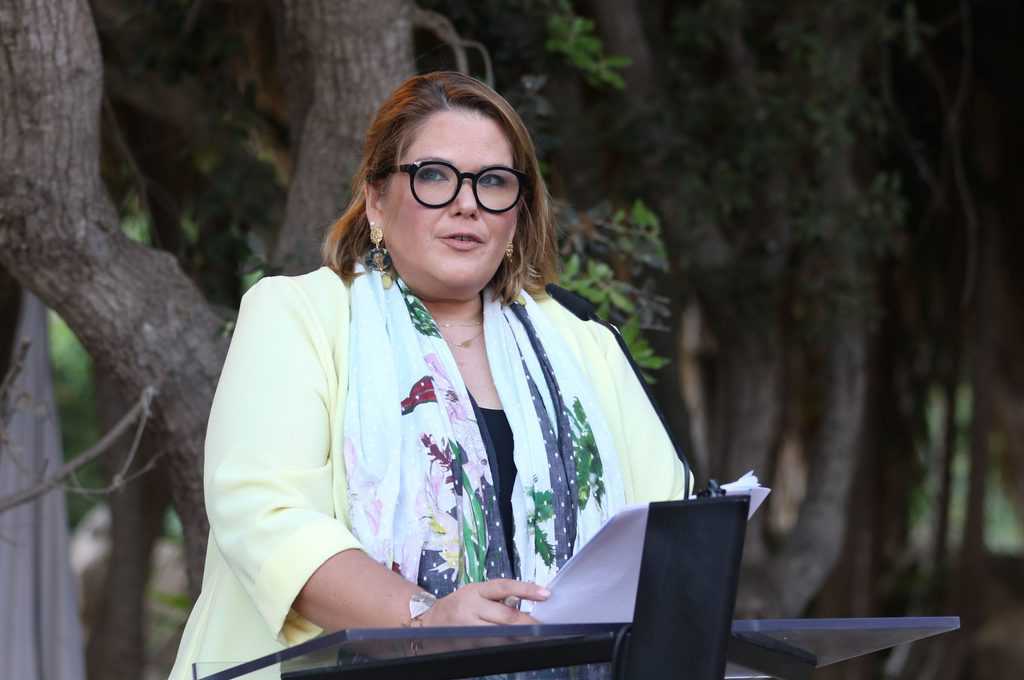 Good evening ladies and gentlemen, friends following online,
It is my infinite pleasure to welcome you all to this book launch for The Third Siege of Malta by Manuel Delia published by Midsea Books. Manuel needs no introduction since we have been following his blog for four years now. Most of us remember reading his very first blog post that was reproduced on Daphne Caruana Galizia's Running Commentary on the 6 June 2017. We all sat up and listened for we loved this new voice from the start. This is not his first book either for together with Carlo Bonini and John Sweeney, he has written the bestseller Murder on the Malta Express, also published by Midsea Books, which won the National Book Prize last December.
Indeed, this launch tonight is a celebration of four years of incidental blogging that quickly transformed itself into intentional hard-hitting journalism and activism on the 16 October 2017. This book is an anthology of blog posts from manueldelia.com and columns for The Sunday Times of Malta written in the past four years.
We all remember what we were doing on that day that has gone down in infamy.  While we were feverishly refreshing Daphne's website hoping against hope that her assassination was but a bad dream, Manuel was already putting into words what many of us couldn't express. I remember thinking 'But how can he find the words? And so eloquently?'. After having read most of his 6,000 blog posts to edit this book, his pieces on Daphne Caruana Galizia remain the most poetic, the most heart-wrenching and the most insightful of them all.
Almost immediately, Manuel left his full-time job to take up writing full-time for, like he told me during the first conversations about the book, he felt compelled to chronicle what we are witnessing in real time. As he himself says in the preface:
The book is a selection of blog posts published on Truth Be Told (manueldelia. com) since its inception on 6 June 2017. These were the years of Daphne Caruana Galizia's passion and execution and the struggle of a minority in Malta who fought, and continue to fight, for justice for her, for her family and for her country. Daphne was assassinated by a car bomb outside her home on 16 October 2017. That event ended her life. It also transformed the lives of many, my own included.
Manuel is the first one to tell you, and indeed he told us himself on the 13 September 2017 (this blog post will be read out later), that he is no Daphne. He does not presume to be another Daphne, there was, is, only one of her; but on that day in October, he felt he had to step up.
In the foreword of this book we're launching tonight, Judge Emeritus Giovanni Bonello, writes:
Manuel Delia is one of the few in Malta who has understood the real mission of the press – not to demean itself at the feet of the emperor, but to tell the crowds with deficits instead of brains that the emperor actually has no clothes at all. Not only is he naked, he is ugly, filthy and radiates a sickening stench of death and corruption. The dauntless journalist who last did that got what the emperor believed she deserved – she was blown up, and the tatters of her flesh have all the markings of State-curated assassination that very few seem eager to solve.
So it is proper and fitting to give Daphne Caruana Galizia her rightful place this evening. In fact, while writing the name of the book in the opening paragraph of this address, I actually wrote Great Siege Square since that location has become the embodiment of Daphne's courage for instinctively understood that a heroine walked in our midst and thus she deserves to be included in the pantheon of heroes from history. The Great Siege Square is also the locus of our ongoing battle to obtain justice for Daphne and her stories. It has become our second home. A home that we have missed for the past year or so even though we still make it a point to go to check on the memorial every time we happen to be in Valletta.
We have missed each other but here we are again tonight.
You will all agree with me when I say that this evening feels somewhat like a vigil. Since we couldn't be there at the square tonight, we chose this location instead. This is not a random location for this place is another battleground as you can see from the battle scars just beyond the gate.  We thank the chef-patron Claude Camilleri for being such a good friend and supporter of this ongoing fight for the soul of our country. Actually, Claude is an activist in his own right, who uses food as protest. In fact, Daphne herself had highlighted a particular pizza Claude had named. Who can tell us what he had called it? In whose dishonour? What about the labels of his home-grown beer? Did you read the labels closely? Incidentally, what's the name of his beer? Who can tell us?
It's been a year since we have met to remember Daphne's ultimate sacrifice. But we have never stopped protesting. We are a community of activists, each with our unique role how we protest this killing of one of us, of a journalist who held authority to account and paid with her life. Little by little, we too had to step up because sitting on the fence was no longer an option. Yes, remembering is important, but remembrance is not enough for remembrance only relegates Daphne's killing to history. We must also continue to fight, with every means at our disposal, for truth and justice, for Daphne and our country, because keeping things in the present makes them immediate, urgent.
So, yes, we all had to step up.
Some of us stand up in front of the nation with our speeches; some of us write Facebook posts or comments, going to war with the trolls and elves that infest our social media platforms and traditional media comments boards; some of us write poetry, paint pictures, draw cartoons, brew beers, name pizzas, place a photo of Daphne on our balcony and replace it when it fades, others place candles and flowers at the memorial in Great Siege Square or Bidnija; others write columns, and articles; a handful of investigative journalists, worthy of the name, some of whom are present here tonight, take unimaginable risks by digging deep in the filth and corruption; others are politicians who refuse to toe the line and stand for what is right, not for what is popular.
Finally, we wouldn't not be able to do all this if we didn't have the example of the family of Daphne Caruana Galizia, who keep showing us the way how to fight this tyranny with grace and intelligence. Who keep teaching invaluable lessons of responsible citizenship to an ungrateful country. We can never, ever, thank you enough. Allow me to salute two of the bravest people we know, who have not been able to join us, but whose presence is always felt and missed: Daphne's parents: Mr & Mrs Vella, Michael and Rose. Thank you for your grace under pressure; for the support you give us. Thank you!
So when people admire us for stepping up we're not doing anything special; it's a duty. We had to step up for they have done it before us all.
When Manuel told me that he is planning another book I thought it was just a conversation piece, you know, to make conversation over coffee or something. So I must have surely made some noises like: 'Good for you! Mela! Sewwa tagħmel. Prosit!' Then he must have said something like: 'And I want you to help me put it together'.
I remember saying distinctly: 'Mela le! Bil-qalb kollha'. And I remember telling myself afterwards: Tantx tibqa' lura, ta. Do you know what that even entails? Editing an anthology?
But I am a swim not sink sort of person so I decided to paddle furiously. Seriously though, Haven't we all challenged our comfort zone these past four years? Of course, it did help that I have what Sheldon Cooper describes as an eidetic memory, without his genius,  so it wasn't difficult to find the pieces that I wanted to include. The problem was what to leave out. Manuel is not a one trick pony; he can write about nearly everything so it was important to include a good selection of writings that reflect his talent for the bon mot, his razor sharp analysis, his flair for chasing a story. But it is one thing finding the pieces; it was another fitting them into a coherent narrative. Truth be told, this wasn't difficult since it did help that I have been reading both Daphne's and Manuel's blogs from the very beginning  so when I was looking for the pieces, I had already created a working structure of the collection I envisioned, and they all slotted neatly under each heading without fail. All merit goes to the author for making my job easier. I am no expert on editing other people's work but his thought process is linear, he hardly ever repeats himself or contradicts himself, and apart from his superb mastery of the English language, one other thing stands out in his writing is the sheer beauty of his logical arguments. So thank you, Manuel for your trust in me and for making my job easier than I thought it would be!
I also wanted to include cartoons and illustrations by established and emerging artists because they are the perfect marriage of words and imagery even though Manuel can also paint the most striking pictures with a quick drum tap on his keyboard. One of the proposals I had put forward but did not make the cut, was to have an index of biting turns of phrase, puns, and hilarious descriptions that made us laugh out loud. But I did not pursue this idea because I wanted to leave it to you to find them in the course of reading the book.
When Manuel and I were mulling over what to call the book, I jokingly said that it should be called The Unfinished Works of Manuel Delia. We laughed it off, but the second volume of this book that we will be launching tonight is already being written daily.
The Third Siege of Malta will be the handbook of this era; a sort of despatches from the trenches: the worst of times and the best of times. The worst of times because much has been taken away from us, and is still being taken away from us; but these are also the best of times because we are the living embodiment of the legacy Daphne left behind: a group of likeminded, I venture to say, bloody-minded, individuals who truly believe that right and wrong are not a popularity contest and that we'd rather be attacked for choosing to be on the right side of history rather than being popular and traitors to our country. In the words of Manuel Delia from a blog post on the 16 October 2017 at 18:16 p.m.
If she is silenced, the only voice that counts now is that of the people whom she served and for whom she gave up her time, her energy and now her life. If only to thank her husband and her children for their sacrifice, go join the candlelit vigil at the Torri in Sliema this evening. And since her blog is eerily frozen in a moment a few hours ago when she was still with us, write in the comments space below your appreciation for Daphne Caruana Galizia's work.  As she did for 35 years, stand up to be counted.
We will never stop standing up to be counted. For we have the legs for it. And we are not tired.
Thank you.