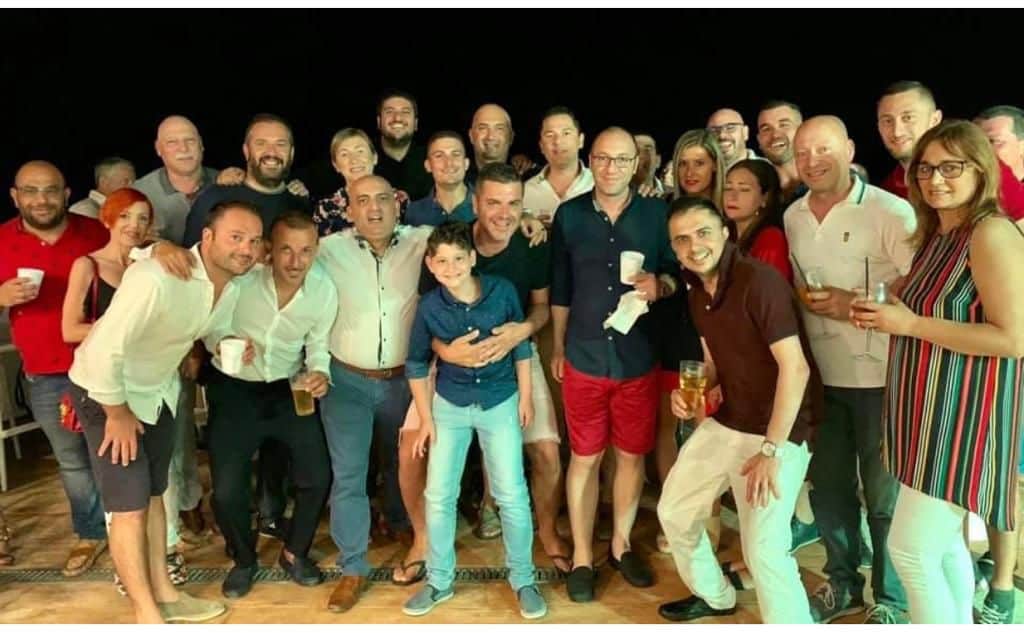 MFA President Bjorn Vassallo is under pressure to support Joseph Muscat's candidature to the presidency of the association of elite football clubs, not least because the support of key Joseph Muscat allies was crucial for Vassallo's election in 2019.
Bjorn Vassallo owes his election to the top job in the football federation to key Joseph Muscat allies. The above 2019 photo shows Vassallo celebrating his election with his closest canvassers including Joseph Muscat's assistant Ray Barbara, Muscat collaborator Luke Dalli, and Trustin Farrugia Cann, at the time canvasser for Konrad Mizzi and now CEO of Infrastructure Malta.
Ray Barbara is intimately involved in the football world with two of his sons qualified as licensed referees. He served as Joseph Muscat's personal assistant since Muscat's first election to government.
Luke Dalli is the son of EU Commissioner and veteran Labour Party politician Helena Dalli. When Joseph Muscat was prime minister Luke Dalli raked tens of thousands of euro in consultancy services to public agencies. By 2018 the Lands Authority alone had paid him almost €50,000 in fees. He followed Joseph Muscat closely throughout his political career and was on Muscat's entourage on his "farewell tour" when Muscat was forced to relinquish power in 2020. Luke Dalli is board secretary on the MFA's subsidiary sports tourism company. He does legal work for the FA and has travelled with the national team.
Trustin Farrugia Cann is a licensed referee in his own right.
Officially, the MFA is keen to steer clear of politics. In a circular issued to MFA staff on the eve of the last general election, MFA management cautioned that "it is our duty to keep football free from politics and above all to respect different views. The Malta FA is in this sense neutral and should be perceived as such."
In the midst of the present controversy Vassallo posted this on his Instagram, a carefully crafted quote that seems intended to satisfy both people who are pressuring Bjorn Vassallo to support Joseph Muscat's candidature and those who want him to speak out against it.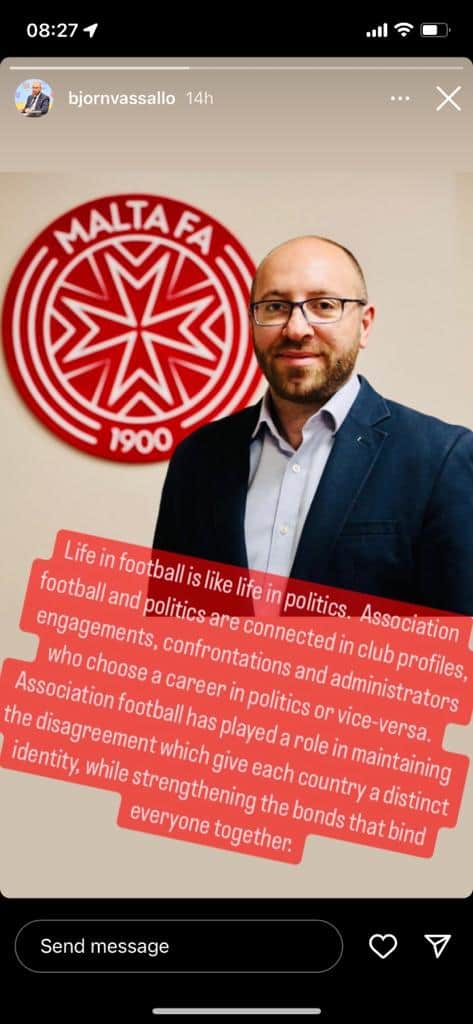 An MFA source told this website that Bjorn Vassallo must now be feeling at the wrong side of the Faustian pact he made to secure his election in 2019. It remains unclear whether Joseph Muscat is eyeing Bjorn Vassallo's job in the medium term but the former prime minister and Vassallo's former champion is already exacting payment for the debt Vassallo owes him.
Note: An earlier version of this post erroneously included Karl Izzo in the persons identified in the above picture. The error is regretted.