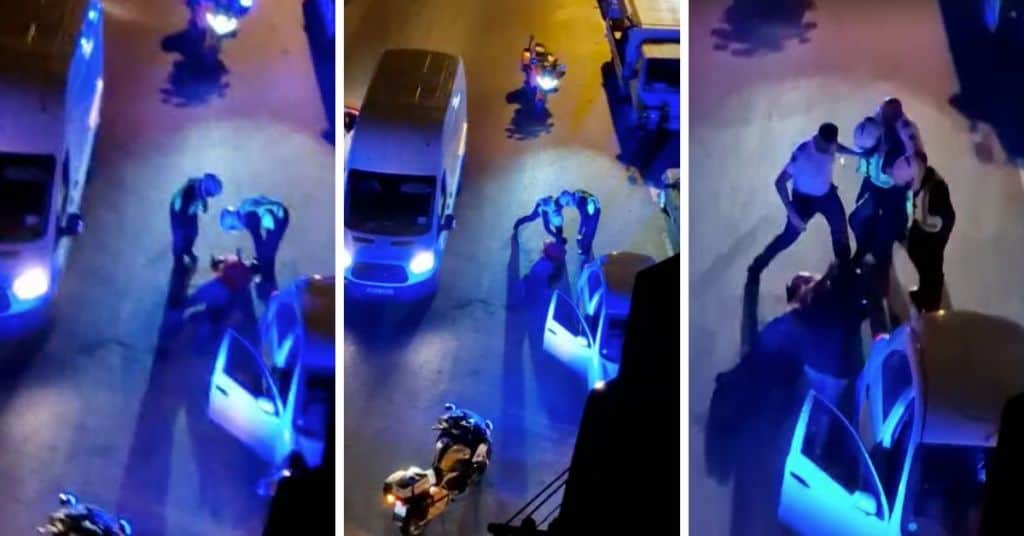 Facts on the 26 October beating of a motorist by Transport Malta officers revealed yesterday when a video of the incident was published by Lovin Malta are still sparse. Except that we know it happened because we can see a film of it.
Lovin Malta described the victim as "dark skinned". Combined with the fact that the incident occurred in Marsa suggests, though not explicitly so, that there could have been a racial motivation to the incident.
In its report of the assault Times of Malta recalls charges filed against three police officers who in separate incidents abducted and assaulted "foreign nationals" for sport. To an extent that is an implicit suggestion that there are more ways than one in which the two separate incidents are similar. One, obviously, is the violent abuse of uniformed authority by junior officers who appear able to operate outside the discipline of the force they belong to. The second, perhaps less obvious for now, and certainly not yet confirmed, is the possibility of racial hatred as an underlying cause or, in the minds of the perpetrators, justification for the violence.
It is, perhaps, also appropriate to recall the cold-blooded shooting of Lassana Cisse, who was killed by two off-duty soldiers on a shooting spree. They have been charged with murder and await trial while at liberty. They deny any wrongdoing.
When Lassana Cisse was killed the authorities rushed to reassure us that the killing of Lassana was a freak and isolated incident and certainly not symptomatic of institutionalised racism in the army.
Perhaps these subsequent incidents tell us that if racism fuels this violence the army is no more racist than other uniformed agencies. It's not that there is no problem. It's that the problem is so pervasive, so deeply rooted in the background of all that happens, that it has become impossible to perceive.
Of course, racial hatred alone does not create a pattern of uniformed brutality. You need institutional complicity, poor example from the top, a cultural attitude that is comfortable with the abuse of people perceived as belonging to sub-human under-classes. You also need a breakdown of authority, a systemic undermining of corporate and organisational traditions and values in favour of personal loyalties and patronage. You need people to feel that those with the job to stop them or punish them for wrongdoing are incapable or unwilling to do so.
In other words, there can be no uniformed violence without its organisational enablement. A junior uniformed officer with a reasonable awareness that excessive force or violence, whether motivated by racial hatred or anything else, would be met by punishment and disgrace, will seek to restrain any desire they might feel to indulge their instincts of hatred.
But it goes beyond any breakdown of organisational discipline. While we wait to see if this specific episode of violence was racially motivated or not, we should perhaps use other examples to illustrate the point I want to make.
Consider the three police officers whose sense of world order justified in their minds the clandestine beating of people guilty of being black or brown. Now change the status of the victim. Imagine for a moment that their specific type of prejudice was homophobia and the people they chose to abduct for random beatings would have been established members of society who happen to be gay. They beat a gay nurse working at the hospital or a gay teacher or a gay priest or a gay lawyer working pro bono with poor people. Rightly, absolutely rightly, the community's outrage would be deafening.
The bad news is, I promise you, there are homophobic uniformed officers who, given a chance, would delight in releasing their pathological hatred and their inherent violence on the bleeding back of a homosexual victim. The good news is cultural standards today make it unlikely that they would dare to do it. They would have done it happily 20 years ago. It's less likely now.
Well, there's just far less outrage about victimising black and brown people or people not born here because of the pervasiveness of all those people who start their sentences with "I'm not racist but …" and who wouldn't hurt a fly, even one born in Senegal, but whose shock at institutional violence will depend on the skin colour of the victim.
As more details will emerge of this story we'll hear of the "provocation" the officers will say justified their actions. Already we've been told about a chase and drink driving which of course justify pursuit and detention. If, however, every inebriated driver who is stopped by law enforcement is kicked in the head while face down in the street, there will be more people walking around with bandaged skulls.
The real question is not whether the violence was provoked since we are not analysing a drunken brawl or a village feud. The question is whether the violence was proportionate, if it was undertaken to stop a real and present risk of harm to the officers, to innocent bystanders, and to the perpetrator himself.
And then the next question would have to be whether the behaviour of the officers would have been different if their victim was not "dark skinned".
These are not questions the government wants to deal with. The government has no appetite for changing the nation's cultural attitude of racial prejudice. Nor does the government feel inclined to take sides between a disenfranchised "foreign national" and the officers who beat him up assuming no one was watching, because those officers are very much enfranchised. They have more than a vote. They are constituents, canvassers, supporters, people whose white privilege and entitlement not only to the country but to a monopoly on violence which they can inflict with impunity on a voiceless minority, gives them a license to do as they please.
Is it surprising then to see Aaron Farrugia, a spineless, coward, running away from Parliament to avoid questions he'd rather not have to even try to answer?