Jacob Borg's Times of Malta story yesterday revealed MFSP Financial has been fined by the FIAU for breaching MFSA laws. It is right that intermediaries are checked and held to account as these cowboy operations enable the crimes of money launderers, tax dodgers and fraudsters.
But that's only half the job done. If the FIAU has found that the MFSP has not queried transactions where the provenance was only accompanied by "very basic and generic information", then it has found reasonable basis to suspect that the provenance of these transactions cannot be accounted for properly.
The MFSP handled the investments of, among others, Keith Schembri.
Here are documents leaked to this website that show Keith Schembri's business with MFSP which appears to have started in 2010 when Keith Schembri was busy designing the 'roadmap' of Labour's election to government.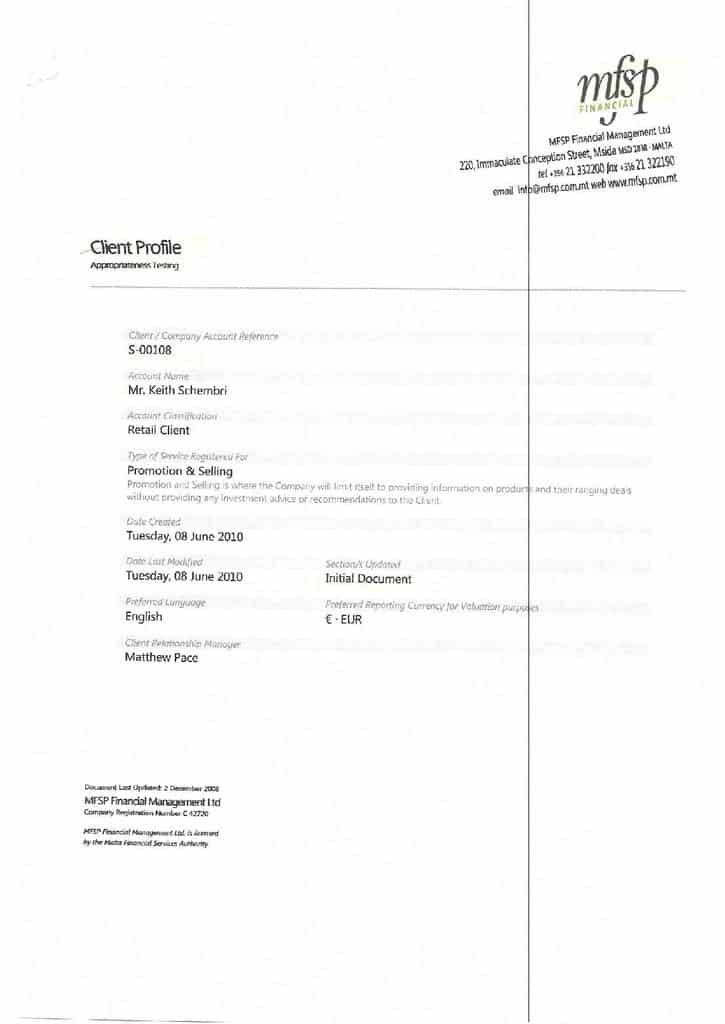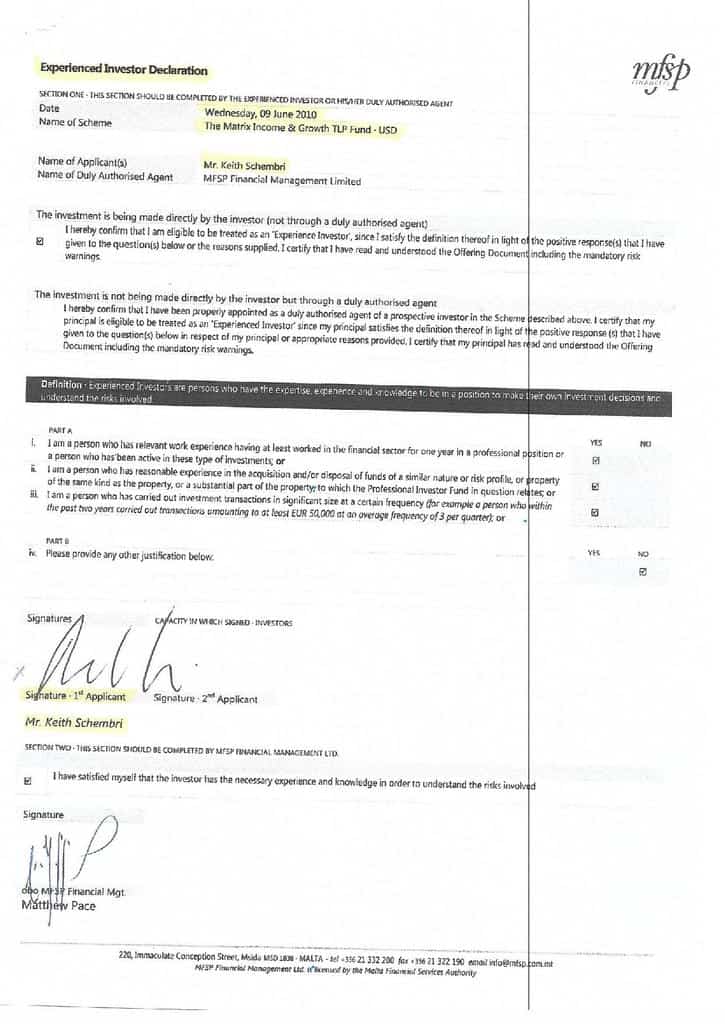 These documents show the assignment of a client account reference 'S-00108' assigned to Keith Schembri personally and Keith Schembri's own signature to the setting up of his account with MFSP.
This website is also in possession of documents that show that apart from the personal account reference S-00108, Keith Schembri was also listed at MFSP with two other client accounts 'C-00144' and 'B-0040'. The three accounts were handled by MFSP in one file as the wealth of a single individual. Documents seen by this website show that 'C-00144' is the reference to Colson Services Limited which was revealed by the Panama Papers to be a secret British Virgin Islands company owned by Keith Schembri. Later revelations showed that the BVI authorities investigated Colson for money laundering.
These client account references were used by MFSP to deposit funds on behalf of Keith Schembri at Bank of Valletta. MFSP have now been fined by the FIAU for taking deposits on behalf of clients without making appropriate enquiries about provenance.
This website reported a few weeks ago that Keith Schembri's financial handlers — which I can now confirm are MFSP — deposited almost $500,000 into the accounts of BOV they administered on behalf of Keith Schembri. The MFSP records seen by this website show no evidence any proper inquiry about the provenance of the funds was made.
Significantly the funds were received 5 weeks after Keith Schembri returned from Baku in a politicians-only visit to Ilham Aliyev where the energy deals for Malta where politically sealed. Those deals were found by the Auditor General and experts advising The Guardian and the Daphne Project to be enormously disadvantageous to Maltese consumers.
No action is known to have been taken to investigate Keith Schembri for the receipt of these funds. The prime minister Joseph Muscat, pressed by leader of the opposition Adrian Delia, denied in Parliament these funds were ever received by Keith Schembri.
However Keith Schembri has remained completely silent since then.
This website has seen documents that prove without doubt that Keith Schembri has indeed received the funds the prime minister denied, which means the prime minister wilfully or unwittingly misled Parliament.