Persons and companies involved in the Venezuela-to-Iran bank fraud and sanctions-busting scheme, currently the subject of an indictment and prosecution in the United States, are connected to Pilatus Bank and Ali Sadr's activities in Malta.
In spite of vehement denials of the government that the US indictment of Ali Sadr had anything to do with Pilatus Bank and with Malta fresh evidence is emerging that links Ali Sadr's Malta activities with money laundering through Malta with the same people involved in the Venezuela-to-Iran scam that is the subject of the US indictment.
As MP Karol Aquilina explained in Parliament yesterday, Ali Sadr set up a Maltese company in 2014 in order to undertake 'major social housing development' projects. That company is called Malta International Construction Company Ltd. The company is still active and registered to the same address as Pilatus Bank.  It's sole director and Legal Representative is Ali Sadr showing one of his Saint Kitts and Nevis identities.
No accounts of transactions were ever handed in to the Registry of Companies though the company is known to have banked with Pilatus Bank and according to whistleblower Maria Efimova speaking to this website the company did have banking transactions going through it. She was instructed by Ali Sadr not to interfere and hand over the matter to compliance director Claude-Anne Sant Fournier.
Right up to 27 January, 2018, a short time before his arrest in the United States, Ali Sadr was handing in nil reports with his Annual Returns for the company to the Registry.
Malta International Construction Company Limited is shown to have one shareholder: Brittstone Limited, a Hong Kong Company of which, on registration of the Malta company in 2014, Ali Sadr said he was a Director. The Honk Kong registry at present lists Turkish national Volkan Mustafa Morkaya as the sole Director of Brittstone Limited. Maria Efimova published a screenshot of that search in a tweet yesterday. (Correction entered at 12:22: The screenshot in Maria Efimova's tweet predates the dissolution of Brittstone Limited in July 2017. Malta's company is currently listed with the Registry of Companies as owned by a company that no longer exists).
In February 2017 I've sent SAR regarding this company to FIAU and OFAC. Attached file shows another person, Turkish national, as current director of Brittstone Ltd (construction company's shareholder). Probably, Mr. Sadr was trying to create/created another ML channel via Malta. pic.twitter.com/aG4019eKxI

— Maria Efimova (@MariaEfimova7) May 31, 2018
Volkan Morkaya is also İdari ve Mali İşler Md. Casa Verde Taah.ve İnş.A.Ş. (Administrative and Financial Affairs Director) of Turkish company Casa Verde.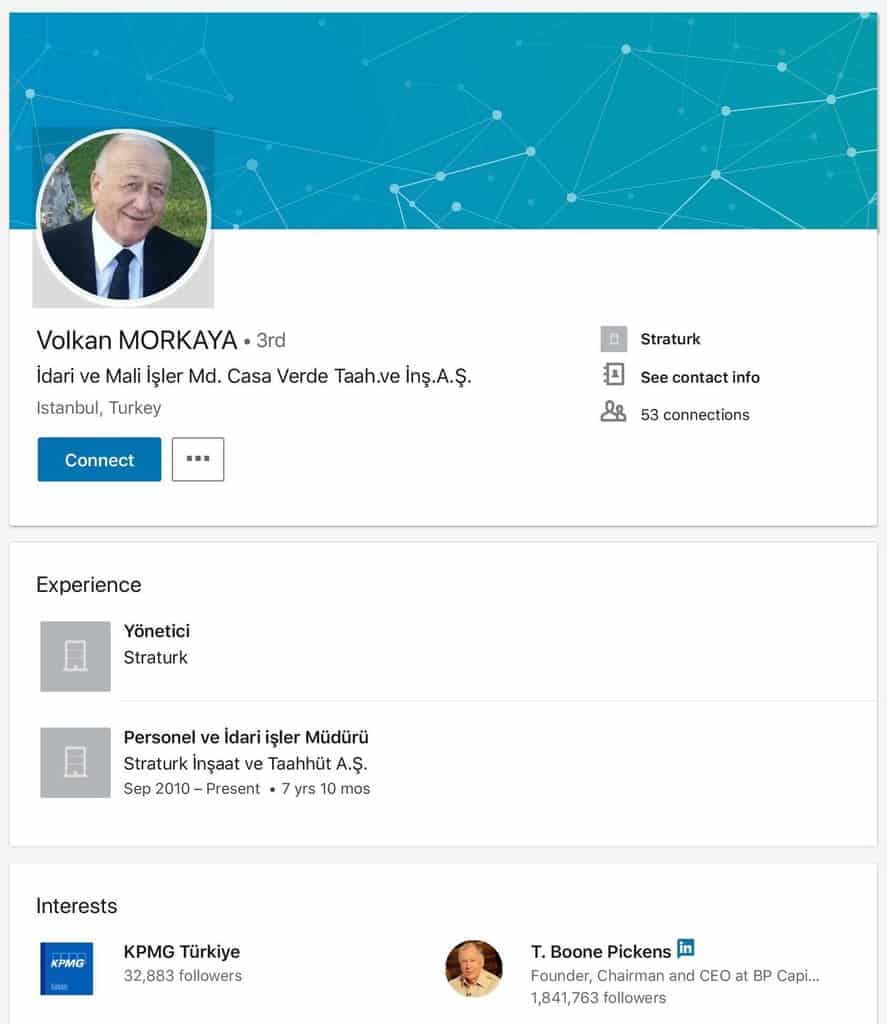 Casa Verde is a construction company registered in Turkey.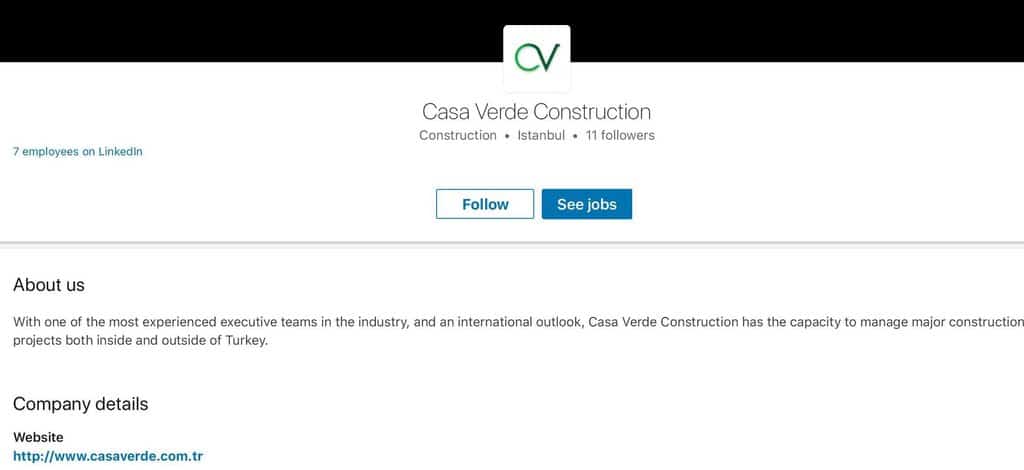 His LinkedIn page also shows a connection with Straturk where he is listed as a Yonetici (a Manager). Straturk is part of an Iranian-Turkish group called Stratum owned by Ali Sadr's father.
In a Twitter post yesterday, BugM also identified Volkan Morkaya as Mudur (Director) of Cirrus Foreign Trade using a different LinkedIn profile.
And in fact that person was involved in Cirrus Trade, a company specifically named as involved in the #Venezuela2Iran scam: https://t.co/z8tvKxt2Ap pic.twitter.com/7ByZGjXZ73

— BugM (@bugdavem) May 31, 2018
In arguments in the US court, the prosecution revealed that it has evidence of the use of these companies as money laundering vehicles and to avoid US sanctions against Iran in the Venezuela construction project there.
The evidence in possession of the US Attorney establishes conclusively that Sadr was aware of U.S. sanctions and purposefully structured multi-million dollar transactions to disguise Iranian participation in the Project. For example, beginning in at least 2008, Ali Sadr sent or received numerous emails discussing sanctions against Iran, attaching articles regarding those sanctions, and even attaching the sanctions legislation itself.
In an email submitted by the US attorney, Ali Sadr confirms to one of his sisters that "all of these companies belong to our family".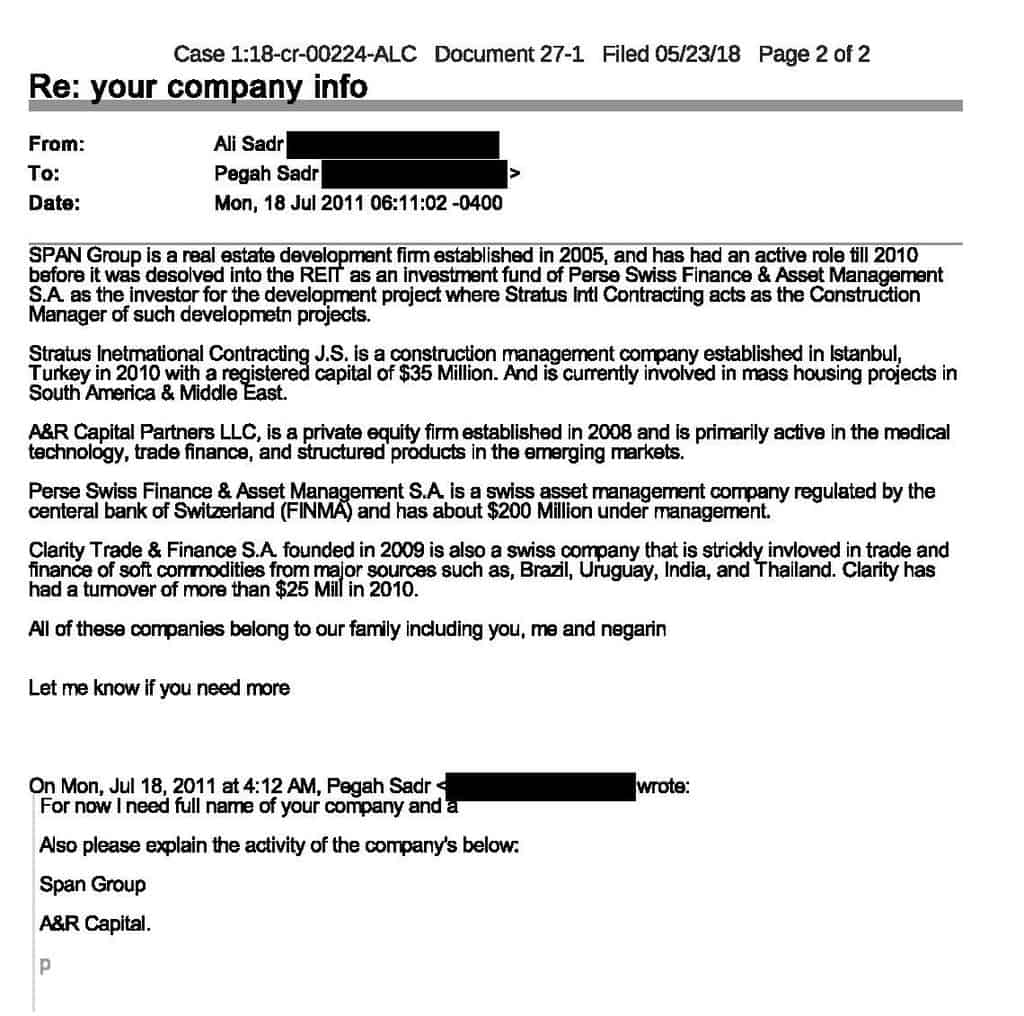 The US Attorney says "Stratus Turkey was established as another front company for USD payments and was at all times controlled by the Sadr family. Although Stratus Turkey's ownership structure included non-Iranians, emails show that the corporate structure was designed to hide the true owners and operators of the company. For example, the incorporation documents identify the nationality of Sadr, Sadr's father, and another family member (who together owned 90% of the company's shares and are all Iranian citizens) as St. Kitts, and lists the same Dubai address for all three."
The evidence also refers to Cirrus. In September 2012, Sadr expressed strong displeasure when paperwork for Cirrus, "reflected that the company had connections to Iran. Sadr wrote to another employee: 'Why the hell do I see the name of Iran in there. Why wasn't the same format of Clarity followed?!!!!'
Maria Efimova informed me that in February 2017 she reported to Malta's FAIU that she considered the formation of a construction company by Ali Sadr in Malta as suspicious. She felt this was the case because Ali Sadr himself had no knowledge of construction and because of his father's involvement in Iran's Stratus Group.
Her suspicions proved correct. When the United States indicted Ali Sadr on the Venezuela project, they explained that that project was led by Stratus Group, an Iranian conglomerate controlled by Ali Sadr and his family with international business operations in the construction, banking, and oil industries.  
"In December 2006, Stratus Group incorporated a company in Tehran, which was then known as the Iranian International Housing Corporation (IIHC).  IIHC was responsible for construction for the Project.  Thereafter, IIHC entered into a contract with a subsidiary of a Venezuelan state-owned energy company (the VE Company), which called for IIHC to build approximately 7,000 housing units in Venezuela in exchange for approximately $475,734,000. Stratus Group created the Venezuela Project Executive Committee to oversee the execution of the Project.  Ali Sadr was a member of the committee and was responsible for managing the Project's finances."
The existence of a the Malta company strongly indicates that the same scheme was happening through that company and through Pilatus Bank in Malta.
The relationships and the people involved are the same and it is reasonable to suspect that The Stratus Group in Iran paid into its Turkish subsidiary Straturk. Straturk in turn paid Cirrus and Casa Verde. Cirrus and Casa Verde paid into Brittstone (Hong Kong) which then paid into its subsidiary Malta International Construction Company.
From there funds would be sent to the United States to be laundered into property or to pay kickbacks in Venezuela for the project and covering up the fraud, corruption and sanctions busting there.
FIAU investigations after Maria Efimova's 2017 report, not to mention the spot checks and investigations conducted before and after Manfred Galdes's resignation should indicate clearly whether these transactions did in fact occur.