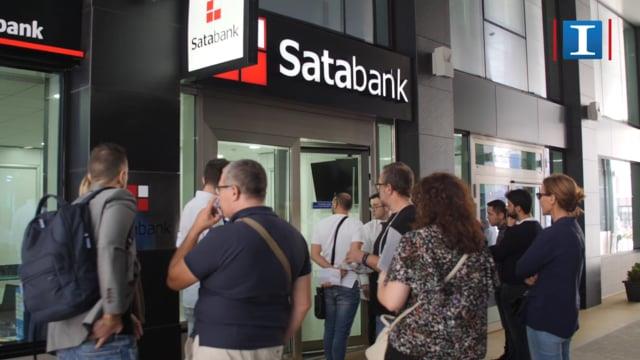 Several hundred clients of Satabank continue to suffer hardship as they've had their bank accounts frozen for a month now. There has been no indication yet by Ernst & Young, appointed by the MFSA to manage the bank when any of these funds would be released to customers.
Frustration mounts as Maltese authorities appear to be unwilling to distinguish between private and business accounts and, more significantly, between accounts with a small turnover of funds — typically a monthly stipend — and larger accounts that would require deeper inquiry for money laundering inquiries.
In the meantime, concern is also rising among financial intermediaries who expect to face scepticism among clients offered Malta's banking services. Although the tax rates charged on companies set up by non-resident remain attractive, the handling of the Satabank affair by the regulator here is a threat to confidence to the jurisdiction. 
The MFSA and the government have been remarkably silent about the affair. The Prime Minister has criticised critics of the Satabank situation hypocritically calling hypocrites those who complained of lack of action in the case of Pilatus Bank, now complaining of the harshness of the situation at Satabank.
But that doesn't really answer any questions, does it?
For starters except for what Daphne Caruana Galizia reported we still don't really know what was wrong at Pilatus Bank. What Daphne Caruana Galizia wrote was officially either ignored or denied. Leaked  FIAU reports were branded "work in progress" or even "written to be leaked" so we are officially asked to disregard their content.
When Ali Sadr was arrested in the US, Edward Scicluna assured us his indictment was unconnected with Pilatus Bank.
There have been no arrests, no arraignments and no indictments of anyone working at Pilatus Bank. No wrong-doing has been suggested.
By all accounts, Pilatus Bank was shut down for no reason whatsoever. No crime appears to have occurred and consequently, no one is being tried and punished.
So if this was the act of a capricious government (or regulator, like the European Central Bank), there are victims of abusive state action here. Ali Sadr, of course, is the most obvious 'victim' as he owned the defunct bank. But also the 180 or so account holders there. They can be expected to sue the state for their losses.
I have no sympathy with any of them because like everyone else to some extent I am aware Pilatus Bank was a money laundering machine. But no one can reach that conclusion from the government's action.
Along with the owners, the account holders at Pilatus Bank are also victims of this state action. Their money was stuck there. Or was it? Again no official information has been provided on what happened to the account holders and since typically account holders at Pilatus Bank are chiefs of staff of little kleptocracies like Malta or children of tin-pot dictators of former Soviet republics, they're not the type to complain in a Facebook group.
We don't know what phone-calls those clients might have been doing to whom.
Clients of Satabank are altogether different. Many of them are, though perhaps not all. Thousands are people who can't get to their October salary and have gone down to scraping their stock of baked beans until payday at the end of November. Some people in Brazil lost their jobs as they could not afford to pay the bus to get to work. Some families of sailors in the Philippines did not get their father's remittance payment this month and are living off the generosity of their extended families.
And hundreds work in Malta and are now wondering if they still want to. Other hundreds run businesses here and are now wondering if they still want to.
As with Pilatus Ban,k no specific accusations of wrongdoing at Satabank have been reported by the authorities yet, beyond procedural failures.
But if this is about procedural failures — that obviously need clamping down on — should there be no proper procedures on how to fix that?
If the bank did not properly filter out money laundering risks, shouldn't its temporary administrator be filtering in the funds that are not? 
Say if an account belongs to someone who has only ever deposited their monthly salary of less than 1,500 euro against a payslip showing tax deducted at source from a Malta registered business and gradually withdrawn those funds during the course of each month, can that account not be deemed low risk and its owner allowed to eat warm food and sleep in a bed with sheets while the investigations continue?
Is this really too much to ask?
The GRTU has spoken on behalf of businesses whose cash flow is paralysed. The plight of individual salaried workers should in theory be the purview of unions. But these are workers no one speaks for.
Of course, those of them who reside in Malta are also tenants. Their landlords do not march on the street. Like those clients of Pilatus Bank, they'll get on the phone when their tenants cannot pay anymore.
And then, maybe, something might move.