Employees of companies whose accounts are held up at Satabank for over a month sat down for lunch today at the entrance of the Ernst&Young office in Msida protesting at the "amateurish" way the 'competent person' appointed by the MFSA to administer the bank is managing the crisis there.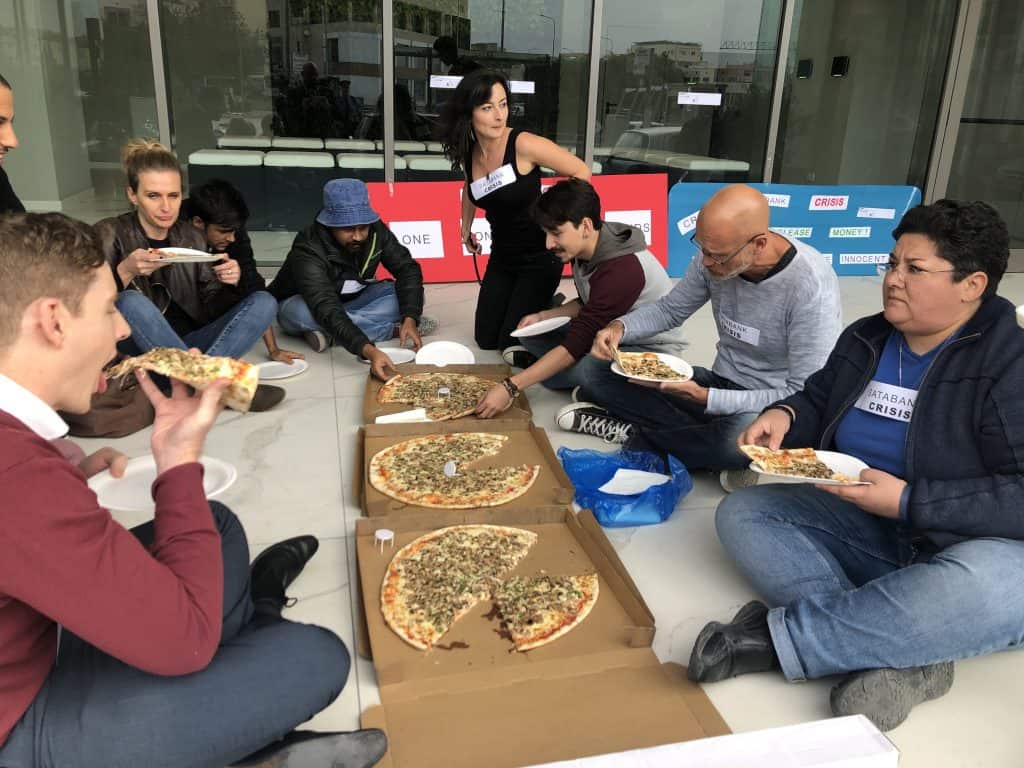 I spoke to a number of the employees who said their October salaries were unpaid and it's looking likely that their November salaries would not be paid either. Their temporary arrangements with landlords to delay rent payments are likely to expire soon forcing them to leave the country altogether.
They also complained that their employers are unable to pay operational costs such as software licences and internet subscription bills which will force them to shut down their operations altogether and lose their contracts with their clients.
An employee I spoke to told me her boss helped his staff as much as he could by paying everyone a portion of their salary out of personal funds. However unless their funds at Satabank are unblocked in the immediate future, their business will close and they will lose their jobs.
One company some of the employees present today worked for has been in Malta for three years and is co-owned by German and Maltese owners that are both residents in Malta. "Our bosses do not take their profits out of the country and they do not get their tax reimbursed. They always paid all their taxes and all their income has been against invoices for the creative work that we do. Why are we being punished?"
The MFSA has ordered an indiscriminate freeze on all transactions at Satabank for more than a month pending investigations into breaches in anti-money laundering procedures at the bank. Those protesting today lamented that neither Ernst & Young, nor the MFSA nor Satabank has in the past months handled any of their calls enquiring on any progress. All three refer them to short statements that promise the accounts will eventually be freed up but making no promises on timelines.
"For us it looks like this will be too late. We have been in Malta for years and we liked it here. But it looks like we will have to leave".
A company manager present today lamented that no other bank in Malta would provide them services. As they looked for possible alternatives to Satabank they have made enquiries with other banks. Sparkasse interrupted their enquiry early asking them if they are former Satabank clients. When they confirmed, Sparkasse ruled out considering their business. HSBC gave an outright no. No reason given. Banif ignored enquiries. BOV drowned the potential customers in paperwork, including the need to get the evaluation of an independent 'competent person' whom they could not pay anyway because their money is stuck at Satabank. APS told the potential customers it could not consider their business as their clients included gaming companies and this was incompatible with the bank's values.
"Malta makes so much effort attracting digital businesses, but then we find out we cannot get banking services here. We can't run a business without a bank".
Employees present told me they intend further protests in the hope that someone engages them in some form of discussion to grant them immediate access to their funds.