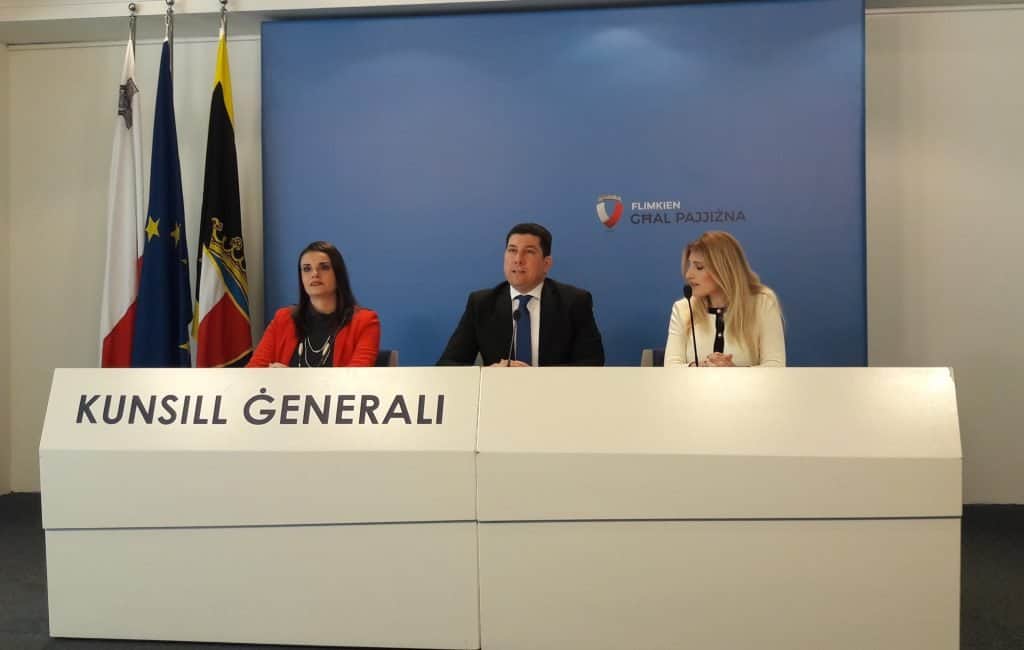 A campaign of bullying and intimidation is underway within the Nationalist Party that is focused principally on General Councillors who were known to support Adrian Delia in his leadership campaign and during several months of his time in office but have since shown signs of doubts about whether the party leader should remain in office.
Some of the intimidation is seen openly on line with ever harsher language being used particularly on Councillors who urge moderation on others who have written arguing for the 'elimination' of critics and detractors of the current leadership.
However there have been consistent reports from Councillors invited to have small meetings with Adrian Delia, party leader, that during, and in the fringes of, these meetings henchmen and bullies that support the leader have rounded on people they suspected might switch sides.
Adrian Delia's narrative at the private meetings with Councillors is no different from the official story expressed externally by the leadership. Adrian Delia says he remains convinced he enjoys the support of the great bulk of the membership of the PN and that the only reason he has not yet made political inroads on the national scale is that a number of Members of Parliament in the PN Group that he 'inherited' from the previous leaders continue to refuse to toe the line.
People who attended different meetings in this series have told this website that Adrian Delia has told them that even without the support of these MPs he feels certain he can lead the party to an acceptable result at the general election. Though vague about what that result might actually be, Adrian Delia says he is certain that voter backlash will eliminate from Parliament MPs like Jason Azzopardi and Karol Aquilina and replace them with candidates of his choice that would support him in driving forward the PN.
This monologue glosses over the fact that this strategy of replacing detractors with supporters in elected office has manifestly failed in the recent European Parliament elections.
The thrust of Adrian Delia's case on his own behalf is therefore that if Councillors were to be asked to vote on a motion calling for his resignation, they owe it to the wishes of PN voters to support him staying on as leader in order for him to be able to complete his mission.
During one meeting with Councillors Adrian Delia is reported to have acknowledged that his core supporters are angry at the prospect of a vote of confidence. He is reported to have told Councillors that he has had to keep the list of signatories of a motion to call an urgent General Council locked in a safe to avoid the list ending up in the hands of thugs who accompany him daily at the PN headquarters.
Adrian Delia is reported by these Councillors to have told them he has kept these names hidden for fear of any retribution that may be visited on them by his supporters.
It appears clear to Councillors speaking to this website that at best Adrian Delia is demonstrating he has no grip on reality and is taking comfort instead in his own conviction in the righteousness of his cause.
He appears to be utterly convinced that his own political misfortunes are completely unconnected with any possible limitations in his own qualities as a leader which he continues to believe do not exist. Instead, as he sees it, responsibility for his and the PN's current state lie squarely with MPs who refuse to support him.
He does not however see this as in any way a barrier to a final victory which he remains fully convinced lies beyond the next corner.
Councillors say Adrian Delia continues to display calm and self-confidence which some find amazing in the circumstances. Outwardly at least he appears to be unperturbed by the prospect of a confidence vote that he risks winning by an unimpressive majority in the General Council, even if he were to rule out in his mind the possibility of losing that vote.
As James Baldwin put it "people who believe that they are strong-willed and the masters of their destiny can only continue to believe this by becoming specialists in self-deception." It appears that Adrian Delia's one true talent has come into its own.
That suggests that in the same way that Adrian Delia does not consider support in the Executive Committee and the Parliamentary Group as necessary elements of his continued legitimacy, he may very well not feel he is answerable to the authority of the General Council either.
The few advisers with political experience that work for him however would rather avoid having to try to survive a disastrous result in a General Council vote. Under normal circumstances General Councils are stage-managed affairs. They are called regularly by the party leadership with a set agenda and with a list of speakers that is careful to avoid risks of dissent.
An extraordinary Council forced by signatures collected by its members would not be such a controlled affair and would have on its agenda questions the leadership would rather not ask supported by speakers the leadership would never invite to speak.
The Sunday Times of Malta today reports that the party's Secretary General Clyde Puli might be leading an effort to find reasons not to call the extraordinary General Council meeting at all.
That would leave Adrian Delia's support by the party's grassroots activists theoretically untested.
While this is happening the vehemence of the language used by a small number of people who say they are members of the PN and supporters of Adrian Delia when speaking about people Adrian Delia identifies as the causes of his political problems is now reaching unprecedented extremes.
That may be consistent with just the narrative Adrian Delia is giving Councillors in private meetings and which may well reflect his sincere convictions, that his own political future and the future of the PN which he considers as indivisible from each other, depend on the wipeout of anyone in the party who now thinks he should not be party leader.