Sent in by someone known to me.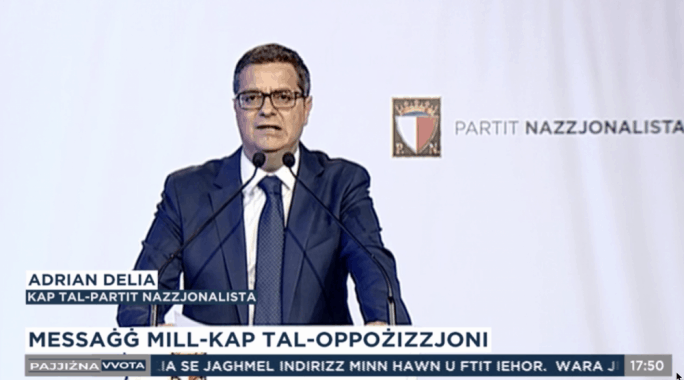 Democracy keeps hitting a new low in Malta month after month. In other parts of Europe, party leaders shouldered the responsibility for electoral losses last month by calling it quits. That's what leadership is about.
As a Maltese voter, my message to Adrian Delia and all Maltese politicians is short and sweet: Consider your tenure a loan.
1. You owe your electorate your seat in parliament (even if your electorate might be somewhat abstract, Adrian Delia, because you have never contested a general election).
2. You enjoy a raft of privileges thanks to your electorate.
3. The fact that you enjoy these privileges means that YOU are part of the establishment, not us.
4. The vast majority of us voters do not have reserved parking in Valletta(*). You do.
5. Nor do we have a driver(*), immunity from prosecution thanks to parliamentary privileges, etc.
6. That probably spares us from all the brown noses – and worse – who seek your patronage. At least we sleep at night with a cleaner conscience.
7. And because a number of us still have a functioning moral compass, in that curtainless polling booth (a scandal!), we are free to vote you and your party in or out. It's our free right as voters to terminate the loan.
(*) denotes messages directed specifically at Adrian Delia.
Perhaps I live in a bubble where family and friends really had a hard time choosing who to vote for last May. People around me cross-voted and stopped at Number 3, or even Number 1. Those who cross-voted thought it was time to give the smaller non-fascist parties a sign of gratitude for having the guts to buck the trend and make noises like an opposition party.
Perhaps I live in a bubble where the moment shopkeepers and neighbours realise you didn't vote Labour, they continue the conversation in hushed voices. Because they too did not. And here they are whispering as though the Stasi are around us. Something like the Stasi must be – secret Facebook groups, prying neighbours and busy-bodies even at the polling stations, services purchased by opposition parties exploiting data mining technology….then get someone to aggregate all this together and you have it! So people have few alternatives left but to mutter under their breath and send anonymous posts to Manuel Delia.
And take those Maltese voters abroad. I know some of them who refuse to be bribed with a subsidised ticket and pay the full fare at their own convenience. Even GDPR cannot protect them from the privacy of their own choices. The ELCOM deal is another affront to democracy, giving Maltese political parties far too much information about personal movements of voters.
To Adrian Delia in particular – because he likes to blame the establishment when things don't go his way – stop parroting Joseph Muscat. I cannot think of any opposition leader in a civilised democracy who so blatantly apes his competitor. If you want to do well in your first general election, stop gaslighting us, take your responsibilities and man up!
If this is too much to expect, you may terminate this loan…by resigning.