Following on from an article recently published in The Shift News, this is the first part of a series by Lizzie Eldridge arising from an interview with an ex-staff member at the American University of Malta (AUM). The series pursues a range of links and pathways triggered by this interview.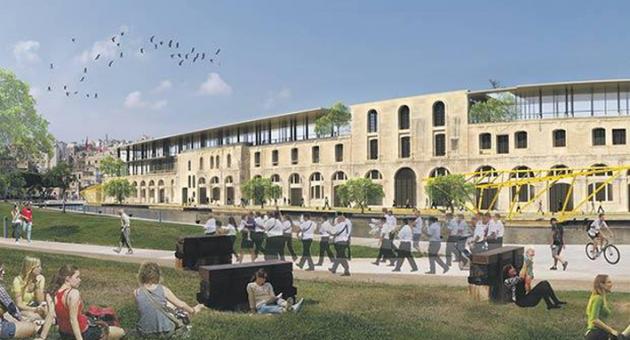 There's an absurdist play by Arthur Adamov called Professor Taranne in which the title character is, or isn't, an academic who's accused of indecently exposing himself in public. In the beginning, he protests his innocence, insisting 'I am Professor Taranne, I'm famous. I have given a great many lectures abroad. Only recently I was invited to Belgium, and achieved an unheard-of success…' 
At the end – indicative of his guilt or ground down by constant interrogation – Taranne begins to remove his clothes. Like the legendary emperor, he's stripped of his claim to identity and is left stark bollocks naked.
The American University of Malta does this in reverse and even then, it barely dons a swimsuit for a dip in its envisaged rooftop pool. After all, what university worth its salt doesn't need to cool down after a long hard day in the ivory towers?
From the outset, the illusory nature of this brave new academic world seemed part of the deal when a contract apparently signed between the Malta Government and Sadeen Group was actually signed with Sadeen Education Investment Ltd, a Malta-registered company set up in June 2014 and owned by one man: the Jordanian hotel developer and construction magnate, Hani Hasan Naji Salah.  He was known on much more familiar and endearing terms by those working for him, who addressed him as 'Mr Hani, Hani Salah, we called him Mr Hani.' 
Indeed, once you get past the cheap format of the Sadeen Group's website, it's Hani Salah's face you see on all three of the 'About Us' sections as well as the link to the AUM. 
But the transfer of huge swathes of public land to (supposedly) the Sadeen Group, and before any agreement was even published, gave rise to protests. Front Ħarsien ODZ asserted that: 'From the very start the government's dealings with Sadeen Group have been characterised by secrecy. Any land transfer before the conclusion of the site selection exercise would expose the whole process as a sham.'
Yet the sham continues and the in-depth interview with a former AUM employee intensifies its hallucinatory quality. Like many of the original faculty members, this person relocated from the US enticed by a lucrative salary for what seemed like an exciting job opportunity as described by the Provost, John Ryder, who interviewed, hired and, just under six months later, fired him. 
During his initial Skype interview for the job, the ex-employee was reassured of his future success as Ryder reportedly told him that 'the main thing you have going for you is that you're American.' While thinking this was 'strange' at the time, he 'let it pass' and initially bought into the dream that he would 'be part of the start of a brand new university…Mr Hani…said he wanted to have a university on the level of Oxford.' 
With the benefit of hindsight, those dreaming spires are viewed as 'very utopian' and his experience portrays that stark confrontation between fantasy and fact, between tempting tricks of the mind and the cold hard reality of what lurks beneath, a Michelangelo painting with angels forever fighting off their demons or, at the AUM, perchance they were spies. 
Curiouser and curiouser
When the ex-employee arrived in Malta to begin his 'American dream', he was warned off by two other staff members, both Maltese, who suggested that at this university, all might not be as it seemed. In response to his fears when relaying them to Ryder, the message was 'You've got to be wary because they're PN. They're not PL.' 
What's more, according to the ex-employee, 'A lot of people thought they were spies in AUM.'
We're entering the same murky territory of espionage and thrillers as the fraudulent White Flag international which declared beaches in Malta plastic-free as the plastic was washed up and flung at the foot of the flag. Charging 25,000 euro per banner, the endeavour was given a full endorsement by top officials in the Malta Government, including the Environment Minister, Jose Herrera. The team behind the project is appropriately likened to a spoof movie by Caroline Muscat: 
'Kristijan Curavić – the Croatian man behind the project – looks nothing like an environmentalist, and more like someone out of the cast of a low budget Eastern European version of James Bond. He also has the mandatory blonde in stiletto heels (for a clean-up) to complete the picture – she's called 'head of foreign affairs'.' 
Many former sponsors withdrew their support for White Flag International following The Shift News' revelations of a possible scam, but some of our money, taxpayers' money, went into sponsoring it. Most of the private sponsorship came from the iGaming industry because where gambling's concerned, you can never place your bets too high. Almost 200,000 euro was paid out to White Flag international from 'environmentally friendly' Malta, money which, allegedly, ended up in a bank in Zagreb. 
Despite the amount of money involved, Hererra argued that no due diligence had been carried out because no contracts had been signed and thus no fraud had occurred. All that money is given away on our behalf and from our own pockets yet not a contract in sight. Hard to imagine how this would stand up in court except, of course, if you were in a Maltese law court. Even then, that magistrate who's eluded state-capture might point out that Kristijan Curavić, the man behind the project, is facing charges of fraud from the Croatian authorities for creating a false invoice for another 'environmental project' in the South Pole.
White snow, white flags, white rabbits, and suitcases bundled into a car in the dead of night by Ali Sadr, owner of the now defunct Pilatus Bank who is facing a possible 125 years in a US jail for crimes which lead all the way back to Malta.  Black cars turning up at the AUM, also under cover of darkness, when bad publicity threatened to destabilise its plans after the sacking of a number of administrative staff: 'During the ensuing media blitz, it was rumoured that Castille sent an army of communications consultants, led by the former Managing Director of Allied Newspapers Adrian Hillman, to conduct damage control at the institution. Government cars were seen at the entrance to the AUM administrative building late at night, during the peak of the controversy.'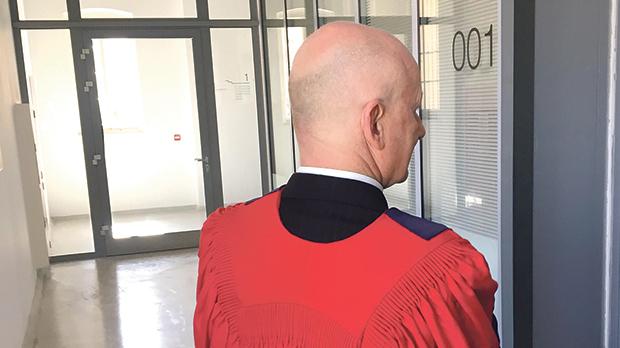 Adrian Hillman was recently named in the Council of Europe's report (Point 3.4) in relation to: 'The Hillman affair, in which Mr Schembri was allegedly involved in money laundering with Adrian Hillman, then managing director of Allied Newspapers. The police failed to act, despite an FIAU report, and a magisterial inquiry is still ongoing after two years.' 
Allegations of criminality notwithstanding, Hillman was appointed to the AUM's Board of Trustees in October 2017, shortly after the assassination of Daphne Caruana Galizia. Having resigned from Allied Newspapers after revelations in the Panama Papers that he owned a secret company in the British Virgin islands, like those set up for Keith Schembri and Konrad Mizzi by Nexia BT, Hillman was further rewarded with a 4,000 euro monthly salary in his role as a PR consultant at the Malta Gaming Authority. After all, who doesn't like a little flutter?
At the recent inauguration of the AUM, it was announced that Hillman is 'representing the government of Malta' on the university's Trustee Board.  The news was delivered by Prince Jean de Nassau of Luxembourg shortly after the screening of a promotional video which, accompanied by music mixing pomp and circumstance with Raiders of the Lost Ark, makes Brave New World look like Tacky Old Cliché.
Bravery didn't seem to come into it though when, at the end of September/beginning of October 2017, a flood caused major damage to buildings still in the process of refurbishment. The ex-employee who witnessed the scene recalls how, as water poured through the ceiling on to new computers, classrooms, and academic papers, and with evacuation procedures underway for staff and students, 'The Jordanians were all missing…They were all in the main conference room, all sitting back with their feet up on the table, smoking cigars.'
In their midst was Walid Soudi who, according to the ex-employee, was 'the accountant brought in from the Sadeen Group in Jordan. Initially, there were real problems getting Sadeen to pay for simple things, even water, coffee and toilet paper, because they didn't trust anyone but their own, so Walid coming in to keep track of expenditures was supposed to solve this problem.'
Another was Khaled El Zayyat, Vice President of Global Initiatives and also part of the AUM faculty in the field of Natural Sciences and Technology. El Zayyat previously held teaching and administrative posts at DePaul University, Chicago, and supervised dual degree graduate programmes for DePaul University in Jordan. 
DePaul University provided the curriculum materials for the accreditation process which granted the AUM university status. According to El Zayyat's LinkedIn profile, he's still there.
El Zayyat was also reportedly present at a meeting called by the Office of the Prime Minister with top AUM officials in January 2018, one which Adrian Hillman is said to have attended.
It was the Prime Minister himself who declared, at the recent inauguration ceremony, that 'We are here today inaugurating state-of-the-art facilities, cutting edge lecture halls and labs and modern common areas.'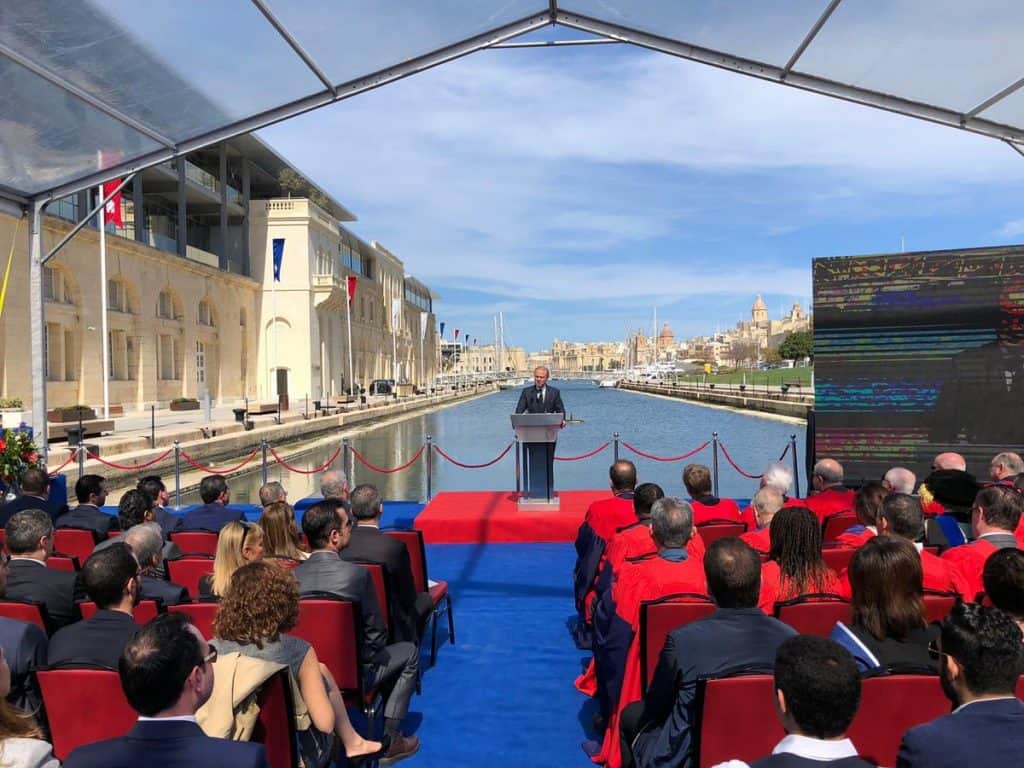 Nevertheless, when rain was pouring through these new 'state-of-the-art facilities', El Zayyat, Soudi and the other cigar-smoking Jordanians , engineers who 'would know how to resolve this problem…how to save the building that they had designed…They didn't care at all.' 
The total cost of the AUM project, including the Zonqor campus, was placed at 115 million euro by Economy Minister Chris Cardona, who, for the record, refused to meet with the CoE rapporteur, Pieter Omtzigt, and didn't reply to written questions. Cardona is also named in this report because of the police's failure to interrogate him despite claims he had contact with two of the suspected assassins in Daphne Caruana Galizia's murder.
This same Chris Cardona said the AUM would generate between 20 and 25 million euro annually with an added 9 million euro government revenue and the creation of 750 jobs.
18,000 square metres of ODZ land at Zonqor and the historic Dock 1 at Coscpicua were transferred by the government to Sadeen Group, now known to be Sadeen Education Investments Ltds owned solely by Hani Salah. 
All this money, all this land, yet 'Nobody really cares.'
Continues tomorrow.